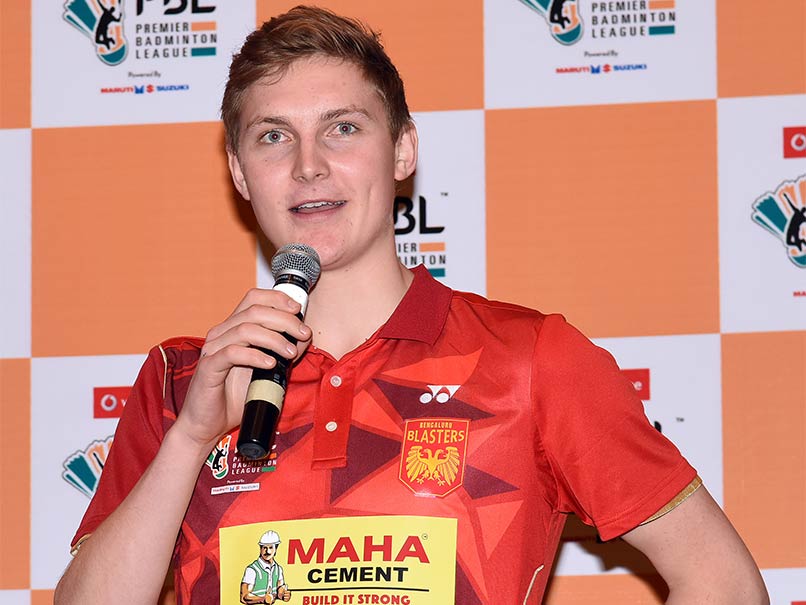 Men's World No. 1 Viktor Axelsen of Denmark is expected to be one of the top draws.
© NDTV
The players' auction for the third edition of the Vodafone Premier Badminton League (PBL) will be a glamorous affair as leading badminton players from around the world and the country will be up going under the hammer along with 100 others on Monday. Men's World No. 1 Viktor Axelsen (Denmark), Women's World No. 1 Tai Tzu Ying (Taiwan), Rio Olympic champion Carolina Marin (Spain) and India's very own World No. 2 PV Sindhu are expected to be the top draws.
In the auction, each franchise is allowed to spend Rs 2.12 crore on their team and a maximum of Rs. 72 lakh on one player.
The PBL, which is held under the aegis of the Badminton Association of India and has already acquired the tag of being the richest badminton league, will see the teams battling for a total prize money of Rs. 6 crore.
As many as 10 Olympic medalists (including 3 multiple medal winners) and eight medalists from the recently concluded BWF World Championships have confirmed their presence in the PBL, which will be held in December.
The auction assumes even more significance as India's men players, led by Kidambi Srikanth, have also been on a roll in recent times. It is expected to enhance the quality of the championship, while also exciting the Indian fans even more.
Interestingly, China will also be well represented this time, with their World No. 11 Men's singles player Tian Houwei throwing his hat in the ring.
Vodafone PBL 3 itself goes to the next level as it becomes a strong 8-team league, with the addition of two more franchises. It will begin on December 22 and conclude on January 14 and will enthrall fans at international standard venues in Mumbai, Hyderabad, Lucknow, Chennai and Guwahati.
Reigning world champion Viktor Axelsen, Son Wan Ho of Korea and Kidambi Srikanth of India among men and Tai Tzu, Carolina Marin, PV Sindhu, Saina Nehwal, Sung Ji Hyun of Korea and Tzu Wei Wang of
Taiwan have been granted Icon status. Players from as many as 11 countries, including China, Korea, Taiwan, Thailand, Germany and Hong Kong will be up for grabs in the mega auction.
All the available players will go through the auction process, with the six existing teams allowed to invoke their 'Right to Match' (RTM) option. This will not only make the bidding process more intriguing but will also test the strategic acumen of each team.
Expressing his delight over such a top class field for the auction, BAI president and Chairman of PBL Dr. Himanta Biswa Sarma said, "PBL has quickly become a global brand in badminton and the emergence of major players from across the world is testimony to that. We are glad to be back with the third season and promise our fans and the players that we will leave no stone unturned to make it bigger and better with each passing year and deliver a world class League."
The league which is held under the aegis of Badminton Association of India is conducted by Sportzlive, the Gurgaon sports management company who have acquired the long-term license to execute and deliver PBL.
"The league has been growing in stature every year. We believe it will take a quantum leap this year. Our goal is to make it the most admired Olympic sports league in the country, if not the world, and we have everything in place to make that happen."
"India's players have been doing exceptionally well on the international stage and it has helped a lot in garnering the required attention from sponsors as well as fans," Atul Pande, Managing Director of Sportzlive, said.
The 24-day league will see eight teams, namely Delhi Acers, Mumbai Rockets, Bengaluru Blasters, Chennai Smashers, Hyderabad Hunters, North Eastern Warriors, Ahmedabad Smash Masters and Awadhe Warriors in action.
The PBL Season 3 will be telecast Live on the Star Sports Network and streamed live on Hotstar.