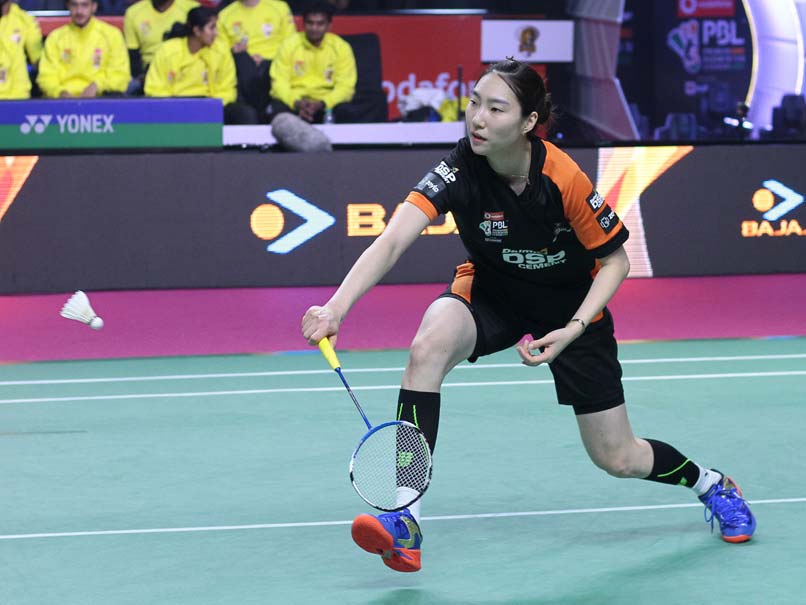 Sung Ji Hyun in action for the Delhi Dashers in Lucknow during the PBL
© Premier Badminton League
Defending champions Chennai Smashers went down to Delhi Dashers in an unfortunate fashion after they had to concede the last match of the tie due to an ankle injury to Gabrielle Adcock in the Premier Badminton League on Wednesday. The match, which would have decided the outcome of the tie, could not be completed as Gabrielle twisted her ankle while returning a shot. Playing in their trump match, Adcocks couple Gabrielle and Chris were trailing 5-6 in the match.
Going into the match, Chennai were trailing 1-2, but a loss will erase their slate while Delhi were awarded a point and won the tie 3-0 on points.
Earlier , Korea's Sung Ji Hyun, ranked 6th in the world beat World No.3 PV Sindhu of India to give Delhi Dashers a slight advantage (2-1 on points) against Chennai Smashers.
Sung Ji, who had lost to Sindhu on both occasions in last season, exacted her revenge to disappoint the packed stadium that braved the chilly weather to see their favourite star in action.
In the marquee clash of the day, Sung Ji prevailed over Sindhu 11-15, 15-13, 15-14.
In the third match of the tie, World No.22 Tain Houwei of China beat Chennai Smashers' Tanongsak Saemsomboonsuk 15-14,15-10 to keep Delhi Dashers alive in the tie.
In the second match of the day, Hong Kong's Vincent Wong Wing Ki registered a comprehensive 15-10, 15-13 victory over France's Brice Leverdez to reduce Delhi's deficit in the tie.
In the lung-opener, the Indo-Taiwanese men's doubles combination of B Sumeeth Reddy and Lee Yang scored a superb 15-13, 15-11 victory over the Russian trump duo of Ivan Sozonov-Vladimir Ivanov to help Chennai Smashers draw first blood.