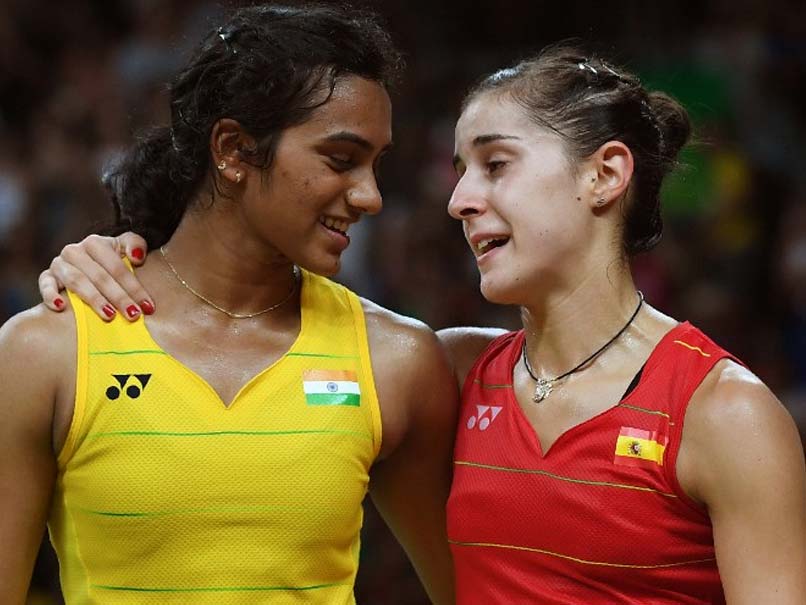 Carolina Marin was PV Sindhu's conqueror in the women's singles final at the Rio Olympics.
© AFP
When Carolina Marin first visited India in 2013 to play in the Premier Badminton League, not too many people knew of her. Now, all of India knows of the Spaniard as the one who denied PV Sindhu a historic gold medal at the Rio Olympics in August. And the 23 year old can't wait for a match-up against the Indian in the third edition of the tournament in January 2017.
"It's going to be exciting to play Sindhu again," Marin said on video link in an interaction with the press ahead of the league. "We hope to give the fans in India an exciting match like our Olympic final." Marin will be playing for the Hyderabad Hunters, while Olympic silver medallist Sindhu will be representing the Chennai Smashers.
Marin, who has played against both of India's star shuttlers, Saina and Sindhu, said her strategies for both were different. "I cannot pick who is tougher of the two," she said. "Sindhu is very attacking, while Saina has some great skills and stroke quality. So my strategy for the two are completely different."
Spain has traditionally not produced any top quality badminton players, but in Marin now they have someone who is a former world champion (2015), and the current All England, European and Olympic champion. "They don't recognize me always in Spain" she says. "And that's actually a good thing. But after the Olympics things have definitely changed. People are watching more badminton on TV, and I have received so many messages. I have a lot of fans now from all parts of the world, and specially from India!"
Marin says she learnt a lot about India after she saw the kind of support Sindhu got in Rio during her matches. "I feel like I already know India and Indian fans better," she says. "And that's why I am keen to visit India this time, and hopefully get to see some of Hyderabad city too."
And while she definitely shares an on-court rivalry with Sindhu, the Spaniard graciously accepted an invitation from Sindhu for a meal at home. "Of course I will be there!" she said. "I would love to see your house and meet your family."