Story Progress
Back to home
Badminton Becoming Tougher, Every Point A Fight, Says PV Sindhu
PV Sindhu lost to Japan's Nozomi Okuhara in the Badminton World Championship final.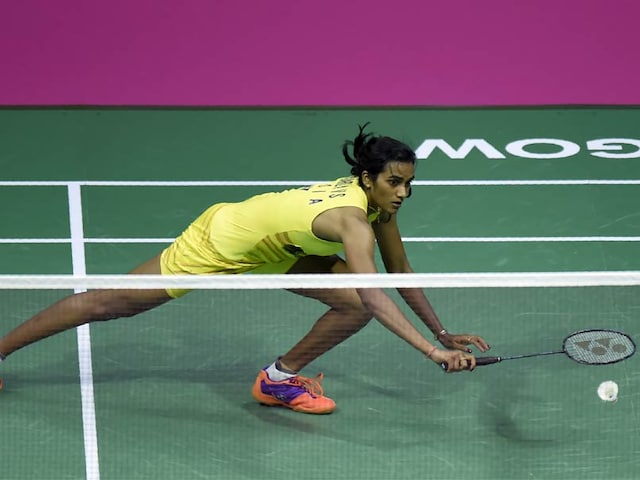 PV Sindhu finished with a silver medal at the World Badminton Championships
© AFP
Highlights
Sindhu feels the level of matches are not going to be easy anymore

Sindhu said the final match was both mentally and physically tiring

Sindhu now has three world championships medal
PV Sindhu, who finished with a silver medal at the recently concluded 2017 World Badminton Championships at Glasgow, on Tuesday said that international matches have become more competitive and were tiring, both mentally and physically. The three-time world championship medallist feels that the level of matches is not going to be easy any more as the rallies nowadays were too long and nobody would get easy points. The talking point of the final match between Sindhu and Japanese Nozomi Okuhara was the 73-shot rally in the second game which Sindhu won.
"I was just playing. She was equally tired. That 73-shot rally, I think it happened for the first time. It was a good match because, it was anybody's game," she said.
Talking about rallies in a badminton game, Sindhu said, "It's not going to be easy any more. Because, if you see, women's singles, men's singles, doubles, whatever, nowadays, the rallies are too long.
"Nobody is getting an easy point anywhere. It is just that you have to fight for each point," added the 22-year-old badminton star.
Talking about the energy-sapping final, Sindhu said: "Mentally and physically, it is just tiring. But at that point of time, you just think that you have to get that point. Because, it is World Championship finals."
Olympic silver medallist Sindhu said she was upset after the match.
"It was a good match, overall. Okuhara also played well. At that time, after 20-all, it was anybody's game. I fought hard but it was not just my day," she recalled.
"After the final match, I felt upset but I thought 'never mind'. I thought it is over now; from next day it was normal."
Sindhu, however, took the disappointment in her stride to focus on the future and said she is glad she could at least change the colour of the medal this time.
"Feeling very happy. It's one of the best tournaments after Rio (Olympics) and also World Championships is something different. Before it was bronze (medal), both the times, this time I changed the colour to silver. I am very happy about it," said Sindhu.
With Saina and Sindhu reaching the semi-finals, there was lot of expectations of having an all-Indian final at the World Championship but it didn't materialise after the former lost to Okuhara in the final four.
Sindhu said a final clash between her and Saina at the World Championship could be a possibility in future.
"At the World Championships, we expected (all-Indian final). But, it did not happen. But, definitely yes, it will be, someday," she said.
Sindhu defeated two Chinese players -- Sun Yu and Chen Yufei -- en route to her final appearance.
"It was just that I played my game and played my best. Everybody has different style of play. It is not that Chinese is something different. Even the Chinese played well. Overall, talking about Chinese, its different style of play with everyone," she said.
Promoted
Sindhu said it was a great feeling to receive wishes on social media from many prominent personalities, including Prime Minister Narendra Modi.
(With PTI Inputs)