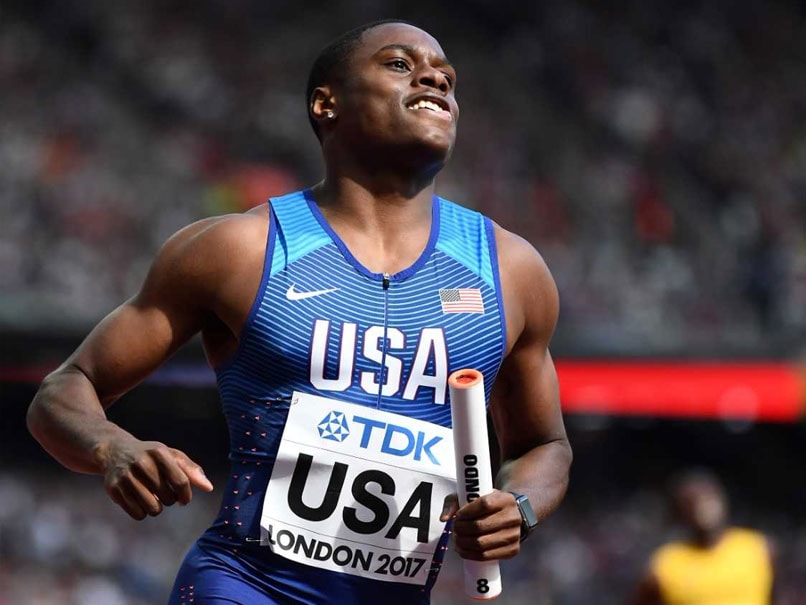 Christian Coleman is a world 100 meter silver medalist.
© AFP
World 100 meter silver medalist Christian Coleman on Saturday opened his 2018 campaign by breaking the 60 meter indoor world record with a time of 6.37 seconds. The 21-year-old American set the new mark at the low-level Clemson Invitational track meet to surpass the previous record of 6.39 second held by fellow American Maurice Greene. Greene ran the time twice, in 1998 in Madrid, Spain, and 2001 in Atlanta, Georgia. Coleman's previous best was 6.45 second at last year's US collegiate indoor championships. "Great start to my career," tweeted Coleman, who is in his first year as a professional athlete.
WORLD RECORD!! 6.37s. Great start to my career. Thank You Go pic.twitter.com/fUZQEpuPgw

— Christian Coleman (@__coleman) January 20, 2018
The time still needs to be ratified by athletics' world governing body, the IAAF.
The meet at Clemson University in South Carolina was the first event of the season for Coleman. Earlier in the day he ran a time of 6.47sec.
Tevin Hester, of the US, was second in 6.57 while Warren Fraser of the Bahamas finished third with a time of 6.69.
Coleman set prodigious times as a college athlete and has been hailed as a potential Olympic champion. 
He ran the fastest 100 meters time of 2017 with 9.82sec but in the world final in London he was beaten by Justin Gatlin as Usain Bolt finished third.