Story Progress
Back to home
FIFA World Cup: Italy Coach Gian Piero Ventura Boldly Claims "We'll Qualify"
Italy need to overturn a 0-1 first-leg defeat to avoid missing out on the 2018 FIFA World Cup for the first time since 1958 when Sweden hosted the tournament.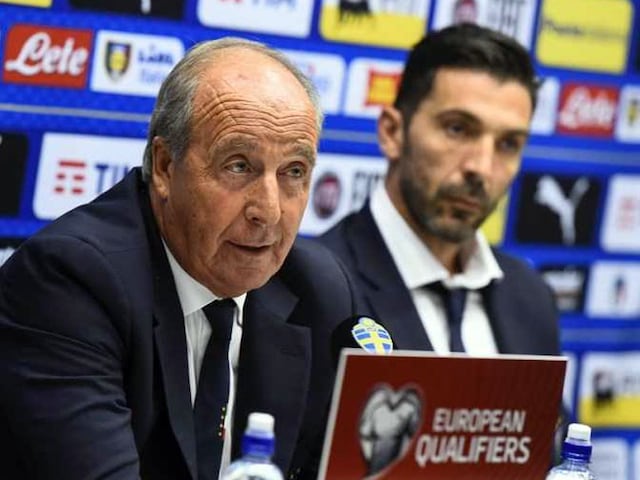 Italy coach Gian Piero Ventura is confident his team will qualify for the 2018 FIFA World Cup.
© AFP
Highlights
Italy need to overturn a 0-1 first-leg defeat

Italy could miss out on World Cup for first time since 1958

Italy coach confident of qualifying for World Cup
Four-time world champions Italy need to overturn a 0-1 first-leg defeat to avoid missing out on the 2018 FIFA World Cup for the first time since 1958 when Sweden hosted the tournament. "We're Italy and if we qualify it will be by playing football," coach Gian Piero Ventura insisted ahead his team's crunch FIFA World Cup play-off against Sweden. "We need everything tomorrow -- tactics, heart and determination," Ventura told a press conference at the team's Appiano Gentile training centre north of Milan.
The 69-year-old remained jovial and defiant that his troops would be on the road to Russia, adding he was "amazed people are surprised we're in the play-offs".
"We knew from the moment we picked Spain in the group phase that we'd be heading for the play-offs. Nobody can be surprised we reached this point.
"I realise this is the way it works in Italy, but I didn't expect all this," he added of the reaction generated by the humiliation of an impending exit.
"We started out with people talking about the apocalypse.
"The first leg performance shows that we are perfectly capable of overturning the 1-0 result.
"We analysed the things that went well and others that did not go so well. I'm fully aware that this game is fundamental for us, but it's the same scenario as when I first signed to lead the national side," he continued.
"We will change something, because only 48 hours have passed. We hope that it'll be change for the better."
Marco Verratti will be suspended for Monday's game with defender Leonardo Bonucci wearing a protective mask after breaking his nose in a bruising first leg against Sweden.
"Individuals playing are irrelevant, it's about the team and the overall approach," said Ventura.
'High tension'
Veteran captain Gianluigi Buffon admitted the team were under pressure as they carry the weight of Italian national pride.
Italy are FIFA World Cup superstars having won the competition four times -- 1934, 1938, 1982 and 2006 -- played two finals in 1970 and 1994 and finished third in 1990.
"It is certainly a moment of high tension, considering what is at stake and the sense of responsibility each of us must bear," said 2006 winner Buffon, who will earn his 175th cap in the San Siro.
"It is an important game for the history of our national team. The only thing that I would have would be a personal satisfaction, but in the wider scheme of things, I am irrelevant."
He added: "We want to send Italians a message not with words, but with action on the pitch. We invite them to support us, but realise the time has come for us to show them what we've got.
"I would love for those who come to the stadium tomorrow to take off their club colours and all wear the Azzurri jersey that unites us all."
'Nothing to lose'
Sweden -- runners-up in 1958 and twice third-placed finishers most recently in 1994 -- are desperate to return to the world stage after missing the last two editions.
And captain Andreas Granqvist believes they can cause a big upset on front of over 65,000 Italian fans in the San Siro.
"The pressure is all on them," said the former Genoa player. "Italy are a great nation that has almost always played the World Cup. We have nothing to lose and we will go onto the pitch to give a great performance."
Sweden coach Janne Andersson said determination was strong despite Hamburg midfielder Albin Ekdal and defender Johan Larsson absent because of knocks.
Promoted
"We want to reach the World Cup, we've been working towards that and after the first leg we haven't changed our minds on that.
"Our strength is the collective."
Topics mentioned in this article