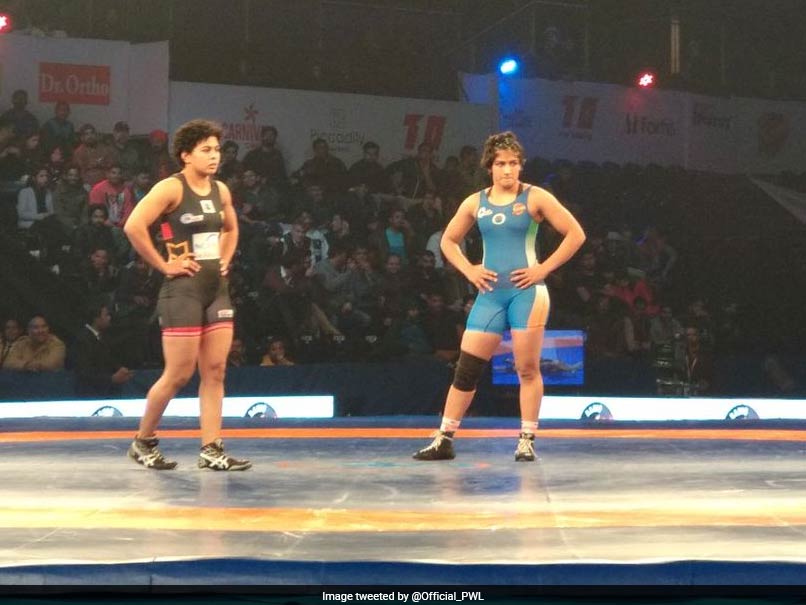 Pooja Dhanda of Punjab Royals defeated Sangeeta Phogat of Delhi Sultans 6-0 by Pin-Fall
© Twitter
Punjab Royals' Icon player Geno Petriashvili pulled off a dominating win to guide his side to an easy 6-1 victory over Delhi Sultans in the Pro Wrestling League at the Siri Fort Indoor Stadium on Thursday. Geno, who came into the tie unbeaten, maintained his glorious run and thrashed India's Hitender Beniwal 10-0 by pinning him down on the mat. Before him, World Championship bronze medallist Anastasija Grigorjeva of Latvia annihilated India's Monia Dhanoi in the 62-kg event to put the Royals in the driving seat. Leading 2-1, the Latvian made a meal out of the Indian and won the contest 4-0 by pinfall in the opening period itself to help the Royals take a crucial 3-1 lead mid-way into the tie.
Winning the toss, Punjab played it smart and blocked Sandeep Tomar, the 2016 Asian Championship gold medallist, while the Sultans elected to keep World championship bronze medallist Koumba Larroque out of action.
Delhi's Icon player Alvarav Aslan of Azerbaijan, however, put his side ahead by pulling off an easy 14-1 win over India's Nasir Hussain in the heavyweight category.
The World championship bronze medalist was at the top of his game and demolished the Indian to dance to his fourth win of the season.
But thereafter, it was Punjab Royals all the way as they won their next four bouts. 2017 Commonwealth champion silver medallist Nirmala Devi of India began the march, registering a thrilling 6-0 victory over two-time African champion Maroi Meizen of Tunisia (50 kg) to draw level for Punjab in the second contest of the day.
Maroi, who walked into the contest as the favourite, was frustrated by Nirmala's staunch defence. Nirmala did well to not commit any mistakes and attacked her opponent on the counter to score the points and eventually walk out victorious.
In the 74-kg contest, current national champion Jitender Kinha beat his compatriot Vinod Omprakash 5-0 in an exciting contest to send Punjab 2-1 up after three rubbers.