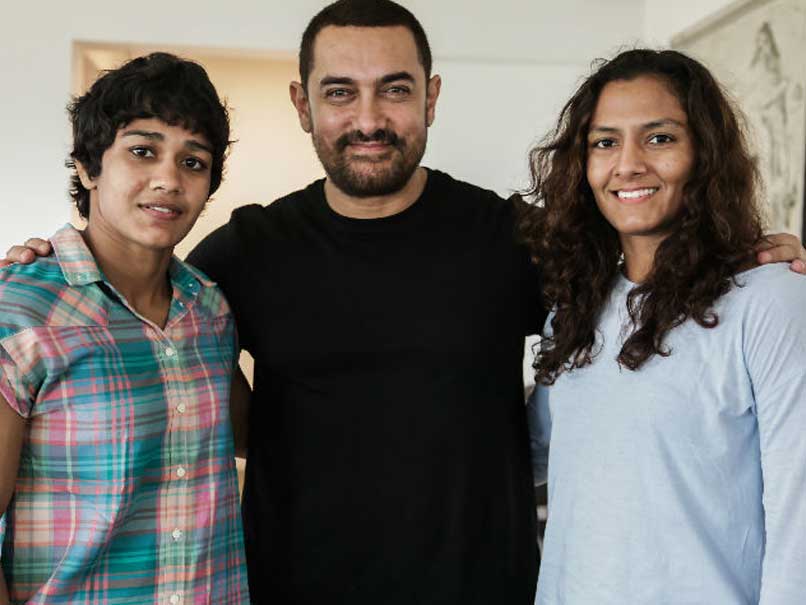 Aamir Khan with wrestlers Geeta and Babita Phogat.
© NDTV
On-screen he plays the role of her father, off-screen too Aamir Khan is showering his affection on Geeta Phogat, who is set to marry fellow wrestler Pawan Kumar on Sunday.
According to the actor's spokesperson, Aamir will gift Geeta her bridal outfit and will attend her wedding.
Aamir is playing the role of Mahavir Phogat, Geeta's father, in the biopic on him - Dangal. The film, which will release on December 23, scripts the way Mahavir trained her daughters - Geeta and Babita - to be champion wrestlers.
Geeta is the first Indian woman wrestler to qualify for the Olympics. Both Geeta and Babita won bronze medals at the 2012 World Wrestling Championship, in 55kg and 51kg categories respectively.
Geeta is the first Indian woman wrestler to win gold at the Commonwealth Games. Babita also won gold at the 2014 Commonwealth Games.
"I spoke to Aamir ji on Wednesday, and he will attend the wedding along with director Nitesh Tiwari. Tayaari bahut achi tarah chal rahi hai. The Sangeet and Mehendi is on November 19," Mahavir Phogat told Hindustan Times.
The wedding will take place in Charkhi Dadri, situated about 15km from their home in Haryana's Balali village.