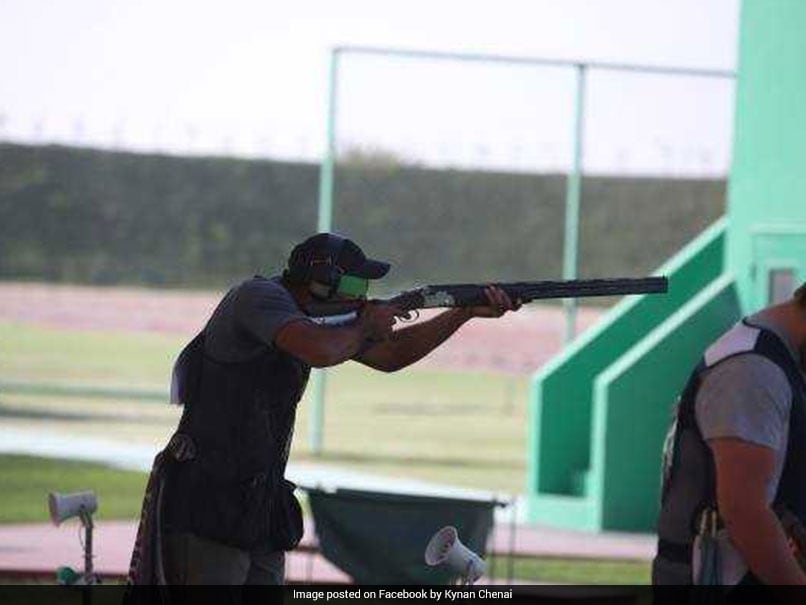 Kynan Chenai shot perfect rounds of 25 on day two of qualification.
Kynan Chenai and Zoravar Singh Sandhu shot perfect rounds of 25 on day two of qualification to keep India in the medal hunt at the ISSF World Championship Shotgun in Moscow on Saturday. It was a good day for the Indian men's trap squad as they were on 215, just two points behind leaders Czech Republic and on the same score as powerhouses Italy, who are currently placed third. In the individual event, Kynan ended the day in third place with a score of 74 out of 75 over two days of qualifying, while Zoravar was in ninth position with 72 hits to his credit.
Birendeep Sodhi, the third Indian in the fray, shot 23 on the day to lie 50th with a score of 69.
In Junior Men's Trap, two Indians Akash Saharan and Lakshay Sheoran also were in contention for a final round berth after ending day two of qualification in 8th and 10th place respectively.
Both the Indians had identical scores of 70 after three qualification rounds and leading score till now is 73.
Meanwhile, their third teammate, Manavaditya Singh Rathore shot a round of 24 today, to lie in 18th spot with a score of 67. His improved showing on the day meant India moved to third position in the Team competition, up from fourth at the end of day one.
At least two of India's Women and Junior Women Trap shooters came close to making it to one of the two finals lined-up for the day, but eventually bowed out.
Saumya Gupta came closest in the Junior Women's Trap where she eventually finished 7th in the competition, being at the rough end of a six-way shoot-off to determine four spots in the top six.
Saumya had finished with a qualifying round score of 65 out of 75 targets. Teammate Nenthirasigamani Nivetha shot 61 to claim 15th spot while Manisha Keer shot a score of 57 to finish in 29th position.
In the Women's Trap, Rajeshwari Kumari had a round of 23 to follow-up on her day one scores of 23 and 22, to end in 12th spot with a score of 68. The final qualifying score of the top six in the event was 71.
Experienced Seema Tomar shot 62 to finish 44th, while Shreyasi Singh shot a total of 61 to end in 49th position.
Sunday has the final qualifying rounds of Men's and Junior Men's Trap as well as both the finals as the only events on the schedule.
Topics mentioned in this article
Shooting