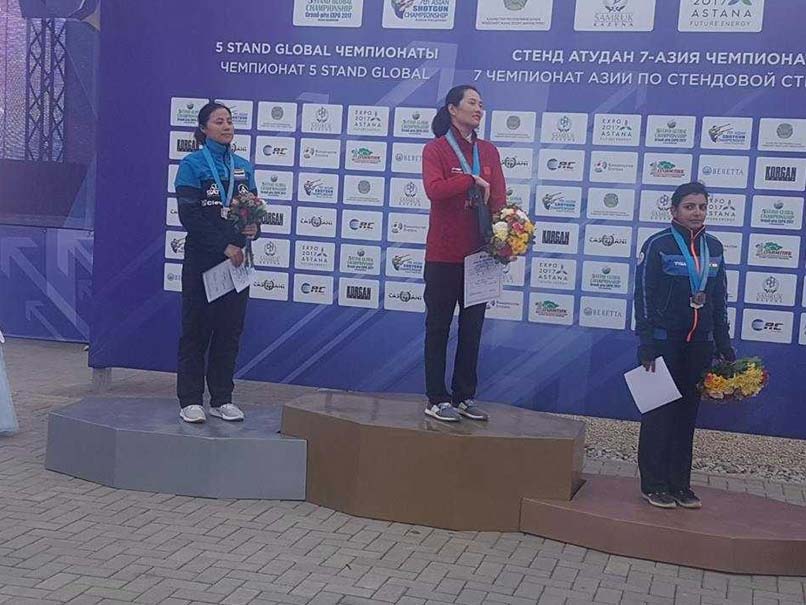 Maheshwari Chauhan (right) secured a bronze medal at the Asian Shotgun Championship
© NRAI Facebook
Indian shooter Maheshwari Chauhan secured a bronze medal at the Asian Shotgun Championship in women's skeet. It was made sweeter when she led her country to the team silver alongside compatriots Rashmmi Rathore and Saniya Sheikh. The trio shot a total of 190, finishing behind Gold medalists China, who shot 195. Hosts Kazakhstan won the bronze shooting 185. India's day was all about Maheshwari though, when she shot 68 out of 75 earlier in the day to finish on top of the qualification pile of 22-shooters.
She led a group of six shooters into the final round. Among them was teammate Rashmmi Rathore who qualified sixth with a score of 64.
It was a quality top six in the final rounds having the likes of Olympic finalists and World Cup Gold medalists Meng Wei of China and Sutiya Jiewchaloemmit of Thailand among others.
Meng is currently ranked four in the world while Sutiya is ranked fifth.
Reputations held as Maheshwari bowed out in third place on a score of 40 while China's Meng won gold shooting 55 and Sutiya claimed silver finishing a point behind Meng.
Rashmmi also put up a spirited display to finish fourth with a score of 32.
India started day five with four medals in the kitty, thanks to Ankur Mittals's double gold effort in the men's double trap and Kynan Chenai's double bronze effort in the trap shooting events.
India's tally now stands at two gold, a silver and three bronze medals.
(This story has not been edited by NDTV staff and is auto-generated from a syndicated feed.)
Topics mentioned in this article
Shooting