Story Progress
Back to home
Yearender 2016: Sports World Bids Goodbye to Muhammad Ali, Martin Crowe Among Others
The world of sports lost many of its shining lights in 2016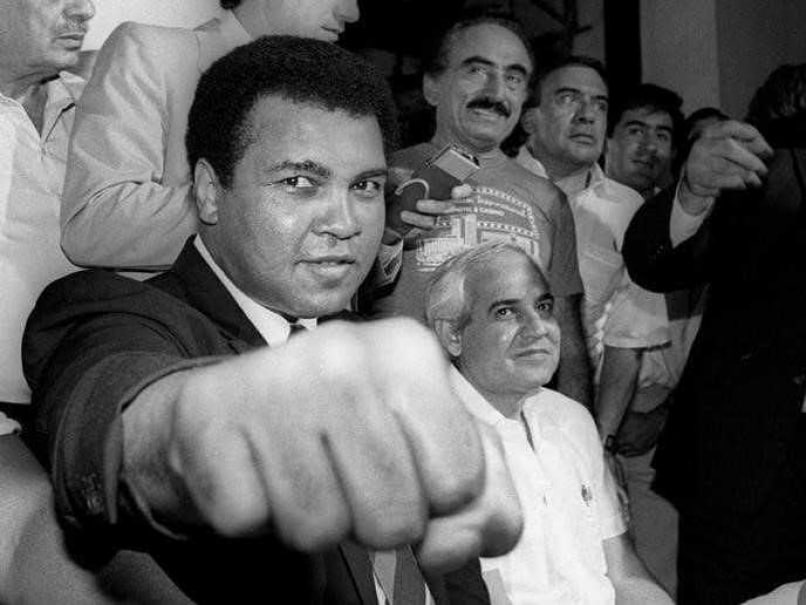 Muhammad Ali died at the age of 74 after a 32-year battle with Parkinson's Disease.
© Reuters
The year 2016 saw the sporting world lose the iconic Muhammad Ali, the man who made professional boxing what it is today. New Zealand cricketer Martin Crowe and Indian hockey's star Mohammad Shahid were among those who departed.

Muhammad Ali (June 3)

A beloved icon. A fighter who transcended his sport. A symbol of heroism, courage and defiance. Muhammad Ali was all of these things and more to countless millions of admirers around the world during his remarkable life and times.
Ali - known worldwide as "The Greatest" - died after a 32-year battle with Parkinson's Disease at the age of 74.
Married four times he was survived by seven daughters and two sons. Thousands turned out in his hometown of Louisville to bid farewell.

Mohammed Shahid (July 20)

Mohammed Shahid, Indian hockey's superstar of the eighties, died at a private hospital in Gurgaon after battling serious liver problems. He was 56.
The Varanasi-based Shahid was one of India's best dribblers and helped the country win the gold medal in the 1980 Olympics in Moscow. That was the last time India won an Olympic gold.
Shahid, known for his sizzling runs and ball control, formed a formidable pair with Zafar Iqbal. They helped India win medals in the 1982 and 1986 Asian Games.

Martin Crowe (March 3)

Martin Crowe, a cricketer of prodigious talent who made batting appear effortless while secretly struggling with the burden of being a world-class player in otherwise modest New Zealand teams, died of cancer on March 3. He was 53.
Perhaps the best ever batsman to emerge from New Zealand, Crowe broke several batting records despite fighting a spate of injuries. He played 77 Tests and 143 One-day Internationals for New Zealand in a 13-year career. He scored 5,444 Test runs at an average of 45.36 with 17 centuries.
Actor Russell Crowe, Martin Crowe's New Zealand-born cousin, said of him, "my champion, my hero, my friend. I will love you forever. RIP".

Arnold Palmer (September 25)

Arnold Palmer, a Pennsylvania greenskeeper's son who became one of golf's most charismatic champions and made millions of dollars by turning his popular "everyman" image into one of the most lucrative sports brands in the world, died at the University of Pittsburgh Medical Center Presbyterian Hospital in Pittsburgh.
The winner of seven majors and 62 wins on the PGA Tour, Palmer will be remembered as one of the best to play the game. He was 87.
Palmer rose from a blue-collar background to become part of the sport's royalty - he was colloquially known on the PGA tour as "The King".
Johan Cruyff (March 24)

Dutch football great Johan Cruyff, who revolutionised the game with the concept of 'Total Football,' was 68 when he died.
He won three European Cups as a player with Ajax Amsterdam and Ballon d'Or titles in 1971 with Ajax and 1973 and 1974 with Barcelona, where he starred from 1973 to 1978.
Cruyff is considered one of the best four players in history alongside Pele of Brazil, Diego Maradona of Argentina and France's Michel Platini.
He was the incarnation of 'Total Football' that took the Dutch team to the World Cup final in 1974. He inspired a new generation of footballers.

Joao Havelange (August 16)

Joao Havelange, the Brazilian former FIFA president who helped Rio de Janeiro's winning bid to host the Olympic Games this August, died during the Games, three months and eight days after his 100th birthday.
President of the Brazilian Sports Confederation from 1956 to 1974, and head of world football governing body FIFA from 1974 to 1998, the imposing figure of Havelange helped Brazil win bids to host the 2014 World Cup and the 2016 Olympic Games.
He is credited with helping transform football into a global success story, but his legacy has been tarnished by serious corruption allegations.
Topics mentioned in this article
Other Sports
Muhammad Ali
Martin David Crowe