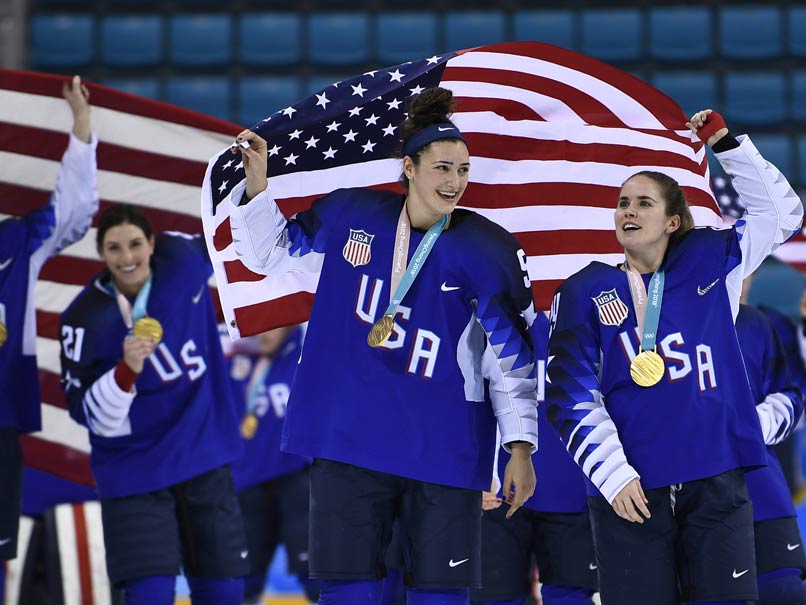 The US team celebrates winning the women's gold medal ice hockey match.
© AFP
For the first time in 20 years, the United States women are Olympic ice hockey champions after beating Canada 3-2 in a shootout final, thanks to a 20-year-old goaltender and a fancy trick shot nicknamed "Ooops, I did it again." Jocelyne Lamoureux-Davidson scored the deciding shootout goal in the gold-medal showdown against the four-time defending champions after five shots for each team ended deadlocked 2-2. Faking a backhand Lamoureux-Davidson beat Canada goaltender Shannon Szabados with a forehand on a move she and her twin sister developed as children. "It's easier when it has to go in the tires. The tires don't move," she said.
"I knew you have to sell the shot and get her to go down. I came in slow. I knew it was the move I was going to make. It was a dream come true. It was special."
Then 20-year-old US goalie Maddie Rooney, who was seven-months-old when the US women last captured Olympic hockey gold in 1998 at Nagano, denied Meghan Agosta's attempted equaliser between Maddie's legs to give the Americans their long-sought gold.
"I thought I could go 5-hole," Agosta said. "It just so happened it didn't work out like I wanted."
"It's an amazing feeling," Maddie said. "When she cut across, a lot of people go 5-hole. I kind of anticipated it."
The American team raced off the bench in jubilation, Maddie at the bottom of a celebratory pile as hugs and flag waving began.
"Everything went into a blur," she said. "To see my teammates running at me was an unbelievable feeling... it was all black. I was on the bottom."
The Americans snapped arch-rival Canada's 24-match Olympic women's hockey win streak, a painful loss that had the silver medallists in tears, a medal so painful to Jocelyne Larocque that she removed it as soon as it was placed around her neck.
"It just hurt," Larocque said. "We worked so hard. We wanted gold. We didn't get it. Guess it's motivation."
US women have struggled to seize gold on the game's biggest stage despite winning seven of the past world championship finals over Canada.
"This medal speaks loudly in our hearts and souls," Lamoureux-Davidson said.
American Hilary Knight opened the scoring but Haley Irwin and Marie-Philip Poulin answered for Canada only for Monique Lamoureux-Morando's third-period equaliser to set the stage for the extended drama.
- 'An unbelievable feeling' -
Maddie made 29 saves and four more in the shootout, earning plaudits from her teammates who had faith in their young netminder.
"Talk about poise. We all knew she had it," US forward Gigi Marvin said. "She has been a rock all year. She owns it. And Joss in the shootout was so sick."
Lamoureux-Morando noted her sister's move and smiled, saying: "She picked the perfect time to do it perfectly. We're definitely going to cherish this."
And appreciate how long the journey has been to win it.
"It has been 20 years since that golden moment," US forward Hannah Brandt said. And we're happy to bring it back to the United States."
Uppermost in US coach Robb Stauber's mind as he watched the celebration were 10 US players who went through heartache four years ago at Sochi when the US surrendered a last-minute equaliser to Canada and lost in over-time.
"It was unreal," Stauber said. "We have 10 players who new what it felt like in Sochi to be on the other side. I'm just glad they are feeling this. It's an unbelievable feeling."