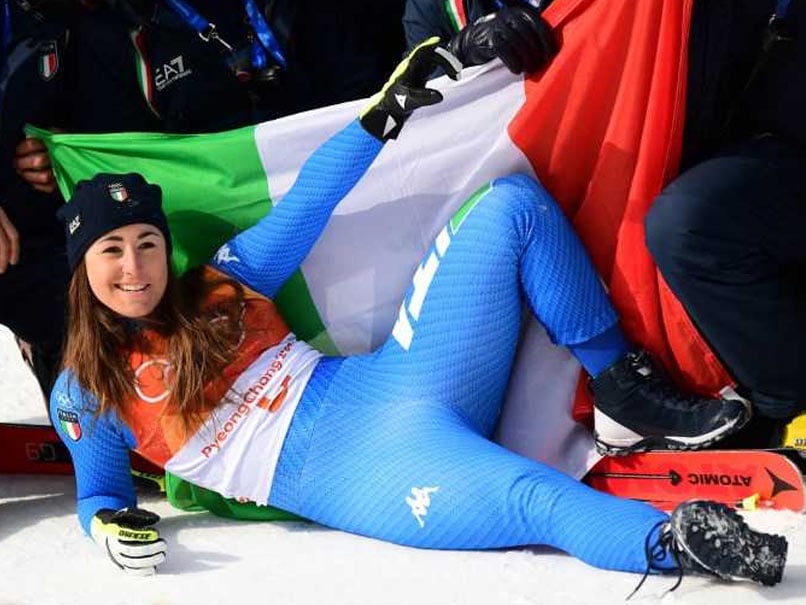 Italy's Sofia Goggia celebrates with her team after the victory ceremony of the women's Downhill.
© AFP
Lindsey Vonn's bid for a second Olympic downhill gold medal came unstuck Wednesday as the US ski star finished third in the women's blue riband event won by "crazy" close friend Sofia Goggia of Italy. Goggia, in bib number five, timed 1min 39.22sec for a first downhill title for the Italian women's team. The 25-year-old came in 0.09sec ahead of Norway's giant slalom silver medallist Ragnhild Mowinckel, with Vonn a further 0.42sec adrift.
Goggia made a mistake on the upper part of the polished 2.8km-long Jeongseon course, but produced a magnificent gliding mid-section and strong bottom third.
It reaffirmed the fine form she has shown on the World Cup circuit this season, with two victories and two second places in the downhill, and also second and third placings in the super-G.
Vonn made few errors in her descent, but it was just not enough, Mowinckel providing a surprise factor with her second place after starting 19.
After the race Vonn, 33, confirmed that it would be her last Olympic downhill and said:
"I gave it all today, skied a great race. Sofia just skied better than I did."
"It's sad. It's my last downhill. I wish I could keep going, I'm having so much fun and I love what I do, but my body just can't take another four years," she said.
"But I'm proud to be competing for my country, giving it all and proud to come away with a medal."
- Disappointment -
he American's bronze at least made up for disappointment of her sixth place in the super-G when an error at the bottom cost a podium place in a sensational race won by Czech snowboarder Ester Ledecka.
All eyes were again on Vonn, winner of 81 World Cup races, as she took the second step in her Pyeongchang Games campaign in brilliant sunshine.
The crowd cheered loudly and clapped as the 33-year-old was shown preparing to move into the startgate.
A rattle of the poles and Vonn moved aggressively out of the start onto a technically testing downhill on hard-packed, artificial snow.
Dressed in a figure-hugging white catsuit with red and blue stripes, and blonde hair tied tight back into a pony tail tucked into a white helmet, Vonn reached speeds of 115 kmh and flew more than 30 metres off the jumps.
Vonn, who won the blue riband title at the 2010 Vancouver Games but missed Sochi through injury, had said prior to racing she was feeling like "a million bucks."
But the gold was beyond her as she finished behind Goggia, whose friendship she has said is based on them both being "100 percent crazy".
The pair embraced at the finish area, Vonn allowing herself a slight look skywards, a sigh and shrug of the shoulders.
She at least broke the record for oldest female medallist in alpine skiing, previously held by Austrian Michaela Dorfmeister when she won the super-G in 2006.
A number of contenders struggled down the unforgiving course where the slightest overedge or too much air off the three main jumps left racers straining to make up lost tenths of seconds.
Switzerland's Lara Gut, just a year on from left knee surgery, missed a gate, as did her teammate Jasmine Flury, both racers seeking an extra push and paying the price.
American Alice McKennis, Italy's Nadia Fanchini and Federica Brignone crashed out in spectacular fashion after all three led the first three intermediate times as the sun-kissed course offered hope for the late runners.
The Austrian team also disappointed, their highest ranked skier Ramona Siebenhofer in 10th, a massive 1.76sec off the pace.
(Except for the headline, this story has not been edited by NDTV staff and is published from a syndicated feed.)