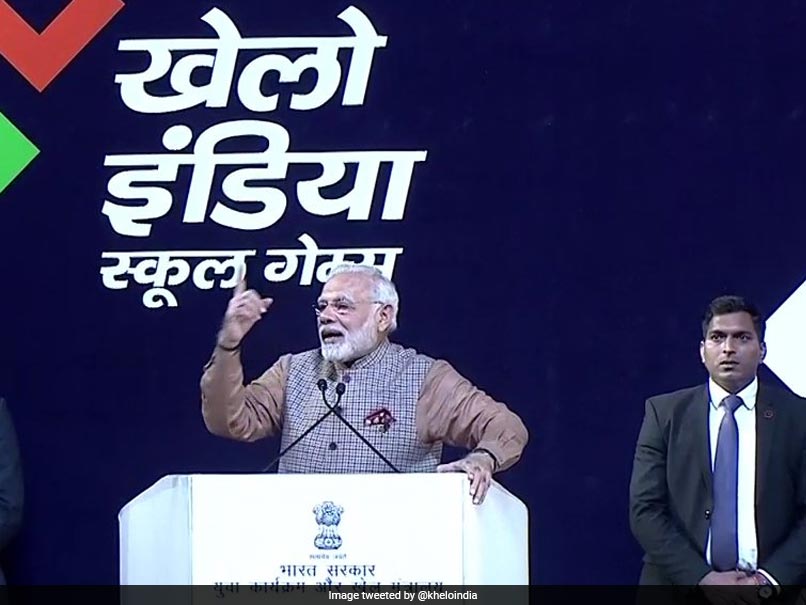 PM Narendra Modi launched Khelo India games on Wednesday
© Twitter
Inaugurating the revamped Khelo India School Games here on Wednesday, Prime Minister Narendra Modi said it was the first step towards making the country a strong contender at the Olympic level. A revamped version of the original National School Games which used to have two participants in every discipline from each state, Khelo India will see 16 athletes in each discipline. It will also feature only eight disciplines which have been identified as most likely to win medals at the Olympic Games.
A generation of sport stars is getting ready to change the way world sees Indian sports. With hands on their hearts, they have taken the #KheloIndia Pledge along with our PM Shri @narendramodi ji. Let us all pledge to stand behind them and for them in their journey throughout! pic.twitter.com/kGhMGxXiNi

— Khelo India (@kheloindia) January 31, 2018
"The best athletes will be given the best training and the best coaches. If needed we will send them abroad for better training," Modi said at the launch of the tournament.
The best 1,000 athletes at the Khelo India Games will get scholarship of Rs 5 lakh every year.
"This is to ensure that sports persons from poor backgrounds are not forced to give up sports due to lack of funds," the Prime Minister said.
Addressing the gathering, the Prime Minister also said that sports should occupy a central place in the lives of the country's youth.
"Sports is an important means of personality development and Khelo India is not a programme, it's a mission. The Games will highlight India's young sporting talent and showcase India's sports potential," PM Modi said.
"Khelo India is not only about winning medals. It is an effort to give strength to a mass movement for playing more.
We want to focus on every aspect that would make sports more popular across the nation," he added.
Modi urged the youth to take up to sports actively as it is an important tool for the development of the nation.
"When we say India has to grow on the world stage, it does not only mean having a strong army & powerful economy. It includes people of India distinguishing themselves as scientists, artists, sportspersons. And, I am confident India will scale these heights. I trust our youth," the Prime Minister said.