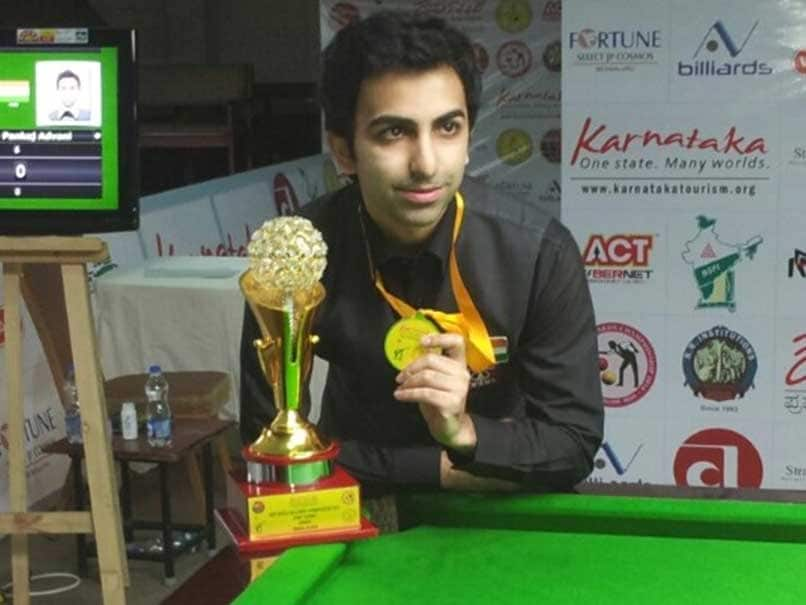 Pankaj Advani after winning the World Billiards Championship (150-Up format).
© NDTV
Pankaj Advani has made history yet again. The ace cueist won his 11th World Billiards (150-Up format) Championship by defeating Peter Gilchrist of Singapore in the final in Bengaluru on Monday.
Advani beat multiple world champion Gilchrist by six games to three in a gripping final contest to wrap up his 16th world title overall.
After defeating Myanmar's Aung Htay in the semi-finals, Advani scripted a convincing victory over his Singapore-based British opponent.
The Indian champion beat Gilchrist 151 (98)-33, 150 (97)-95, 124-150, 101 (98)-150 (89), 150 (87)-50, 152-37, 86 (86)-150, 151 (110)-104, 150 (88)-15.
In contrast to his semi-final match, where he posted century break points in all the games, Advani was satisfied with going for short break points to put pressure on his rival.
Advani posted his only century break of 110 in the eighth game of the match, which almost dashed the hopes of Gilchrist to win the title as he trailed 3-5 against the Indian cueist.
Advani began on a strong note by pocketing the first two games, 150 points against 33 and 150 against 95.
However, Gilchrist bounced back in the next two games by winning 150 points against 124 and 150 against 101, after he engineered 112 and 89 break points in third and fourth games.
The 79-break point in the sixth game helped Advani to take a 4-2 lead over his opponent, but could not sustain it as he lost the seventh game after Gilchrist broke twice with 86 and 53 break points.
Eighth and ninth games belonged to Advani, especially the final one, as he shattered the hopes of Gilchrist by posting a thumping 150 against 15 points, and laid claim to his eleventh world billiards championship.
Earlier, Advani had beaten Htay 5-0 to storm into the final while Gilchrist defeated India's Dhvaj Haria 5-1 in another semi-final.