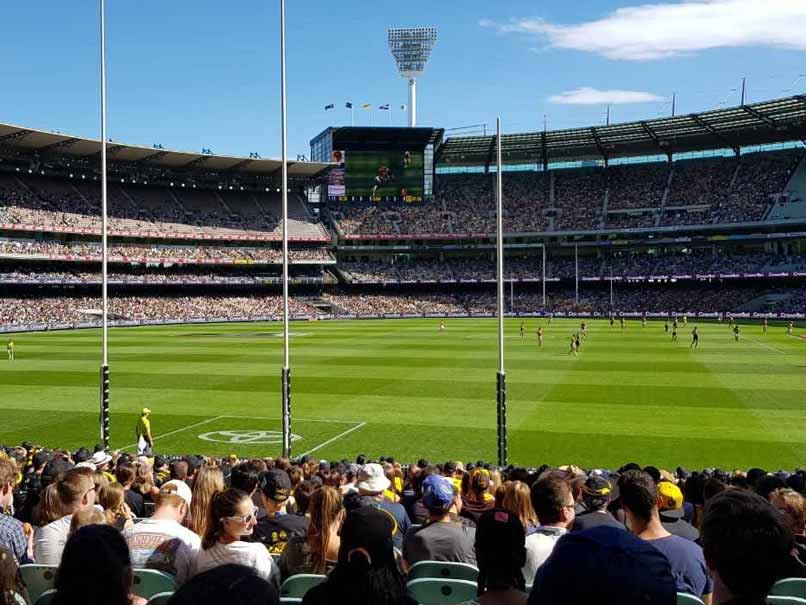 AFL started 122 years ago as a way for the cricketers to stay fit during the winter months.
© NDTV
At a sleepy corner around Perth's Kent Street is the meeting point for the Indian community. Every evening around 60-70 young immigrants converge over the game of kabaddi. They form the Perth Kabaddi Club. Kulwinder Singh, who is a regular with the Orange, says, "There are three kabaddi clubs, we have competitions against each other. We had matches during Diwali Mela last year and that was pretty big. We had about 8-10,000 people watching us. It may not be as big as the competitions in Melbourne and Sydney but it is growing. The locals take a massive interest in the sport because it is as physical as AFL. Some of them even play with us."
Buoyed by the popularity of this sport, Australia now wants to import their nation's favourite sport, Aussie Rules Football, to India. Brendon Gale, the CEO of Richmond Football Club says, "The game is unique and is only really played in Australia. We think there is a big Indian community in Melbourne that we want to involve and include and make them feel welcome. If there is a chance to play in India that will be fantastic."
The expats Down Under enjoy watching cricket but to stay connected to their roots, play kabaddi. There are around 11000 registered players in Melbourne alone. Their enthusiasm and love for the sport has inspired the footy managers. Paul Faulkner, the head of China, Comm of Australian Football League (AFL) says, "We saw kabaddi as an interesting sport that is because it is played in the regional areas of India. I love how Star Sports took up what was a rural game and packaged it for TV. They are now are having 450,000,000 viewers every season.
"We saw some similarities between the game of kabaddi and AFL to the extent. In fact, we send some ex-Australian rules footballers over to India to represent the Australian team in the Kabaddi World Cup. They weren't that good but they did win a game vs Argentina and there was a lot of interest that came from the fans around these big burly players playing one of the national sports of India," Faulkner added.
"So maybe there is a great connection there between our great game and a local game in India," He said.
AFL started 122 years ago as a way for the cricketers to stay fit during the winter months. The Melbourne Cricket Ground, (MCG), the home of Aussie cricket, is the home of AFL as well. MCG, which seats nearly a 100,000 fans, plays host to the major footy clashes in the season.
During the game between Richmond and Hawthorne at the packed MCG on a Super Sunday this season, there are talks of AFL marching into India.
Lisa Marlow, who is a regular at the Richmond game, says," The sport is Aussie in spirit but has been loved in China. I see no reason why the Indians won't warm up to it."
Luke Kenny, a Hawthorne supporter, is keen to travel to India when AFL lands on the sub-continent's shores. "We would love to be there when the first AFL match is played in India. It would be spectacular. I hope it happens in 2019."
After dipping its toes in China, four AFL clubs now want to make their presence felt in India. They played a game in China last year in front of a sell-out audience.
Paul Faulkner, the head of China Comm of AFL says, "We learned so much from the Shanghai game-how you get turf management, how you operate for crowd control, how to work with the local police, the local government.
"We take these learnings to India. With the help of the government and the Australian consulate, we feel we have a product that will appeal to the Indians."
Earlier this year the AFL trialled a seven a side version called the AFL (x) and that's most likely the version to be played for the Indian audience.
A Victoria government trade mission met with Sports Authority of India (SAI) and Star Sports last year to exchange notes on the bit-sized AFL (x) that is based on the kabaddi experience to talk about participation, player scouting, as well as repackaging. Their plan is to grow the sport organically with a little help from kabaddi.