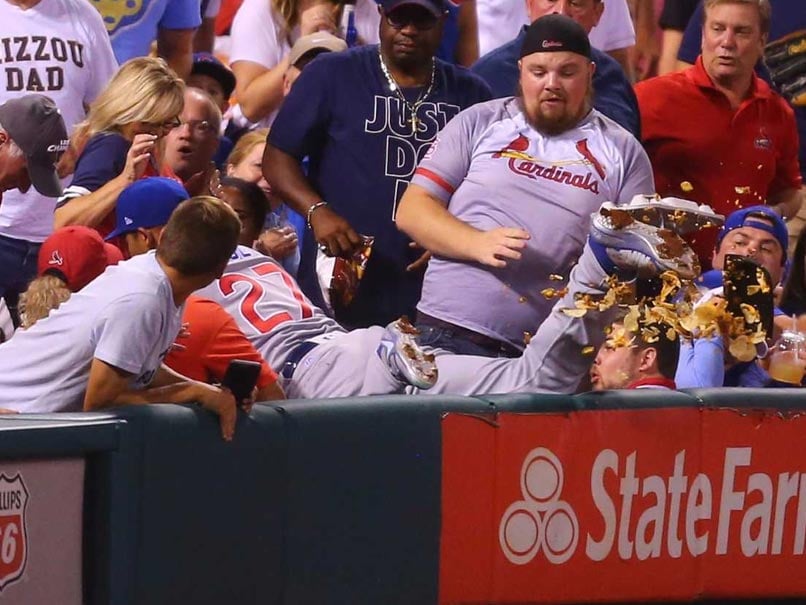 Addison Russell dives into fan and spills his order of nachos.
© AFP
Major League Baseball (MLB) player Addison Russell on Monday night gave a new meaning to the relation between a fan and player in the match between St Louis Cardinal and Chicago Cubs of the 2017 MLB Season. During the second inning of the game, Chicago Cubs' shortstop player Russell, in an attempt to stop a foul ball, dove into the stand of the Busch Stadium where the match was being played. While attempting the dive, Russell crashed into a fan of Cardinals', who had a tray of nachos in his hand, and spilled the plate of nachos. However, the incident didn't end there. Russell, during an inning break, made sure to get a new plate of nachos and give it to fan who had lost the plate earlier in the incident.
The Cardinal fan, identified as Andrew Gudermuth, a 21-year-old, was in the front row seat down the third base line when the incident occurred. Cam Kendall, a Twitter user uploaded the video of the incident which received positive reaction from MLB fans.
This is baseball #NachoMan pic.twitter.com/rcGGRW6mO3

— Cam Kendall (@CamKendall) September 26, 2017
"All of a sudden Russell came flying through and a foul ball came down and Russell knocked my nachos all over me and my girlfriend," Gudermuth was quoted by the star as saying.
According to media reports, Russell got up, apologized and went back to his position. While, Gudermuth thought that would be the last contact with the player, Cubs' manager Joe Maddon suggested Russell to go down to the clubhouse and bring a new plate of nachos for the fan.
After Gudermuth received the plate, he promptly took out his phone and clicked a selfie with Russell.
@cardinals thanks for the loaded nachos @cubs thanks for the plain nachos. Thank you cubs and cards. Unforgettable. #nachoman pic.twitter.com/OGvnyfRN7t

— nacho man (@guder82) September 26, 2017
Commenting on the incident, Chicago Tribune quoted Russell as saying, "Normally I don't do that, but being the case of me being nacho'd all over, my cleats even, I was like, you know what, why not? A once in a lifetime experience."
The fan, who received the plate from the opposition player said, "That gives me a lot more respect for the Cubs team," Chicago Tribune quoted him.
However, he went to confirm that he still remains a Cardinals fan.
"Yes, Cardinals all the way. But it definitely gave me a lot more respect for the team. They're not all about fame."