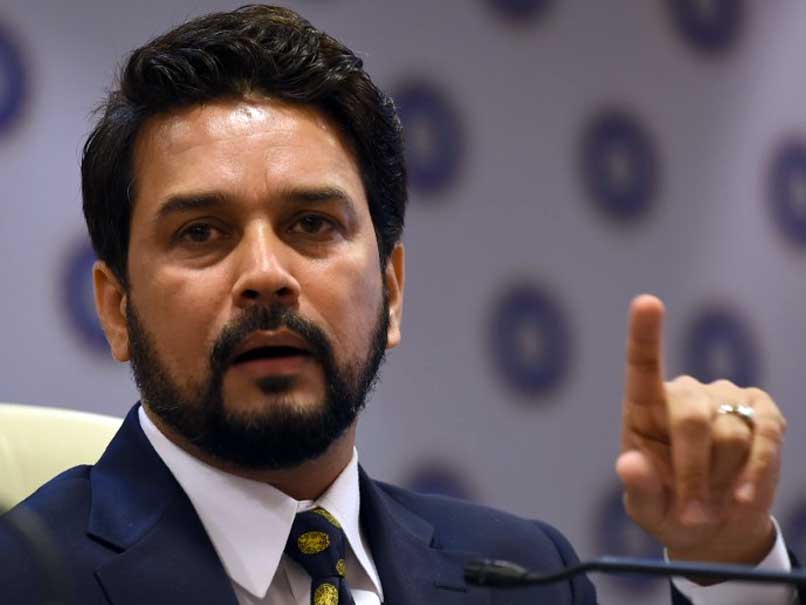 Anurag Thakur had been removed as BCCI President following a Supreme Court order.
© AFP
Just weeks after being removed as Board of Control for Cricket in India (BCCI) President following a Supreme Court ruling on the Justice Lodha Panel reforms, Anurag Thakur was on Saturday unanimously elected as the head of the Himachal Pradesh Olympic Association (HPOA) for a four-year term. The development took place during the body's Annual General Meeting, where the Indian Olympic Association (IOA) had sent Nirwan Mukherjee as observer for the polls.
The other observers for the election included NP Gulleria, hockey coach, and Ratan Lal Thakur, observer, Himachal Pradesh Government Sports Council.
Surat Singh Thakur was the Returning Officer to conduct the elections.
Virender Kanwar was elected Senior Vice-President, while Rajesh Bhandari, who is a Vice President in the Boxing Federation of India, was elected General Secretary.
"The newly-elected members deliberated on how to improve the quality of sports in the state which has an immense pool of talent but is not doing well due to the lack of quality infrastructure and a  concrete policy for the development of the same," the HPOA said in a statement.
"The house decided to have a blueprint for the same with the help of experts and studying the models followed by other states which would be pursued with the government and other stake holders to be implemented."
The HPOA decided to have a Himachal Olympic Bhawan at Shimla and to organise the state Olympic festival on the lines of the national games at hamirpur from June 23 to 26.
(With inputs from PTI)