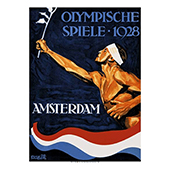 About AMSTERDAM 1928 Summer Olympics
First time the Olympic flame was used. Germany allowed to compete again.
Women were allowed to compete in athletics for the first time and 16-year-old American Betty Robinson's 100m win made her the first women's Olympic champion at track and field.
The 800m race sparked off a controversy when several women collapsed. IOC president Count Henri de Baillet-Latour said all women's sports should be excluded from the Olympics and the IAAF banned women from running more than 200m for another 32 years. The anti-feminists overlooked the fact that men often collapse after races.
Lina Radke of Germany beat Japan's Kinue Hitomi, who had been unable to compete in her world record events -- the 200m and long jump -- since they were not on the programme.