Story Progress
Back to home
India vs South Africa Live Score Ball by Ball, India vs South Africa 2022/23 Live Cricket Score Of Today's Match on NDTV Sports
Live Updates of Today Match between India vs South Africa from Greenfield International Stadium, Thiruvananthapuram. Check commentary and full scoreboard of the match.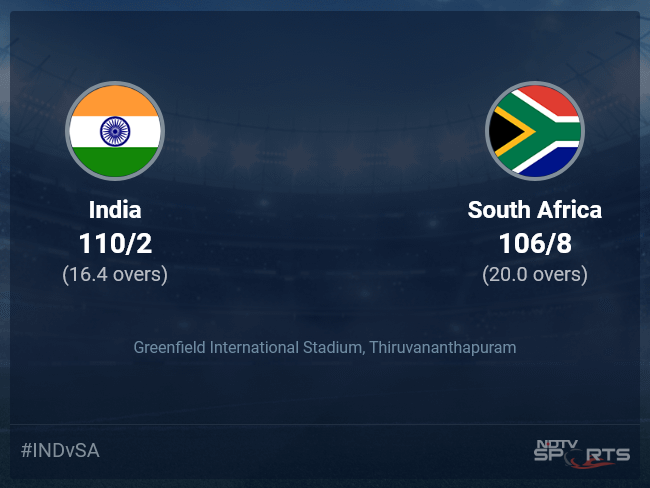 SA vs IND Latest Score
Follow the India vs South Africa 2022/23 live cricket score on Sports.NDTV.com. After 16.4 overs, India, chasing a target of 107, are 110/2. Get live score, ball by ball commentary and much more. Keep track of India vs South Africa 2022/23 today match between India and South Africa. Everything related to India and South Africa match will be available on Sports.NDTV.com. Stay updated with India vs South Africa live score. Do check for India vs South Africa scorecard. You can get scorecard updates, match related facts. Get quick live updates with ads, Sports.NDTV.com, which is the perfect destination for live cricket score.
Right then! That's it from this enticing contest. India have their noses ahead, and they will look to secure the series in the next game. Whereas, South Africa will aim to put on a better show and level the series. The second T20I will be played on 2nd October 2022. The action is all set to begin at 7.00 pm IST (1.30 pm GMT), but our build-up will begin in advance. So do join us then. Till then, goodbye and take care.
Arshdeep Singh is the Player of the Match, He says that he used to wonder what he would do if he won the award and he finally got his first. Mentions that Deepak Chahar set the tone and he just continued to do the same thing. Claims that he enjoyed the wicket of David Miller the most. About his last over in the death, he admits that he was initially planning to take a wicket but Keshav Maharaj played well but the most important thing is that they won. Says that he is feeling refreshed and is raring to go.
Rohit Sharma the captain of India says that it was a tricky chase because the wicket was tricky. The conditions were challenging, but it was good to play such a game. Mentions that he knew there would be something in this wicket, but not throughout the innings. The wicket was sticky and it was a little damp. Says that Arshdeep Singh and Deepak Chahar both bowled well, they swung the ball upfront and got the reward. Further says they knew the chase was not going to be that easy, but they need to respect the conditions. They lost two early wickets, but the partnership between Suryakumar Yadav and KL Rahul was crucial.
Temba Bavuma the captain of South Africa says that as a batting unit they need to apply themselves in difficult conditions and says that they failed to do so. Mentions that they practiced here a couple of days back and adds that the wicket played quite differently than what they expected. Reckons that three seamers on that kind of wicket, would back them to do well but they need more runs on the board. Goes on to say that they need to do well with the bat in order to give the bowlers a total to fight. Positive is the fight shown by the batters towards the end but was not good enough from them.
Stay tuned for the presentation...
KL Rahul is down for a chat. He says that it was tough up the order as the conditions were difficult and this was hard work. Mentions that it was unbelievable to see Suryakumar Yadav come out there and play those kinds of shots. Adds that he took on the bowling and decided to play his natural game which allowed him time to get settled in. Claims that they practiced there the previous day and they were ready for the scrap. Credits the bowlers for doing an outstanding job to make the batter's job easier. About Arshdeep Singh, he says that he is getting better and better and always wants to be in the fight and bowl at good batters. Goes on to say that it is important to have a left-hander in the team and he is fulfilling the role. Ends by saying he will go have an ice bath now after playing on this wicket.
Earlier in the match, Rohit Sharma won the toss and elected to bowl first on this green wicket and his decision certainly paid rich dividends. The Indian bowlers got off to a rollicking start by gabbing 5 wickets for just 9 runs within the first three overs. They eventually restricted South Africa to 108 runs, with Keshav Maharaj being their top scorer. For India, Arshdeep Singh picked up three wickets, and Deepak Chahar ended with two. In reply, the Men in Blue got off to a shaky start, but KL Rahul and Suryakumar Yadav held their nerve and guided India over the line with ease.
South Africa got off to a bright start. Their pacers came out all guns blazing and exploited the conditions perfectly as they got rid of Rohit Sharma and Virat Kohli early in the innings. But once the spinners were brought into the attack, the momentum swung towards India as they failed to keep the pressure going. Suryakumar Yadav and KL Rahul then put on a match-winning stand of 93 runs with the former playing the aggressor and Rahul playing the perfect second fiddle. Both of the batters, in the end, notched up their respective half-centuries. For South Africa, It was never going to be easy considering they got just over a 100 runs, but it's been a good fight from them. India weathered the storm well initially, but it was smooth sailing once Suryakumar Yadav came to the crease and displayed his array of shots.
It's not been a straightforward chase for the Men in Blue, but they have gotten over the line efficiently and have taken an early lead in this 3-match T20I series. The Proteas did make India sweat hard for their runs, but they had too little to fight with. Credit to them, but they will need a better show from their batters in the next game.
16.4 overs (6 Runs) SIX! KL Rahul reaches his fifty as well! Tabraiz Shamsi flights this full and in line with the stumps, KL Rahul gets down on one knee and slog sweeps this over deep square leg for a maximum. India seal a comforatble 8-wicket win.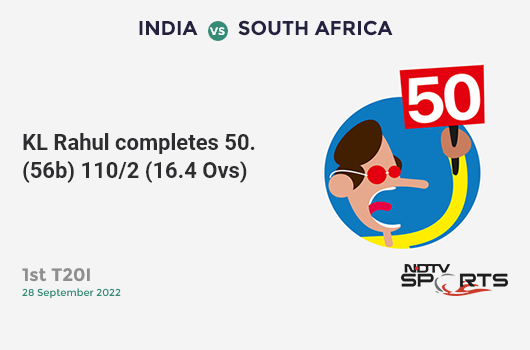 16.3 overs (1 Run) That is a half-century for Suryakumar Yadav! He has been outstanding in this game. This is full and aimed for the leg stump, Suryakumar Yadav flicks this to deep square leg for a single.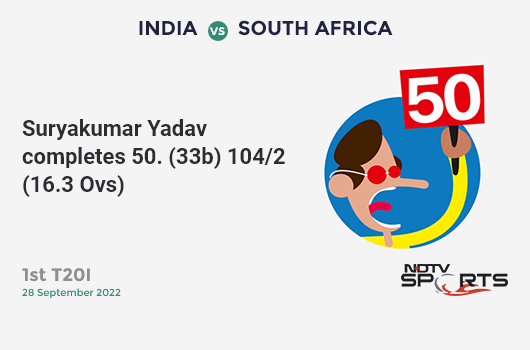 16.2 overs (1 Run) Tabraiz Shamsi flights this full and straight, KL Rahul clips this towards long on and brings Suryakumar Yadav back on strike.
16.1 overs (1 Run) Tabraiz Shamsi bowls this on a fuller length and in line with leg stump. Suryakumar Yadav tucks this towards fine leg for a single. He reaches 49.
15.6 overs (1 Run) Continues bowling full and outside off, Suryakumar Yadav hits this in the air to the right of cover. Temba Bavuma dives and gets both hands to it but does not hold on to it. They take a single.
15.5 overs (0 Run) Goes full and outside off, Suryakumar Yadav finds the cover fielder with his drive.
15.4 overs (4 Runs) FOUR! Back-to-back boundaries! Kagiso Rabada attempts a slower delivery full and outside off, Suryakumar Yadav read the pace well and waits on it. Smashes it towards the deep cover boundary and collects four more runs. He is now one hit away from another half-century.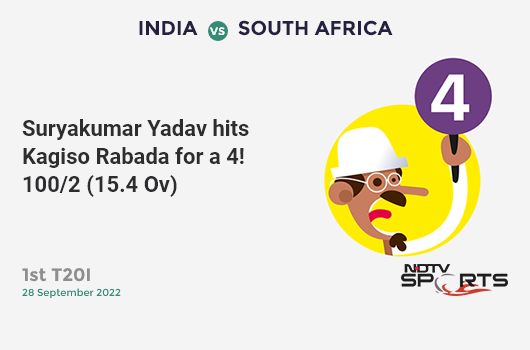 15.3 overs (4 Runs) FOUR! That is pure timing! Kagiso Rabada bowls a full toss outside off, Suryakumar Yadav hits this straight back over the bowler and finds the long off boundary.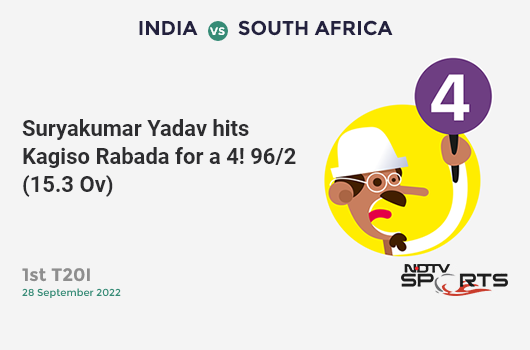 15.2 overs (1 Run) This is served full and in line with the stumps, KL Rahul clips this towards deep mid-wicket and takes a single.
15.1 overs (0 Run) Kagiso Rabada bowls this on a good length and outside the off pole, KL Rahul feels for this but is beaten all ends up.
Match Reports
Topics mentioned in this article