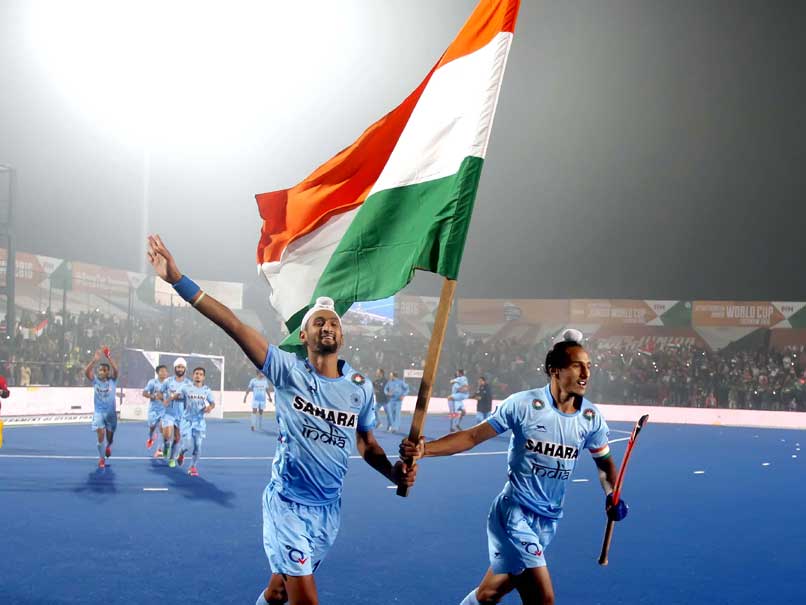 India captain Harjeet Singh (right) celebrates with a teammate.
© Hockey India
The young captain Harjeet said the current team will "give a lot of joy" to the countrymen in near future. India last won the Junior World Cup in 2001.
"I would like to thank all the players who aimed to win this trophy. Everybody has put in a lot of hardwork under discipline. We all had one aim and we thankfully managed to achieve that today," an emotional Harjeet said.
"The crowd support gave us a lot of confidence but we played according to our structure which we have been implementing for the last two-and-a-half years. This team is going to give a lot of joy to you all in the future."
Harjeet said they approached the final as any other game and just concentrated on performing their duties on the turf.
"We all knew what we have to do in the field, everyone knew their duties. We just concentrated on that and played simple hockey. We played the final like a final.
"We were leading by two goals and our planning was to sit back and defend and rely on counters. We played according to our plan. Every player put in energy," he said.
India's coach Harendra Singh said he was assured of winning the trophy when he took over reigns of the team in 2014.
"In April 2014, I had said that we are going to win the trophy, you can ask these boys," he said.
"Today's heroes are the players and I won't take the limelight. These are 18 golden gems of India and today is their day."
Chief coach of the senior men's team Roelant Oltmans, who was the manager of the junior side here, said the Indian colts played near perfect hockey, which we desired from the boys in a big match.
"The first half was very close to perfect game. But in the second half we gave them a little bit too much initiative to be honest. But not one second in this game I was worried. The boys did a fantastic job and all the credit to these 18 players," the Dutchman said.
(With inputs from PTI)