Story Progress
Back to home
Narinder Batra Becomes First Non-European International Hockey Federation President
Narinder Batra received 68 votes and was the winner by a clear margin ahead of David Balbirnie (29 votes) of Ireland and Ken Read (13 votes) of Australia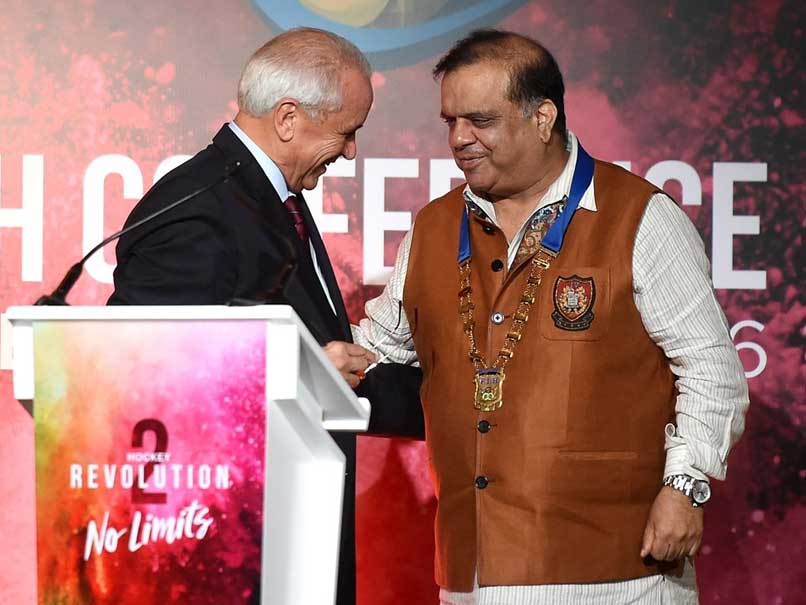 Narinder Batra on Saturday was elected the new International Hockey Federation president.
© FIH/Twitter
Highlights
Narinder Batra elected as new International Hockey Federation president

Narinder Batra is the first Asian to become the president of FIH

Narinder Batra received 68 votes at the 45th FIH Congress in Dubai
Dubai:
India's Narinder Batra on Saturday became the first non-European President of the International Hockey Federation after he was elected to the top post by an overwhelming margin during the penultimate day of the 45th FIH Congress, in Dubai.
Batra, who is the president of Hockey India, defeated David Balbirnie of Ireland and Australia's Ken Read to become the 12th FIH President -- the first Asian to grab the post in the world body's 92-year-old history.
Batra got 68 votes in his favour while Balbirnie and Read managed 29 and 13 votes respectively. Out of 118 voters, only 110 voted while eight abstained.
The voting was conducted via secret ballot through an electronic voting system.
Each delegation head of a National Association was provided with a tablet and a unique password by which they voted for their choice.
It has been learnt that Batra, who was the official candidate of Asian Hockey Federation, enjoyed majority support from Asian, African and Central American nations during the voting process.
Outgoing President Leandro Negre, with whom Batra shares a very cordial relationship, announced the result of the poll.
Batra's four-year tenure begins immediately, which means he will have to relinquish Hockey India President's post with immediate effect.
He also is the first Indian to be elected as chief of an Olympic Sport's international governing body.
Batra's win means the power centre of the sport will now move to Asia from Europe, which had been ruling international hockey for decades.
The 59-year old Batra, who became president of Hockey India in October 2014 after serving as its secretary, succeeds Spaniard Leandro Negre, who has been the FIH chief since 2008.
Other Europeans to have headed the FIH in the past were Rene Frank, Etienne Glichitch, Juan Antonio Calzado, Els van Breda Vriesman besides Negre.
As President, Batra will be tasked with leading the sport through the next phase of the FIH's 10-year Hockey Revolution strategy. A key part of this will be the delivery of the new Event Portfolio which begins in 2019.
Batra will work very closely with outgoing CEO Kelly Fairweather over the next few weeks before the latter's departure in early December.
He will then continue to work with interim CEO David Luckes, FIH Director of Sport, before incoming CEO Jason McCracken officially takes up his new role on February 1, 2017.
The moment Dr. Narinder Batra was announced as the new FIH President! #HockeyRevolution @TheHockeyIndia @asia_hockey pic.twitter.com/4YWCpsqNro

— FIH (@FIH_Hockey) November 12, 2016
Batra also finds himself in a select band of Indian sports administrators to have led world federations, most notable among them were ICC President Jagmohan Dalmiya and Sharad Pawar.
Among other cricket administrators, N Srinivasan became the first-ever ICC chairman while Shashank Manohar succeeded him as first elected chairman of the world cricket body.
Others who have headed world federations were N Ramachandran (President of World Squash Federation) and Janardhan Singh Gehlot (President of International Kabaddi Federation).
Before becoming the President, Batra also served a short stint as a member of FIH's executive board.
Batra is credited to have changed the fortune of Indian hockey by brining in money to the sport via sponsors, courtesy his strong business acumen.
He single-handed turned India into the epicentre of world hockey and made Indian players financially independent by creating a successful IPL-style Hockey India League, which will enter its fifth season next year.
Batra also brought international hockey to India and ensured that the country gets to host a major international tournament every year in the last four years.
According to reports, under Batra's leadership Hockey India's income has grown from $500,000 to $14 million over the last six-year period.
Promoted
Topics mentioned in this article