Story Progress
Back to home
Asian Champions Trophy Hockey Final Highlights: India Beat Pakistan 3-2 to Lift Title
India defeated Pakistan 3-2 in the final of the Asian Champions Trophy Hockey tournament to lift the title for the second time. Get hockey highlights of India vs Pakistan title clash here.
India blew away a two goal lead, but came back to find the third and winning goal late in the game to beat Pakistan in the final of the Asian Champions Trophy Hockey tournament and lift the title for the second time. Get hockey highlights of India vs Pakistan title clash here. (NEWS)
19:33 IST: That's it in Kuantan! India hold on to win the Asian Champions Trophy hockey final 3-2. India are champions again after five years!
19:29 IST: India only three minutes away from clinching the title now.
19:25 IST: No problem for India there as Pakistan mess up their penalty corner. It's still 3-2 to India.
19:25 IST: Penalty corner to Pakistan. Can India hold on here?
19:21 IST: GOAL! Nikkin Thimmaiah scores to give India a 3-2 lead. A calm finish from Thimmaiah there, and India have the much-needed lead with just a few minutes left now.
19:17 IST: Uthappa comes in from the right flank and sends in a cross. Pakistan manage to avert danger.
19:13 IST: The third quarter comes to an end with India and Pakistan level at 2-2.
19:11 IST: India had beaten Pakistan 3-2 a few days back in the round robin phase of this tournament. Is a similar scoreline on the cards here?
19:05 IST: The ball is inside Pakistan's goal, but without a touch inside the 'D' by an Indian player. No goal!
19:04 IST: Ali Shan scores for Pakistan to make it 2-2 vs India. 
19:00 IST: India continue to pile the pressure on Pakistan. The latter are struggling to keep possession.
18:56 IST: The second quarter starts, and India are on the attack straightaway.
18:48 IST: The second quarter comes to an end. India go into the half-time break with a 2-1 lead.
18:45 IST: India are set up very high offensively. Pakistan looking for spaces on the break. This is going to be an interesting battle.
18:40 IST: Aleem Bilal scores for Pakistan from a penalty corner. It's game on in Kuantan!
18:37 IST: GOAL! Affan Yousuf scores from close range to make it 2-0 for India. This is going as planned for Roelant Oltmans' side. Pakistan look rattled!
18:34 IST: What a chance for India! Talwinder finds some space on the left and takes a shot, but his effort goes wide and over the goal. India still lead 1-0.
18:30 IST: GOAL! Rupinder Pal Singh converts from the penalty corner! India lead the final 1-0!
18:29 IST: India have another penalty corner early in the 2nd quarter.
18:25 IST: The first quarter ends goalless.
18:24 IST: End to end action between both sides. Affan comes close for India, before Pakistan find some space on the right flank. Both fail to score.
18:21 IST: Pakistan almost score against the run of play. Akash Chikte pulls off a brilliant save after a defensive error from India. It's still 0-0 in Kuantan.
18:18 IST: Only 10 minutes played so far, but India clearly the more dominant of the two sides. Pakistan are playing a low line, defensively. They will look to hit India on the counter.
18:16 IST: Just wide from Jasjit from that penalty corner. Pakistan are reprieved, it's still goalless.
18:16 IST: Encouraging start from India, who now have a penalty corner.
18:12 IST: India with a couple of raids into Pakistan's half early in the match. Nothing out of them, however.
18:08 IST: The final starts with India receiving a late blow in the form of PR Sreejesh, who sits out the match due to injury. Akash Chikte starts in his place.
17:55 IST: We are moments away from the start of the final in Kuantan.
17:35 pm: In another match, Malaysia defeat South Korea in penalty shoot-out to claim third position.
17:30 pm: Welcome all to the live coverage of the India vs Pakistan final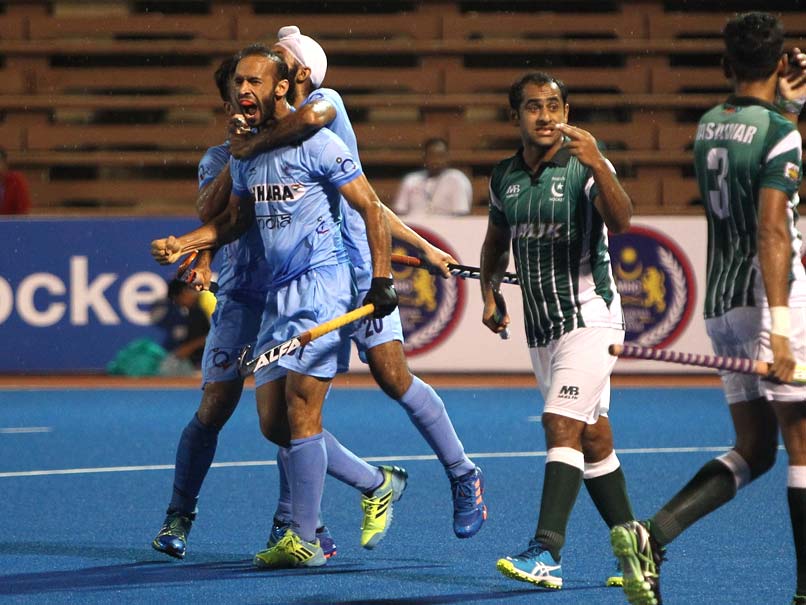 India would draw confidence from their 3-2 win over Pakistan in their league encounter. Despite trailing 1-2, India showed nerves of steel to clinch the match.
For India, Rupinder Pal Singh has been in scintillating form, almost scoring at will from penalty corners.
Promoted
However, Pakistan has also shown gumption to fight as they beat came from behind to defeat Malaysia in the semi-final.
India won the Asian Champions Trophy in 2011, while Pakistan won it in 2012 and 2013. In 2014 and 2015 the tournament was not held.
Topics mentioned in this article