Story Progress
Back to home
Asian Champions Trophy Hockey: India Look For Penalty Corner Variations vs South Korea
India will face South Korea in the second match of the Asian Champions Trophy hockey. PR Sreejesh-led team won their opening match against Japan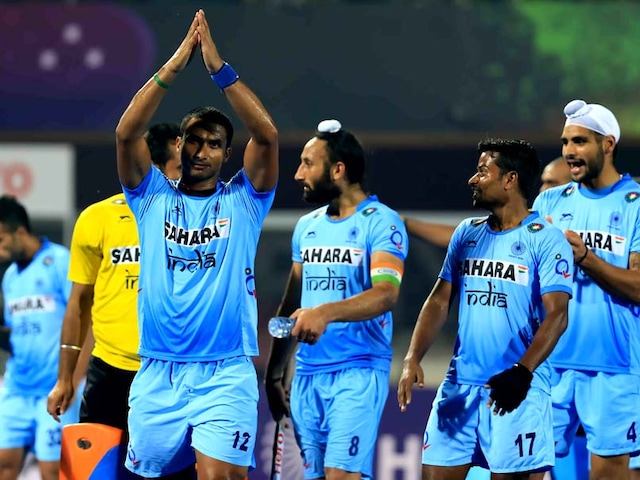 India are seen as the favourites for the Asian Champions Trophy hockey title this year.
© Hockey India
Highlights
India will face South Korea in ACT on Saturday

India won their opening match against Japan

India won the tournament in 2011
Kuantan:
Starting with a rousing win over Japan in their opening outing of the fourth Asian Champions Trophy, India are looking for variations beyond ace shooter Rupinder Pal Singh's penalty corner flicks when they take on South Korea here on Saturday.
Penalty corner variations are on the mind of coach Roelant Oltmans, whose choice of players for this first tournament after the Olympic Games was restricted due to the V.R. Raghunath's injury and the absence of young shooter Harmanpreet Singh, who is preparing for Junior World Cup to be hosted by India in December.
Jasjeet Singh Kular, recalled to the squad after missing the Olympics, is the other main option available to the coach, but he did not come into the frame often in the first outing, primarily because Rupinder was on fire scoring as many as six goals.
"It wasn't that we were only looking for goals from Rupinder yesterday," said coach Oltmans. "We tried some variations also, but could not match Rupinder's precise shooting."
"We have some ideas for future games and they go beyond Rupinder's flicks. Yesterday, the ball was coming slow for Jasjit, but we still tried some variations," Oltmans said.
There was a heavy downpour ahead of the Indian match against Japan last evening, which even interrupted the previous match between hosts Malaysia and Pakistan.
Rupinder converted his initial four penalty corner shots in the first 19 minutes of play and then came back to add two more goals to his name.
This was the first time Rupinder has scored six goals in an international fixture and is eager to boost his tally in the forthcoming matches. He was already India's highest goal-scorer this year and these six goals took his tally to 13 goals from 21 matches in 2016, which include two from penalty strokes.
The 10 goals against Japan were India's highest since they scored nine against Bangladesh in the Asia Cup three years ago.
"I was here with the Indian team when they scored nine against Bangladesh and eight against Oman three years ago," said Oltmans. "Japan are a much higher ranked team than those two rivals, so I am quite pleased."
Oltmans is happy at the manner in which his players went out looking for goals in the first outing.
"It's our first international tournament since the Olympics. Against Japan, we had seven goals in the first half and added three more," he said.
Oltmans said India came here with the intent of showcasing their goal-scoring prowess.
Promoted
"We need to see the players perform in the field. We've got a good start and look forward to a a fine show in the next two games against South Korea and Pakistan," the coach said.
"Every opponent is the same and we will play our usual attacking game. Right now, we are focused on the match against South Korea after which we will prepare for the game against Pakistan," added Oltmans.
Topics mentioned in this article