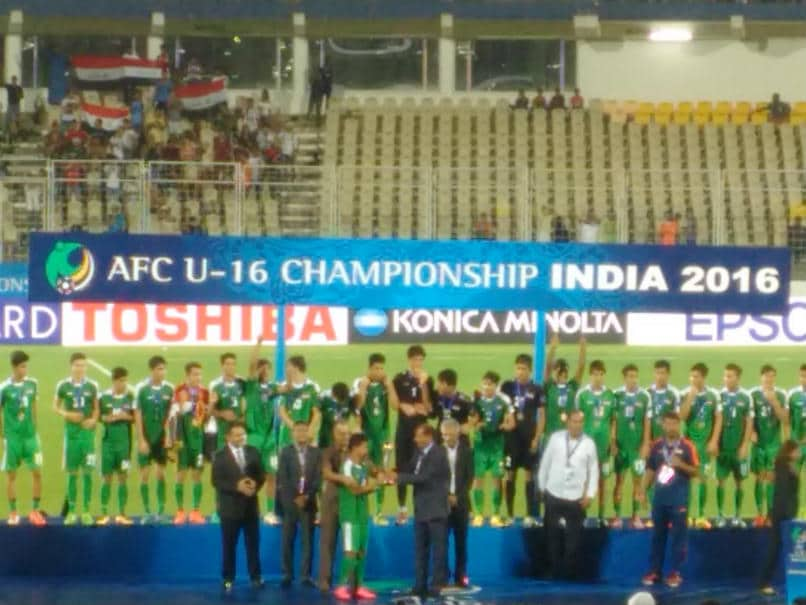 The Iraq captain is handed the AFC U-16 trophy after the final. (Photo: Shaji Prabhakaran/Twitter)
© Twitter
Margao:
The two sides could not produce any goal at the end of the 90-minute regulation time. No extra time was awarded and penalty shootout was ordered.
Iraq's Ahmed Saartip Omar, Muntadher Abdulsada, Ali Ahmed Radha and Mohammed Dawood were successful in the penalty shootout while Mohammed Sahrifi, Vahid Namdari and Amirhossein Esmaeilzadeh could score for Iran.
Iraq had an early chance to surge ahead but Mohammed Dawood, who scored a hat-trick in their win against Japan in the semi-finals, shot out in front of an open goal.
Iran tried to beat the rival defence with overhead passes and they came close to scoring in the 12th minute when Allahyar Sayyad laid a pass to Younes Delfi whose volley was, however, put out by a diving rival keeper Ali Ibadi Jabbar to his right.
Iraq, who enjoyed midfield superiority and better ball possession, kept the pressure on their rivals especially in the latter part of the first half but Iran defence did well to soak up the pressure with Taha Shariati excelling in the defence.
Iraq continued to exert pressure on their opponents in the second half with repeated forays and Mohammed Dawood was unlucky to see his shot from top of the box hit the crossbar and went out in the 60th minute.
Luck once again did not smile on Iraq as Moamel Kareem Khachi's power-packed shot hit the post and off the rebound, substitute Ali Kareem Hani's try was punched away safely by rival keeper Zadeh.
With both the teams unable to break the deadlock in the 90 minutes of regulation, penalty shoot out was ordered and Iraq emerged winner.