Story Progress
Back to home
Wasim Akram Reveals How Waqar Younis Planned To Deny Anil Kumble 10 Wickets
Waqar Younis had no intention of being part of Anil Kumble's landmark moment, discloses Wasim Akram.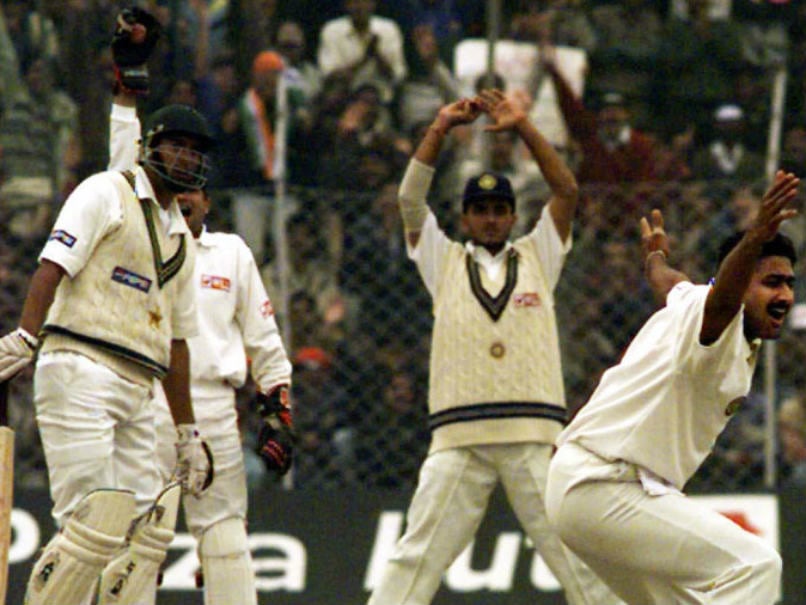 Anil Kumble became only the second player in Test history to take all 10 wickets in an innings.
© AP
Highlights
Akram claims that Waqar wanted to get run out to deny Kumble 10 wickets

Kumble became 2nd cricketer in Tests to take 10 wickets in an innings

Wasim Akram was Kumble's final victim in the historic Test in 1999
Anil Kumble was in his elements at the Ferozshah Kotla Stadium in New Delhi on February7, 1999, when India took on Pakistan in the second Test of the two-match series. He picked up all the ten wickets in the second innings of the match, a feat achieved only once before in the history of Test cricket. However, Pakistan fast bowler Waqar Younis had other plans on that day, when he contrived to find ways to deny Kumble his historic 10-wicket match-winning haul.

According to Wasim Akram, who was the Pakistan captain in that match, his fast bowling buddy Waqar, in order to deny Kumble the landmark, had hatched a devious plan. In a report published by DNA, Akram said, "Kumble had got nine wickets and me and Waqar (Younis) were batting in the crease. Waqar came to me and said 'How about getting run out?' so that Kumble does not get his 10th wicket.''

"I said 'You can't deny him the feat if he is destined for it. But I can assure you that I'm not going to give my wicket to Kumble'," Akram said.

"But subsequently it was me who gifted my wicket to Kumble,'' he went on to add.

But Younis shot back at his former team-mate and soon both were engaged in a Twitter spat.

Younis retorted by tweeting, "This never happened!! I think age is catching up with Wasim Bhai. Not true."
@wasimakramlive This never happened !! I think age is catching up with Wasim Bhai ?? #NotTrue. pic.twitter.com/ZK8sdjK64u

— waqar younis (@waqyounis99) February 8, 2017
Akram didn't take it lying down either. He tweeted back saying, "Get your facts right mate. And if we are going to go down the "age" road you know I'll Beat you in that game every time."
However, the legendary Pakistan pacer deleted the tweet soon after.

Wasim and Waqar were a great fast bowling pair back in those days but off the field the duo have a history of not getting along. It seems as though things have not improved much even after both the players have called time on their respective careers.
Topics mentioned in this article