Story Progress
Back to home
India vs New Zealand 1st T20I, Highlights: Ashish Nehra Gets Fitting Farewell Gift As India Outclass NZ By 53 Runs
Highlights, India vs New Zealand 1st T20: India win the match by 53 runs to lead the three-match T20 series 1-0.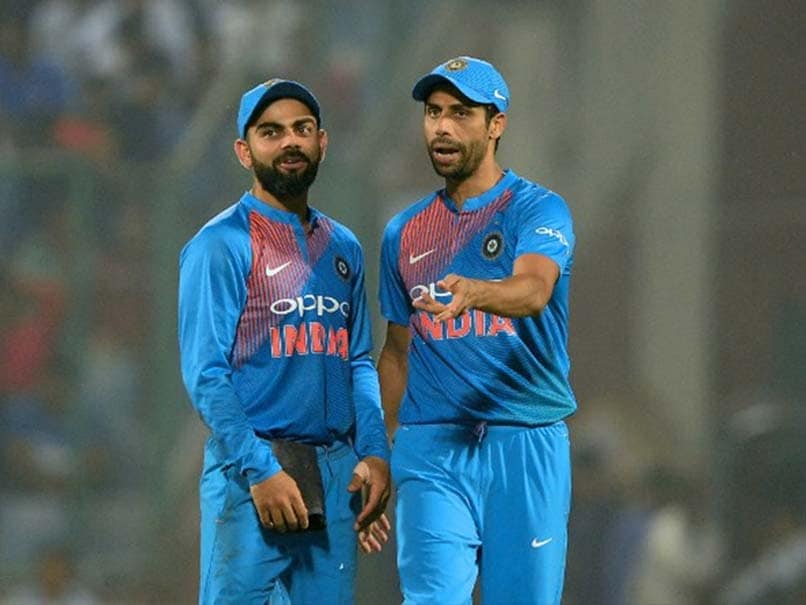 1st T20I: India beat New Zealand by 53 runs to lead the 3-match series 1-0
© AFP
A brilliant all-round performance from the Indian team saw them beat New Zealand by 53 runs in the first T20 match of the three-match T20 series at Feroz Shah Kotla on Wednesday. This was India's first ever win in T20Is against the Black Caps. For India, Axar Patel was the pick of the bowlers as he finished the match with the figures of two for 20 in his allotted four overs. Apart from Axar, Yuzvendra Chahal picked up two wickets. India now lead the 3-match T20I series 1-0. The next match will be played on November 4 at Rajkot.(scorecard)
Highlights from India vs New Zealand 1st T20, straight from Feroz Shah Kotla, Delhi
22:30 IST: Thank you for joining us for the live blog, Do tune in back on November 4 for the second T20I.
22:21 IST: India win the 1st T20I match by 53 balls as Nehra calls time on his career. Brilliant all round display by the Indian team to register their first T20I victory against New Zealand.
22:20 IST: Four!Sodhi slams Nehra for a boundary straight down the ground.
22:19 IST:Begins with two dot balls. Can he get a wicket?
22:18 IST: Ashish Nehra bowling the last over of the match!
22:17 IST: Six!Santner clobbers Bumrah for a huge maximum straight down the ground.
22:16 IST: Four! On the pads from Bumrah, Santner flicks it to get another boundary.
22:14 IST:India edging closer to their first ever T20I win against New Zealand. Nehra is warming up, will he bowl the last over?
22:12 IST: New Zealand need 77 runs in 12 balls.
22:10 IST: Six!Full on the pads from Bhuvneshwar, Santner flicks it beautifully for a maximum as the ball boy on the boundary takes a good catch.
22:09 IST: Four!Length ball from Bhuvneshwar, Santner gets the ball away for a boundary.
22:08 IST: New Zealand are eight down, need 88 runs in 18 balls.
22:07 IST: OUT! Tim Southee going for the big shot, edges the ball back to the Dhoni. Bumrah gets his first.
22:02 IST: Four!Wide from Chahal, Southee throws his bat, edges the ball for a boundary.
22:01 IST: Stumped!Latham (39) charges down the wicket, fails to read the googly, misses and Dhoni does the rest. New Zealand are seven down.
21:59 IST: Four!Looking to sweep, Latham edges the ball over the wicket-keeper for a boundary.
21:58 IST: Run-out!Captain Kohli gets a direct hit on the stumps as Henry Nicholls departs for six.
21:53 IST:Six overs to go in the game and the visitors are yet to reach the triple-figure mark.
21:48 IST: Out!Axar Patel gets his second of the night as Colin de Grandhomme goes back for a duck. Looking to go big, Grandhomme, down on one knee, frees his arms, miscues and Dhawan takes a comfortable catch.
21:46 IST: Out!Axar Patel gets a wicket in his last over, sends Tom Bruce packing for 10.
21:42 IST:New Zealand need 123 runs in 48 balls with a required run rate of 15.38.
21:40 IST: Six !!Short from Yuzvendra, Latham reads the ball perfectly as he pulls it with power for a maximum.
21:39 IST: New Zealand need 132 runs in 54 balls.
21:38 IST:India bowlers are doing a good job by keeping the batsmen silent in the middle.
21:36 IST: New Zealand 65/3 after 10 overs (Tom Latham 15*, Tom Bruce 6*)
21:35 IST: Four!Short and wide from Pandya, again, Tom Bruce slaps it for a boundary.
21:34 IST: Four!Short and wide from Pandya, Latham hammers it for a boundary.
21:30 IST: Out!Short and wide from Pandya, Williamson (28) trying to cut, edges it to Dhoni behind the stumps. First ball wicket for the bowler.
21:25 IST: Dropped!Williamson (21) shimmies down the track, looking to go over mid-off, miscues but Kohli could only get his finger tips to the ball. What does Nehra has to do to get a wicket tonight?
21:24 IST: Four!Short delivery from Nehra, Williamson slams it for a boundary.
21:20 IST: The required run rate for New Zealand is over 12 now. They need to up their game.
21:14 IST: Four!Williamson, down on one knee, scoops Bhuvneshwar for a maximum. Skilfully done.
21:11 IST: New Zealand 24/2 after five overs. (Williamson 5*, Tom Latham 4*)
21:09 IST: Four!Tom Latham gets a thick outside edge off Bumrah and is off the mark with a boundary.
21:08 IST:Jasprit Bumrah, comes in the attack, starts with a yorker.
21:05 IST: OUT!Brilliant delivery from Bhuvneshwar as he castles Colin Munro for seven with a slower delivery, didn't take much time for the Indian ace to bounce back.
21:03 IST:Bhuvneshwar strays on the pads, Williamson flicks it and takes three runs.
21:01 IST:Bhuvneshwar Kumar, right-arm medium, comes into the attack
21:00 IST: Dropped!Nehra misses out on a wicket as Pandya fails to take a Munro skier.
20:58 IST:New Zealand receive a free-hit as number of fielders required in the circle was one less. Munro slaps the ball over covers but Yuzvendra Chahal saves two important runs as he cuts the ball.
20:52 IST: OUT!Martin Guptill (4) lofted Chahal straight down the ground, Pandya at long-off flings himself across full stretch at the last moment and takes a blinder.
20:50 IST:Yuzvendra Chahal, comes in the attack.
20:48 IST: New Zealand 5/0 after the first over.
20:47 IST: Four!Slower delivery from Nehra, Guptill waits and hits the ball for his first boundary.
20:45 IST:Ashish Nehra opening the bowling for India. Martin Guptill and Colin Munro opening the batting for New Zealand.
20:43 IST: Welcome back to the second innings!
20:30 IST: India 202/3 in 20 overs (Rohit 80, Dhawan 80).A brilliant batting display from the hosts lit up the Feroz Shah Kotla stadium.
20:28 IST: Six!Mahdendra Singh Dhoni announces his arrival in the crease with a huge maximum on the leg side.First ball six.
20:26 IST: Six!Kohli starts the last over with a maximum off the first over.
20:22 IST: TV umpire judges Rohit Sharma (80) out. India 185/2 in 19 overs.
20:21 IST:Boult appeal for Rohit Sharma caught behind, on-field umpire turn down the appeal, New Zealand take a review.
20:17 IST: With two overs to go, India 174/2 (Rohit 76*, Kohli 9*). Can India cross the 200-mark.
20:12 IST: OUT!!Flight delivery from Sodhi and he gets turn and bounce, Pandya (0) is drawn into the forward defensive, the ball grips the surface and the spin takes the outside edge. Latham takes a comfortable catch behind the wicket. India 158/2 in 16.4 overs.
20:09 IST: Stumped!Dhawan (80) comes down the wicket, misses the wide ball from Ish Sodhi and the wicket-keeper does the rest.
20:07 IST:18 runs off the Trent Boult over. India eyeing big total at Feroz Shah Kotla.
20:06 IST: Four!Full toss from Boult, Dhawan slams the ball straight down the ground for back-to-back boundaries off Boult.
20:05 IST: Four!Boult strays on the pads, Dhawan flicks it past the man at short-fine leg.
20:04 IST: Six! Boult steams in from round the wicket and lands it on a length outside off, Rohit plants his front foot across to scoop, the thickish top-edge flies over fine leg for another maximum.
20:03 IST: India 140/0 after 15 overs. (Dhawan 71*, Rohit 61*)
20:02 IST: India at 139/0 register their highest opening partnership in T20Is going past previous partnership of 136 stitched by Gautam Gambhir and Virender Sehwag vs ENgland in Durban.
20:01 IST: Back-to-back boundaries! Rohit Sharma is toying with Santner.
20:00 IST: Six and a fifty!Rohit makes space and hammers Santner straight down the ground. Scores his 12th T20I half-century.
19:57 IST: Six!!Right in the slot from Southee, Dhawan, in red-hot form, swings his arms for a massive maximum over mid-wicket. On the other hand, Rohit (46*) is also edging closer to his half-century.
19:50 IST: Six and a four!Dhawan rocks back and pulls Sodhi for a maximum on the leg-side and follows it with a boundary. Highest score for Dhawan in T20Is. Goes past 60 vs Bangladesh in Asia Cup Final in Dhaka in 2016.
19:49 IST: 100 comes up for India in the 12th over. India batsmen dominating the proceedings.
19:47 IST: FIFTY!Shikhar Dhawan scores his third T20I half-century off 37 balls.
FIFTY! @SDhawan25 brings up his 3rd T20I 50 #INDvNZ pic.twitter.com/1Qp4dBDoEX

— BCCI (@BCCI) November 1, 2017
19:44 IST: SIX!Length ball from Munro and Rohit welcomes him with a huge maximum over long-on.
19:43 IST:Colin Munro, right-arm medium, comes into the attack.
19:42 IST: India 80/0 after 10 overs. (Dhawan 47*, Rohit 25*). The dew factor has been working in favour of the India at the moment.
19:39 IST: Four!India get another free hit and Dhawan slams the ball through the off-side for a boundary. Not a satisfactory over from de Grandhomme, concedes 18 runs.
19:37 IST: Free hit!!De Grandhomme trying the knuckle ball, bowls a full toss over the keeper and it's a no ball and a boundary too.
19:36 IST:Dhawan, who is playing on his home-ground, has quickly moved on to 40*.
19:33 IST:Excellent first over from Ish Sodhi, gives away only three runs.India 56/0 after eight overs.
19:31 IST:Ish Sodhi, right-arm leg break, comes into the attack.
19:30 IST:Rohit Sharma, Shikhar Dhawan seem to be on top of their game so far in the innings.
19:28 IST: Four!Dhawan down on one knee, sweeps Grandhomme for a boundary past the man at backward square leg.
19:27 IST: Dropped!Colin de Grandhomme bowls a slower ball, Rohit frees his man, doesn't connect properly, but Southee at long-off drops a low catch, Rohit lives.
19:26 IST:Colin de Grandhomme, right-arm fast medium, comes into the attack
19:24 IST: Four!Flighted delivery just outside off stump, Rohit goes inside-out and lofts Santner beautifully over the man at covers.
19:21 IST: India 38/0 after five overs. (Dhawan 25*, Rohit 11*)
19:19 IST:In head to head in T20Is New Zealand have won five times and India is yet to open their account.
19:15 IST: Four!Width offered outside off, Dhawan cuts it with authority for a boundary. India is off to a solid start.
19:11 IST: SIX!! Short of a length delivery outside off stump from Southee, Rohit opens the face of the bat and upper-cuts, Boult, at third man, jumps really high but couldn't reach the ball.
19:10 IST:Brilliant second over for India, score 11 runs off the Boult over.
19:08 IST: Dropped!Short and wide from Boult, Dhawan cuts it, Santner, at covers, drops the catch.
19:06 IST: Four!Boult drifts on the pads again, Dhawan flicks it through mid-wicket. Consecutive boundaries for the left-hand batsman.
19:05 IST: Four!Boult strays on the pads, Dhawan edges it past the wicket-keeper to score the first boundary of the match.
19:05 IST: Trent Boult, left-arm fast medium, comes into the attack.
19:03 IST:Brilliant first over from Santner, gives away only two runs.
19:00 IST: Game time!Shikhar Dhawan and Rohit Sharma opening the batting for India. Mitchell Santner opening the bowling for New Zealand.
18:40 IST:Playing XI for both teams:
India (Playing XI):Rohit Sharma, Shikhar Dhawan, Virat Kohli(c), Shreyas Iyer, MS Dhoni(w), Hardik Pandya, Axar Patel, Bhuvneshwar Kumar, Ashish Nehra, Jasprit Bumrah, Yuzvendra Chahal
New Zealand (Playing XI):Martin Guptill, Colin Munro, Kane Williamson(c), Tom Bruce, Tom Latham(w), Henry Nicholls, Colin de Grandhomme, Mitchell Santner, Tim Southee, Trent Boult, Ish Sodhi
18:35 IST:Ashish Nehra given a memento by the team for his remarkable contribution to Indian cricket.
VIDEO: Ashish Nehra given a memento by the team for his remarkable contribution to Indian cricket #TeamIndiahttps://t.co/3itQO1Ov5u pic.twitter.com/orHnyu3eUB

— BCCI (@BCCI) November 1, 2017
18:32 IST: Ashish Nehra included in the playing XI. "He has been a great servant for Indian cricket. He's one of the smartest guys I have played with. It's sad to see him go," Kohli said during the toss. For India,
Proud moment for young Shreyas Iyer as he receives his T20I cap from @RaviShastriOfc #TeamIndia #INDvNZ pic.twitter.com/6Men3m6ciz

— BCCI (@BCCI) November 1, 2017
18:30 IST: New Zealand captain Kane Williamson wins toss, elects to field.
18:28 IST:We are just minutes away from the toss. Stay tuned.
Promoted
18:10 IST:All eyes will be on the 38-year-old Ashish Nehra, who will be playing his last match in competitive cricket.
All eyes on one man - Ashish Nehra #TeamIndia #INDvNZ pic.twitter.com/cmsnV8isrd

— BCCI (@BCCI) November 1, 2017
18:00 IST: Hello and welcome to the live blog of the first T20I match between India and New Zealand straight from Delhi.
In bowling, India will look to Bhuvneshwar Kumar and Jasprit Bumrah for breakthroughs with the new ball as well as in the death overs. With his match-turning effort on Sunday, Bumrah showed why he is considered the best death bowler in the world. Though he went for 92 in his 10-over spell in Kanpur, Bhuvneshwar has normally been a bowler captain Kohli could turn to. Leg-spinner Yuzvendra Chahal will be high on confidence after his crucial two-wicket burst at Green Park and he is again going to be the key spinner. Kuldeep Yadav is the other spinner, who could figure in the playing XI. Then there is Nehra, who will bring to an end 18 years of international cricket journey, and he must be hoping for that perfect ending. Against the likes of Kane Williamson, Ross Taylor, Tom Latham, Trent Boult and Mitchell Santner, it will take some doing.
Topics mentioned in this article