Story Progress
Back to home
Vijender Singh Beats Ghana's Ernest Amuzu To Register 10th Consecutive Victory
With this win, he registered his tenth consecutive win in his professional boxing career.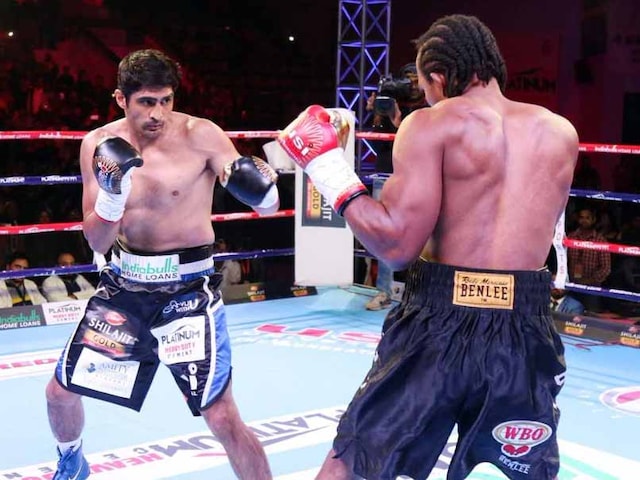 Vijender Singh beats Ghana's Ernest Amuzu to register 10th consecutive win
© NDTV
Highlights
Vijender Singh beat Ghana's Ernest Amuzu on Saturday

The 32-year-old Haryana pugilist is currently 6th in the WBO rankings

Singh registered his tenth successive victory
Vijender Singh continued his fine form after he successfully defended his WBO Asia Pacific and WBO Oriental Super Middleweight championships after beating Ghana's Ernest Amuzu with an unanimous verdict. With this win, he registered his tenth consecutive win in his professional boxing career. The match saw Vijender look more offensive than his opponent. Initially, in the first three rounds, both were cautious to not throw away points. After the third round, Vijender started to gain some momentum with his clever usage of his long range. Amuzu was defending the whole match and hardly won any points in those rounds. Vijender dictated the match right from the outset. After a mellowed initial rounds, Vijender dealt some heavy blows to the Ghana national. Amuzu was unable to land any telling punches on Vijender and eventually, he lost out to the Indian champion.
Post the sixth round, it was one-way traffic for Vijender. He kept on lading punches on his Ghana opponent. He landed some real hard punches on Amuzu's rib-cage to take control of the bout. Amuzu returned the favour with a few of his own, but the West African Boxing Union Middleweight champion could not sustain the tempo against his determined Indian opponent.
A confident Vijender then turned up with renewed vigour to unleash a flurry of punches on Amuzu. Two powerful jabs on Amuzu's jawline must have hurt the African, but he retaliated with a hook aiming at Vijender's head.
It was easy picking for Vijender thereafter as the Amuzu committed technical blunders by rushing to the corners. With Vijender having the upper hand, a tired Amuzu tried to stage a fightback but the Indian was up to the task, even as the duo exchanged a few punches.
Vijender played a percentage game during the final round when he had already suffered a muscle pull and didn't attack a lot.
Prior to this bout, Amuzu had 23 wins under his belt including 21 knockouts out of 25 fights.
Promoted
In other under-card bouts of the day, Commonwealth Games bronze medallist Amandeep Singh defeated Punjab's Manoj Kumar. Kuldeep Dhanda beat Fateh Singh, Pradeep Kharera got the better of Nikhil Sharma, while Dharmender Grewal beat Harsh Nagar
(With inputs from PTI)
Topics mentioned in this article