Story Progress
Back to home
Saina Nehwal Blasts World Badminton Body For 'Crammed' Schedule
The Badminton World Federation (BWF) has made it compulsory for the world's top 15 singles players and top 10 doubles pairs to play a minimum of 12 tournaments or face a penalty.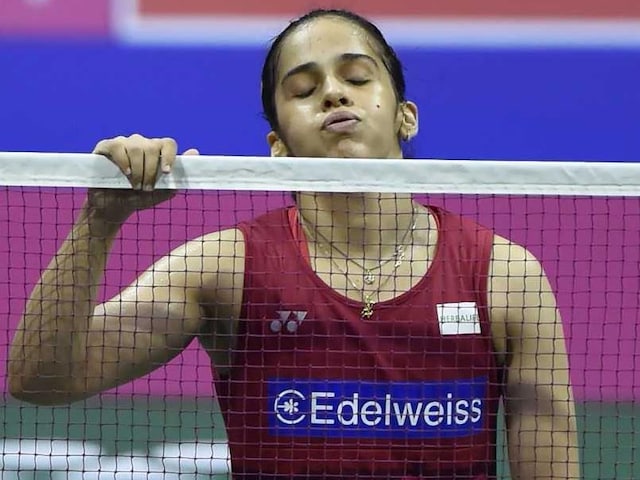 Saina Nehwal reacts after her win in this file picture
© AFP
Highlights
Nehwal slams BWF for 'crammed' calendar

Compulsory for top players to play minimum 12 tournaments: BWF

Nehwal says the crammed schedule will affect the performance
Senior Indian badminton star Saina Nehwal on Wednesday came down heavily on the Badminton World Federation (BWF) for a "cramped" international calendar, which hardly leaves any time for players to recover from injuries or be at their best at important tournaments. BWF has made it mandatory for top shuttlers to play at least 12 tournaments in a revamped schedule for 2018. "Next year's scheduled by BWF is too crammed, it is not right for the top players. I need more time to get the best out of me. I can't play back-to-back events. I can just participate but can't win," said Nehwal on the sidelines of the inauguration of the Premier Badminton League (PBL).
"After the PBL we have three tournaments. Again before the World Championship, there are three super series, so I am not understanding why BWF decided to go for such a schedule. It will be too tiring, too challenging.
"I don't have any answers. It will come down to fitness and my priority will be fitness. I don't believe in tournaments anymore, so no tournament, no titles, just fitness," added the Indian ace, who would play for Awadhe Warriors for the third season.
BWF has made it compulsory for the world's top 15 players in the singles events and top 10 pairs in the doubles disciplines to play a minimum of 12 tournaments or face a penalty.
"If BWF is trying to make badminton like tennis then they should have just 4-5 tournaments like Grand Slams with more money and coverage. If I were BWF president that is what I would have done. I am happy with more prize money but so many tournaments, I don't know," she added.
Asked if it would be fair to expect players to play at the Senior Nationals next year, Nehwal said: "Nationals is nothing compared to the crammed schedule that we have next year. It is something for three days and it is fine. It hardly makes any difference. But with Commonwealth Games, Asian Games and World Championship next year, you can't challenge yourself mentally and physically every two weeks. There should be lot more time given to players so that if someone is carrying an injury that can be sorted but there is no time at all.
"So if you have time you can work on these areas otherwise it is challenging and so small injuries become big injuries and it takes a lot of time to come out of it." Olympic champion and two-time World Championship gold medallist Carolina Marin also echoed similar voices.
"The schedule next year is going to be crazy. After PBL we will have three tournaments and during the season we will have so many tournaments, it would be tough for all the players," she said.
Marin also termed the proposed service rule change as "stupid" which would be implemented from All England Championship next year.
"The problem would be for the doubles players, not so much for the singles. Maybe it is something bit of stupid to do it but let's see how it works. It will affect players who are very tall," she said.
A former World No 1, Marin slipped to number four and the Spaniard said she would look to get back her numero uno status next year.
"It is really difficult to be at the top consistently. I feel it is impossible. But I want to keep improving myself and go to the top," said Marin, who would turn up for Hyderabad Hunters in the PBL this season.
Asked about the season, Marin said: "It was a good year. I had to recover from injury after Olympics. It was a tough moment for me and I couldn't practice and had to play tournaments. But now this year is done and I am looking forward to more titles next year."
Promoted
The third edition of PBL will have eight teams with 80 players, including eight World Championship medallist and nine Olympic medallist, competing over 23 days across Delhi, Lucknow, Guwahati, Hyderabad and Chennai.
(With PTI inputs)
Topics mentioned in this article