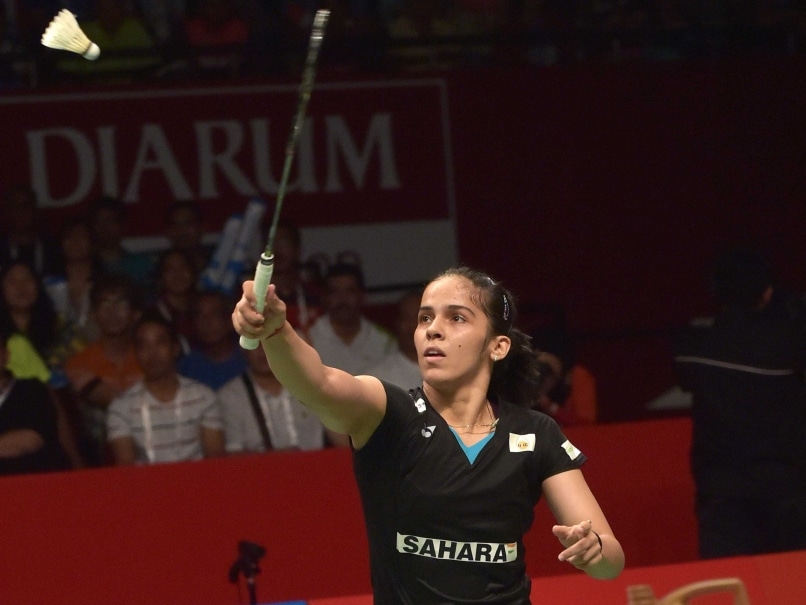 Saina Nehwal is the top seed at the Macau Open Grand Prix Gold.
© AFP
Saina Nehwal, after a hard-fought win in the first round, was again stretched to third game in the pre-quarterfinals by Indonesian Dinar Dyah Ayustine at the Macau Open Grand Prix Gold. The 2012 London Olympics bronze medallist, however, prevailed. Get highlights of Saina Nehwal vs Dinar Dyah Ayustine badminton match here. (NEWS)
11:42 IST: Saina wins the third game 21-12 and takes the match!!
11:41 IST: Saina is on verge of winning the match as she has taken a 19-12 lead
11:37 IST: Saina Nehwal has taken a huge 15-9 lead now
11:29 IST: Saina has come back strong and is leading 6-5
11:27 IST: the decisive third game starts and Saina is trailing 3-2
11:23 IST: Saina wins second game 21-18 to restore parity
11:20 IST: Indonesian levels scores at 18-18
11:17 IST: The young Indonesian is showing determination as she reduces the lead to 18-15
11:14 IST: Saina is nailing it as she leads 18-12
11:11 IST: Saina is leading 13-8 now. The Indonesian has reduced the gap
11:06 IST: Saina is 11-3 aged in second game
11:04 IST: Saina has taken a 8-3 lead
11:03 IST: The Indian comes back to level scores at 3-3
11:02 IST: Saina concedes 3-0 lead in second game
10:59 IST: Saina Nehwal loses first game 21-17
10:58 IST: The Indonesian extends her lead to 19-15
10:54 IST: Dinar has taken 16-14 lead
10:51 IST: Dinar is not ready to go down without a fight as she levels scores at 13-13
10:48 IST: Saina Nehwal takes a 10-7 lead at half-way stage in the first game
10:44 IST: Saina has levelled scores at 5-5
10:41 IST: Dinar has taken an early 3-1 lead
10:38 IST: Action starts!
10:37 IST: Saina's match to start soon.
10:35 IST: Welcome all!
While Saina is the top seed and world No. l1, her 22-year-old opponent Dinar is world No. 50.
After PV Sindhu's withdrawal, Saina is the highest-ranked Indian in the tournament.
Earlier, Saina Nehwal fought hard to defeat Indonesia's Hanna Ramadini in the first round.
World No. 11 Saina won 21-23, 21-14, 21-18 against world No. 44 Hanna. Saina, who was expected to win the tie easily, was given a reality check by the Indonesian.
In the first game, Saina could not take lead even once as she lost it 21-23. The 2012 London bronze medallist regained composure in the second game and did not give Ramdini any chance.
The third game had the same story as Saina won it comfortably.