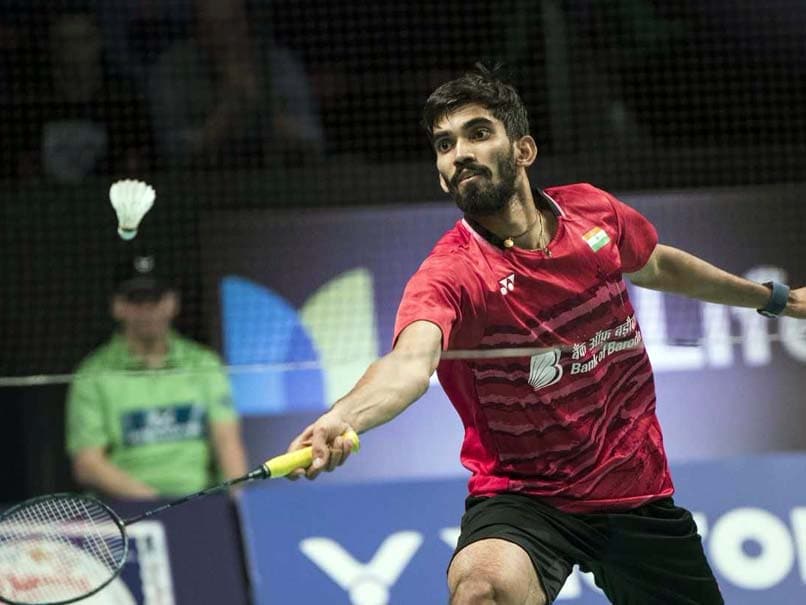 Kidambi Srikanth has regained full fitness and is raring to go.
© AFP
Kidambi Srikanth has finally regained full fitness and the Indian shuttler is raring to get back to the court at the Dubai Super Series finals starting from December 13. Srikanth had a highly successful 2017. He won four Super Series titles this year and finished runner-up in an another to be considered one of the top male shuttlers in the world. The Indian star admitted he has had a fantastic six to seven months but he is not letting success get to his head. Srikanth, who is currently ranked fourth in the world also said he focuses on his performance rather dwelling on his ranking too much.
"It has been a really fantastic last 6-8 months; just one more tournament left for me this year and I want to do well in the last tournament that I have. I feel I did great, but there's still a lot to come," he said.
"I am not thinking about (becoming) World No.1. It's more important to win the Super Series finals (in Dubai). I only think about performance, not the ranking," Srikanth told reporters.
"If I can really do well or win the tournament, I can become the World No.1," added Srikanth, who was a quarter-finalist at last year's Rio Olympic Games.
The Dubai World Super Series finals will be held from December 13-17 and will be last badminton tournament of note this year. Srikanth said that his body has recovered and he is just looking to doing well in the tournament.
"I was injured after the nationals two weeks ago. Ï had to skip the China and Hong Kong Opens. I am feeling good now. The body has recovered. I am just looking forward to a great next week," said the 24-year-old shuttler who won Super Series Open crowns in Indonesia, Australia, Denmark and France.
"I did not play for one-one and a half weeks and then started my rehab. It was a thigh muscle strain. I am (now) back to full fitness," he added.
Looking ahead to next year, Srikanth said he wanted to take a break and train well before the Commonwealth Games, Asian Games and World Championships.
"It's definitely a big year - Commonwealth Games, Asian Games, World Championships and Super Series. Tournaments have also been increased to 50. I really want to keep myself fit for the big events. That's what I am thinking about, that's my priority to be 100 percent fit. Before the Commonwealth Games and Asian Games, I want to take a break, train hard and then be fit for the event."
"I had not really pushed myself in the beginning. Had slowly started to push and gradually improved on fitness, but overall the (self) belief is what has made a huge difference," he said when asked what was the key to his outstanding performance this year.
(With PTI Inputs)