Story Progress
Back to home
Australia vs India Live Score Ball by Ball, Australia vs India 2020-21 Live Cricket Score Of Today's Match on NDTV Sports
Live Updates of Today Match between Australia vs India from Sydney Cricket Ground (SCG), Sydney. Check commentary and full scoreboard of the match.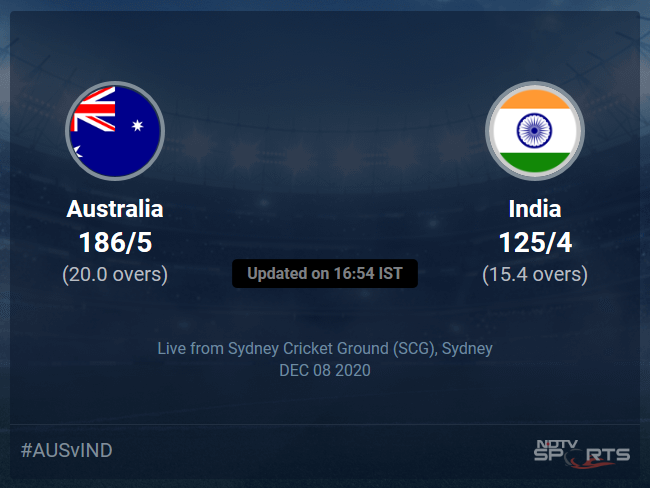 IND vs AUS Latest Score
Follow the Australia vs India 2020-21 live cricket score on Sports.NDTV.com. After 15.4 overs, India, chasing a target of 187, are 125/4. Get live score, ball by ball commentary and much more. Keep track of Australia vs India 2020-21 today match between Australia and India. Everything related to Australia and India match will be available on Sports.NDTV.com. Stay updated with Australia vs India live score. Do check for Australia vs India scorecard. You can get scorecard updates, match related facts. Get quick live updates with ads, Sports.NDTV.com, which is the perfect destination for live cricket score.
14.6 overs (0 Run) Outside off on a length, Kohli lets it be. Not called wide again. Very good over from Tye. Just 2 off it.
14.5 overs (0 Run) Play and a miss! Short and wide outside off, Kohli looks to carve it over point but misses. Good over so far.
14.4 overs (1 Run) In the air... safe! Full and wide outide off, Pandya looks to club it over cover but ends up slicing it to deep cover for one.
14.3 overs (0 Run) Play and a miss! Low full toss outside off, Pandya winds up for a big heave but makes no connection.
14.2 overs (1 Run) Moves outside off and pulls it towards mid on for one.
14.1 overs (0 Run) Good start! Length ball outside off, Kohli lets it be as he thinks it will be called wide but it is well within the tramline.
Andrew Tye is back. 1-0-7-0 for him so far.
13.6 overs (1 Run) A single. Around off, nudged through mid-wicket for one.
13.5 overs (6 Runs) SIX! Goes all the way. Brilliant shot from the Indian skipper. He moves left and right to confuse the bowler. It is a full ball outside off, Virat skips down the track and launches it over long off.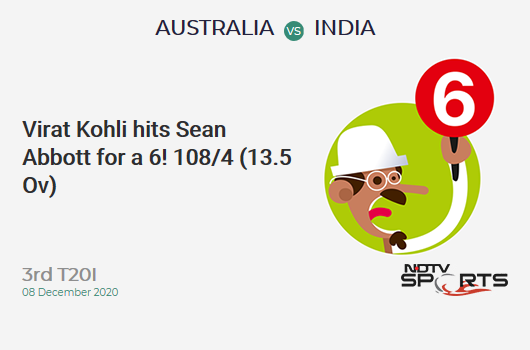 13.4 overs (1 Run) Off the mark. Gets across his stumps and chips this ball safely, to the right of mid on. A single.
13.3 overs (0 Run) BEATEN! Very good delivery. A length ball around off, Hardik Pandya looks to play at it but is all around it in the end.
13.2 overs (0 Run) Full on off and middle, driven down to mid on.
13.1 overs (1 Run) Around off, tapped to point for a quick single.
Hardik Pandya comes out to the middle now. Also, Sean Abbott is back. 2-0-26-0 are his numbers. Very expensive so far.
12.6 overs (0 Run) OUT! LBW! Second wicket in the over and Iyer falls for a first-ball duck. Swepson strikes on his last ball of his spell. Lovely spell and he has turned the game around eally qucikly. A loopy googly from Swepson. Iyer doesn't read it well and tries to flick but he misses to get hit on the pad. They appeal and the umpire agrees quickly. Iyer has a word with his skipper. And they go for the review. No bat involved. Pitching in line and hitting the wickets. Keep walking Iyer and as he goes, takes a review along with him. 3/23 from Swepson is his 4. 87 needed in 7 overs.
Review time! It is for a lbw. Shreyas has opted to review the on-field LBW decision which was ruled against his favour. Nothing on Snicko. Then it might be tough for India to sustain the review as it looked plumb. And yes, Ball Tracker confirms that. THREE REDS! Review lost.
12.5 overs (1 Run) Flatter and on middle, tucked towards the leg side for a qucik single. 100 up for the Indians. They need 87 more in 43 balls.
Just checking to see if Smith has flicked that in cleanly. Or has he touched the ropes in the process. Nope... nicely done from Steven. No issues there.
12.4 overs (2 Runs) WOW! What an effort from Smith. Sensational work from him. He just took a catch and now gets his Superman wings on to save two. Floated on middle, Kohli jumps out of his crease and powers it towards long on. It looked to be going over the fence but Smith times his jump to perfection, catches the ball but he knows he will land on the other side of the fence so he throws it back in. They check with the third umpire if it is a clean stop. They look at a few replays and deem it as a clean stop. Superman stuff from Smith.
Who's in now? Shreyas Iyer walks out to the middle.
12.3 overs (0 Run) OUT! CAUGHT! Samson holes out. Swepson gets the 2nd wicket of the night. A low full toss, Samson looks to slog it over long on but he miscues it off the toe end of the bat. Smith there runs ahead and this time he takes the catch without any fuss. Samson throws away another opportunity.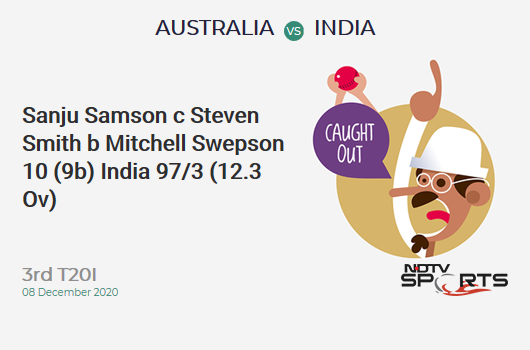 12.2 overs (1 Run) Low full toss, this one is on the pads, Kohli flicks it to deep mid-wicket and gets to the other end.
12.1 overs (2 Runs) Full toss outside off, Kohli jumps out of his crease and lofts it wide of the long off fielder. Two taken.
11.6 overs (1 Run) A single. Another 50 for the King. Shortish and around off, Virat taps this to the off side and takes a single. The task is still not finished though. And he knows that, not a great deal of celebration from him.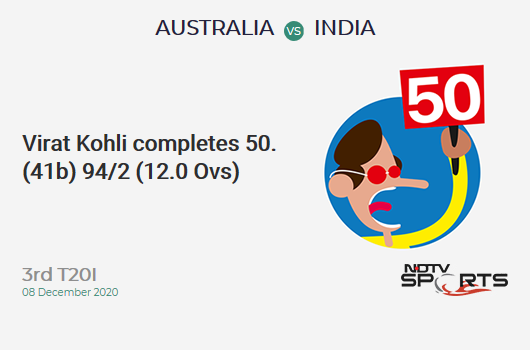 11.5 overs (1 Run) Tossed up on off, Sanju strokes it firmly to Henriques at cover. Good stop from him. Just the single.
11.4 overs (1 Run) Tosses it wide outside off seeing King Kohli come down the track. King is able to stoke it to deep cover for a single.
11.3 overs (1 Run) Flatter ball on the stumps, nudged behind square on the leg side for a single.
11.2 overs (2 Runs) Flatter ball on off, Sanju rocks back and cuts. It is to the left of Short at deep point. D'Arcy gets there, dives and stops it. A couple. Good fielding from Short there.
11.1 overs (1 Run) Tossed up around off, Super V comes down the track and drives it through covers for a single.
10.6 overs (1 Run) Flatter and around off, bunted down to long on for a single.
10.5 overs (1 Run) Edgy single. Flat and outside off, SS looks to cut but gets an outside edge. It goes to short third man and Men in Blue take a single.
A very late review from Finch. That looked to be going down to the naked eyes. Swepson wasn't too sure but Wade had a thing or two to say and Finch went with it. Let's see if they can get the wicket. No bat but impact is umpire's call and also the ball is not hitting the wicket. Australia lose their one of the two reviews.
10.4 overs (0 Run) NOT OUT! The correct decision from the on-field umpire. Tossed up on the pads, Sanju Samson gets down and looks to mow a huge slog sweep. He misses and gets hit on the pads. An appeal for LBW. But the umpire, Tucker, is unmoved. And just at the brink, Aaron Finch, after having a chat with his players, takes a review. No bat but Ball Tracker says that it was missing the stumps. Mitchell himself thought it was going down leg as his side takes the review.
10.3 overs (1 Run) Tossed up on leg, VK skips down and drives it down to long on for a single.
10.2 overs (1 Run) Flatter around off, nudged to point for a run.
10.1 overs (1 Run) Outside off, cut away to deep point for a single.
Match Reports
Topics mentioned in this article