Story Progress
Back to home
Australia vs India: Australia vs India 2020-21 Live Cricket Score, Live Score Of Today's Match on NDTV Sports
Live Updates of Today Match between Australia vs India from Sydney Cricket Ground (SCG), Sydney. Check commentary and full scoreboard of the match.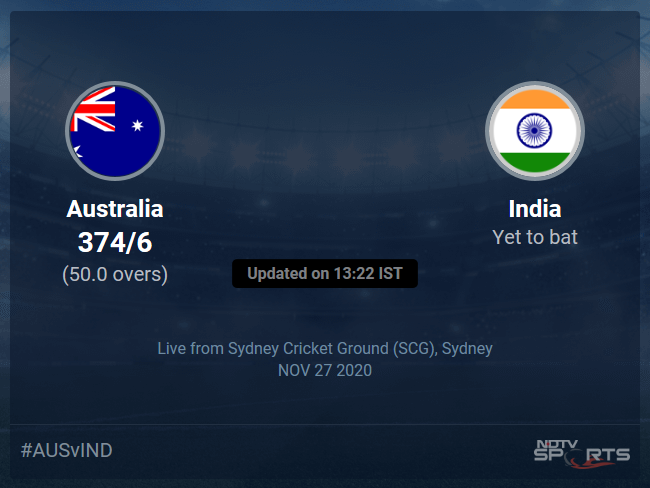 AUS vs IND Latest Score
A dedicated team of experts bring you live score, live cricket score, live match update on Sports.NDTV.com. After 50.0 overs, Australia are 374/6. The live updates of Australia vs India scorecard is also available. It is the perfect platform to follow your favourite teams in Australia vs India 2020-21. Keep a track on your favourite batsmen and bowlers through Australia vs India 2020-21 today match, ball by ball commentary, Australia vs India, Australia vs India live score, Australia vs India scorecard. Follow the excitement of the Australia vs India 2020-21 on Sports.NDTV.com as you can follow live match updates and live cricket score through our platform.
The target is a huge one! India do have the fire power to chase this down but they will have to bat out of their skin. Can they do so? Australia will back themselves to defend this. Who will take a 1-0 lead?
The Indian bowling and fielding was off today! They did start decently but as the game progressed, their bowlers took a real pounding. Except for Shami, everybody went for over 6 per over. Also, a few dropped catches did not help their cause. Overall, India were very poor today.
Warner fell but Smith and Finch continued. The Australia skipper then got to his ton but fell shortly. Smith though continued. He was dropped early in his innings and he made India pay. He went berzerk and smashed the Indian bowlers to all parts of the ground. He got up his ton in no time. Maxwell's blitzkreig was also useful and the two ensured they have scored 25 runs more than what they seemed like they would score at one stage.
What a batting performance from Australia! Wow! Had they been given this score after winning the toss and electing to bat, they would have taken it with both hands. Have to say it is Smith who is the star but the foundation was laid from the opening pair as the two added 156.
49.6 overs (1 Run) Yes Shami can! Terrific final over from Shami. Just 6 off the final over. The last ball is a dipping full toss outside off. Carey comes inside his crease and looks to scoop it over th keeper's head but he misses. The batters steal a bye. AUSTRALIA FINISH WITH 374/6!
49.5 overs (0 Run) Excellent from Shami! Yorker on off, Carey jams it out back towards the bowler. Just 5 off the final over so far. Can Shami end it well?
49.4 overs (1 Run) Full around off, Cummins hits it to long off on a bounce. Gets a single to get off the mark.
49.3 overs (0 Run) OUT! BOWLED! End of a fantastic knock and Smith walks out to a standing ovation from his home crowd. Full toss on off, Smith looks to drive but misses. The ball hits the off pole. Disappointment for Smith, rspite for India. This has been a fantastic final over so far from Shami. Just 4 off the first half of the final over.
49.2 overs (4 Runs) FOUR! Nobody moved! In the slot from Shami. It is full around off, Smith lifts it over cover for a boundary.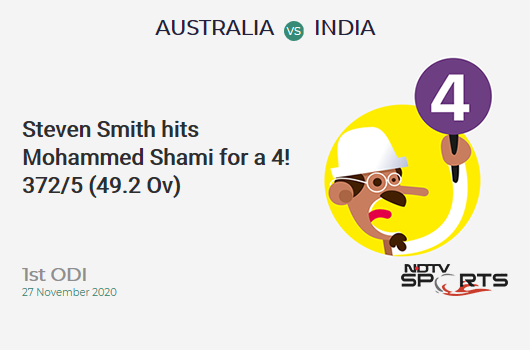 49.1 overs (0 Run) Perfect start to the final over for Shami. Off cutter outside off, Smith swings but misses.
48.6 overs (1 Run) Full on off, Smith comes inside the stumps and flicks it to deep mid-wicket for a single. A tough outing for Bumrah. We don't usually say that either maybe it is the rustiness. He finishes with 1/73!
48.5 overs (3 Runs) Poor from Kohli and you don't say that often. Full on off, Carey drives it towards cover. Kohli lets the ball go between the legs which allows the batters to take three.
48.4 overs (0 Run) On off, Carey hits it straight to cover.
48.3 overs (4 Runs) FOUR! A full toss and Carey accepts the gift! This is on off. Carey strokes it through covers and it races away to the fence.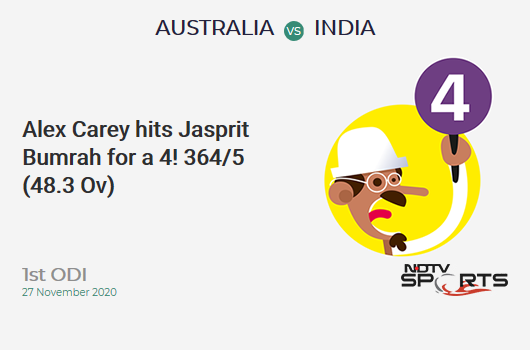 48.2 overs (1 Run) HUNDRED FOR STEVEN SMITH! Incredible innings from Smudge! His 10th ODI ton! He has played a fabulous knock tofay. God length ball on off, Smith punches it to cover and gets a single to bring up his milestone. Smith removes his helmet and raises his bat as everyone applauds his supreme innings.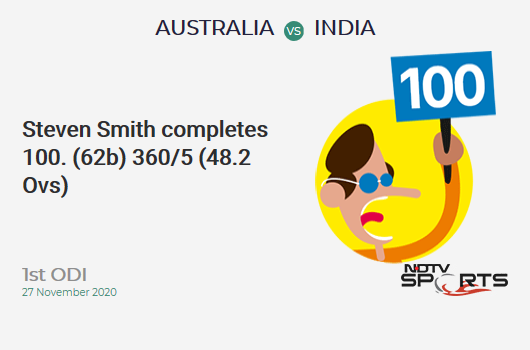 48.1 overs (4 Runs) FOUR! Smartly played! Slower ball on off, Smith was ready for it and outsmarts Bumrah. He sweeps it through square leg and gets a boundary to move to 99!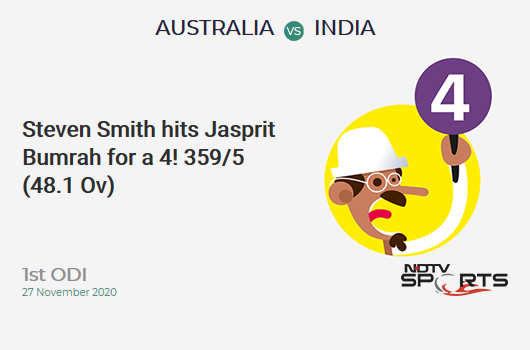 47.6 overs (1 Run) A yorker to end! On middle. Smith jams it out towards cover for one.
47.5 overs (1 Run) A full toss, it is hit down to long off for one.
47.4 overs (4 Runs) FOUR! 350 up! Short and outside off. This time Carey waits for it and then cracks it over the cover fielder for a boundary.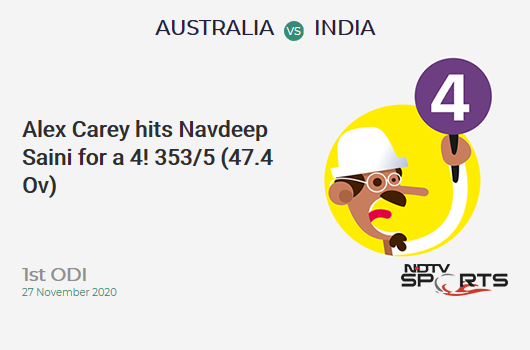 47.3 overs (0 Run) A short one and it is slower. Carey is early in the pull. He gets hit on the body.
47.2 overs (1 Run) Now looks to paddle but this is extremely full and outside off. It goes off the bottom towards the leg side for one.
47.1 overs (6 Runs) SIX! What a shot that is! It is a slower one. Fuller and outside off. Smith lofts it over the cover fielder and it goes all the way.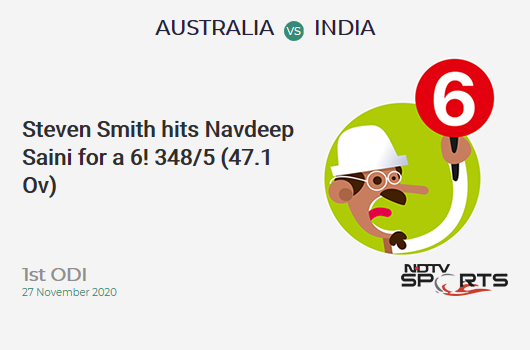 46.6 overs (2 Runs) A couple to end the over! Good running though. A very full ball on middle, Carey pushes it towards long on.
46.5 overs (0 Run) Yorker! Carey can do nothing but jam it back to Bumrah.
46.4 overs (1 Run) Length  ball on off, Smith looks to play on the off side. He opens the face of the bat a bit too early and it goes towards mid on for a run.
46.3 overs (1 Run) Yorker! A Bumrah special on middle and off. Carey looks to play it on the off side but gets an inside edge onto the pads. The ball goes to the off side and they take a single.
46.2 overs (1 Run) Slower ball wide outside off. Smith guides it towards cover and gets just a single.
46.1 overs (1 Run) Very full on the pads. Carey tickles it to fine leg for one.
45.6 overs (0 Run) Shorter and outside off. Smith looks to cut but is beaten.
45.5 overs (1 Run) Outside off, this is driven to the fielder at point for one.
45.4 overs (1 Run) Smith looks to paddle but the ball is outside off. He adjusts and guides it towards point for one.
45.3 overs (2 Runs) Excellent! Fuller and around off, Smith guides it through backward point for two.
45.3 overs (1 Run) WIDE! Down the leg side. Smith looks to flick but misses. Wided.
Alex Carey is the new man in.
45.2 overs (0 Run) OUT! Labuschagne is a goner! Dhawan hangs onto one. This is full and on middle. Labuschagne lofts it towards long off. Dhawan runs to his right and takes a good catch.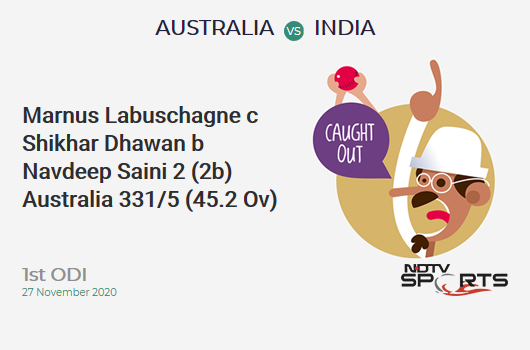 45.1 overs (1 Run) A full toss but not very high. Smith pushes it towards cover for one. The batter was taken by surprise.
Match Reports
Topics mentioned in this article