Story Progress
Back to home
Australia vs India: Australia vs India 2020-21 Live Cricket Score, Live Score Of Today's Match on NDTV Sports
Live Updates of Today Match between Australia vs India from Sydney Cricket Ground (SCG), Sydney. Check commentary and full scoreboard of the match.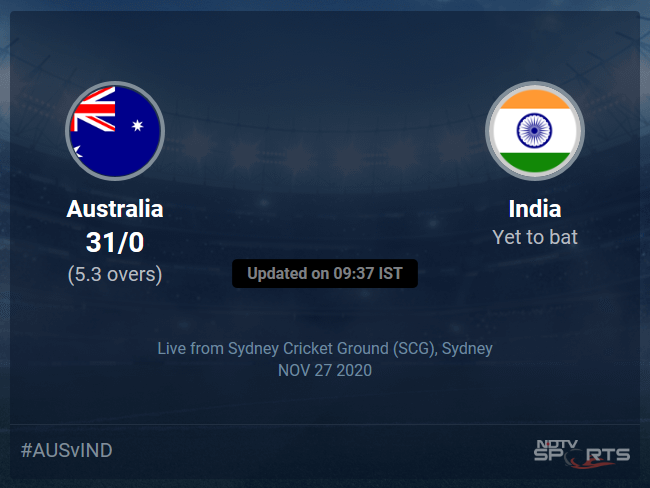 AUS vs IND Latest Score
A dedicated team of experts bring you live score, live cricket score, live match update on Sports.NDTV.com. After 5.3 overs, Australia are 31/0. The live updates of Australia vs India scorecard is also available. It is the perfect platform to follow your favourite teams in Australia vs India 2020-21. Keep a track on your favourite batsmen and bowlers through Australia vs India 2020-21 today match, ball by ball commentary, Australia vs India, Australia vs India live score, Australia vs India scorecard. Follow the excitement of the Australia vs India 2020-21 on Sports.NDTV.com as you can follow live match updates and live cricket score through our platform.
4.6 overs (0 Run) Good length and on off, Warner defends it. 19 from the last two overs.
4.5 overs (1 Run) Wide outside off, Finch goes after it. It flies off the outside edge down towards third man for one.
4.4 overs (3 Runs) Another three! This is fuller and on middle. Warner lofts it over the bowler's head. Not off the middle. The fielder from mid on hares after it and pulls it back before it crosses the ropes.
4.3 overs (3 Runs) Runs now coming for Australia. On middle, this is worked through mid-wicket for three.
4.2 overs (2 Runs) Edgy runs! Length and on off, it pitches and then shapes away. Finch looks to defend but it goes off the outside edge and fine on the off side. Two taken.
4.1 overs (1 Run) On of, Warner plays it to the off side and gets a single.
3.6 overs (1 Run) NOT OUT! The dive saves Warner! A back of a length delivery on off, it is pushed towards mid off and the batters go for one. Mayank Agarwal gets to the ball and underarms it onto the stumps at the bowler's end as he dives foward. An appeal and it is a very confident one by the Indians. They are celebrating, Warner though looks calm and thinks he is in. Replays show that Warner is in by just. He is really quick.
Run Out appeal taken upstairs. Direct hits are always a touch and go. Let's see if Warner's dive has saved him or not. Big moment in the game.
3.5 overs (0 Run) Back of a length and on off, defended.
3.4 overs (0 Run) BEATEN! Shorter and outside off, Warner slashes but misses. A little bit of extra bounce there.
3.3 overs (2 Runs) Brilliant running! On a length and around off, Warner guides this down towards third man. They take one and go for the second. Complete it.
3.3 overs (2 Runs) Wayward from Bumrah! This is down the leg side. Finch misses the flick. It keeps moving away. Rahul does well to dive to his left and get a hand to it. The batters take one and then think of a second but Finch slips as he turns.
3.2 overs (0 Run) A little straighter this time and on a length. Defended towards mid on.
3.1 overs (4 Runs) FOUR! Uppish but wide! That should break the shackles for Finch! It is a length delivery. Finch hits it on the up and uppishly but wide of mid off for a boundary. So Bumrah concedes consecutive boundaries.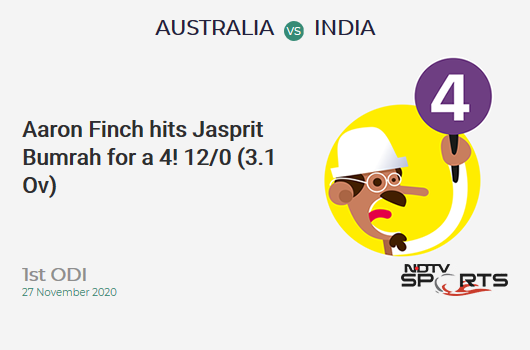 2.6 overs (1 Run) End of another brilliant over from Shami! On off, Finch pushes it towards mid off for one.
2.5 overs (0 Run) First sign of aggression from Finch! He steps down and Shami shortens the length a touch. It is also wide outside off. Finch looks to go over covers but misses.
2.4 overs (0 Run) Continues to hit the length hard and on off, Finch defends it nicely.
2.3 overs (0 Run) Hits the length hard again and on middle. Finch works it to mid-wicket.
2.2 overs (0 Run) Length and around off, Finch defends it nicely.
2.1 overs (0 Run) Length and around off, it comes back in a touch. Finch looks to defend but gets an inside edge onto the pads.
1.6 overs (4 Runs) FOUR! First boundary of the game and the last ball spoils the over. The slightest of width on offer and Warner makes Bumrah pay. He guides it through cover-point and it races away. Just used the pace of the bowler there. Good shot.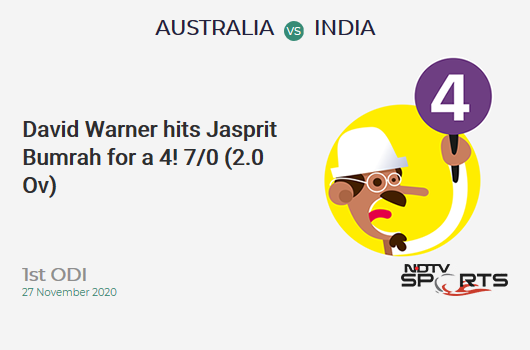 1.5 overs (0 Run) Bowls the yorker on off, Warner gets his bat down and jams it back to the bowler.
1.4 overs (1 Run) Finch now gets off the mark! On middle, this is worked towards mid on for one.
1.3 overs (0 Run) Slightly fuller and on off, non movement so far for Bumrah. It is pushed to mid off.
1.2 overs (1 Run) Another excellent run! Back of a length and on off, Warner drops it on the off side again. Finch goes for it. He avoids a collision with the bowler who runs towards the ball and then dives to get in.
1.1 overs (0 Run) Bumrah too starts on the money! Length and on off, Warner defends it nicely.
Who will operate with the second new ball? It will be the ever impressive, Jasprit Bumrah!
0.6 over (0 Run) Gets away with the last ball but a top over by Shami! The last nut is down the leg side. Finch looks to flick but misses. It goes off the pads to the keeper.
0.5 over (0 Run) Excellent from Shami so far! Length and on off again. Finch once again hops and defends it.
0.4 over (0 Run) Some away movement for Shami! Length and outside off, moves away. Easy leave.
0.3 over (0 Run) Back of a length and on middle. Finch hops and works it to mid-wicket.
0.2 over (1 Run) Australia and Warner are underway! Length and on off, Warner drops it on the off side and takes one. The two run really well together and there is one example.
0.1 over (0 Run) A peach to begin with! Length and around off, moves away with the angle. Warner initially looks to have a poke at it but just pulls his bat back right at the end.
Done and dusted wth the national anthems and we are all set for the action to begin! The Indian players are in a huddle with their skipper, Virat Kohli giving final words of motivation before his troops take their respective position in the field. Australian skipper, Aaron Finch walks out with David Warner to open the innings for the hosts. Mohammed Shami to start with the new ball for India. Two slips in place for him to begin with.
Both sets of players walk out to the middle for their respective national anthem. We are not far away from the start of action.
India Playing XI - Shikhar Dhawan, Mayank Agarwal, Virat Kohli (C), Shreyas Iyer, KL Rahul (WK), Hardik Pandya, Ravindra Jadeja, Mohammed Shami, Yuzvendra Chahal, Jasprit Bumrah, Navdeep Saini.
Australia Playing XI - Aaron Finch (C), David Warner, Steven Smith, Marcus Stoinis, Marnus Labuschagne, Glenn Maxwell, Alex Carey (WK), Pat Cummins, Mitchell Starc, Adam Zampa, Josh Hazlewood.
Indian skipper, Virat Kohli, says they want to start strongly and it is important for them to start well. Mentions they were given a few allowances to train and the boys took it well, says it was very well organized by the Australian board. Informs Agarwal will open as he has been doing well. Adds Pandey, Natarajan, Gill and Samson miss out.
Australian skipper, Aaron Finch, says that it is great to have cricket back in Australia along with the fans and tells he is really excited. Finch says that Steven Smith replaces Marsh from their last playing XI. Finch hopes they can put runs on the board and expects it to spin later on.
TOSS - We are all in readiness for the spin of coin. The Australian skipper, Aaron Finch is joined by Indian skipper, Virat Kohli and the match referee. Up goes the coin, Virat calls Heads but it comes down as Tails. AUSTRALIA OPT TO BAT!
PITCH REPORT - Brendon Julian and Mark Waugh are down for the pitch report. Waugh says SCG is a big ground and renowned for spin. Tells the outfield is quick and it is a high scoring ground. Julian feels it looks like a good pitch to bat on and tells there is a bit of grass. Waugh agrees but feels there is no shine on it and expects it to be an even pitch. Waugh feels that Australia have a good bowling attack. On being asked if he feels India will play both Kuldeep and Chahal, Waugh thinks they will play Jadeja and one spinner.
It's all about bragging right and who will get it? Hope you are ready for what promises to be a cracker of a contest.  Stay tuned for the toss and further updates.
The last time Aaron Finch's Australia played ODI's they outplayed the World Champions in their own backyard and now they will look to kick off the Australian cricketing summer with a win over a strong Indian side.
The Virat Kohli led side are all set to play after a gap of more than 8 months. No Rohit Sharma, which has stolen much of the headline. It will be interesting to see who opens and plays this game.
Hello and welcome to the 1st ODI between Australia and India. A lot of chats, a lot of build-up and a lot of excitement heading into this. All that talk now is left behind as the two heavyweights finally go up against each other.
Topics mentioned in this article