Story Progress
Back to home
Asian Games: Wrestler Sushil Kumar Eliminated After Shock Defeat In Qualification Round
Two-time Olympic medallist Sushil Kumar was stunned by Bahrain's Adam Batirov in the 74 kg category qualifier.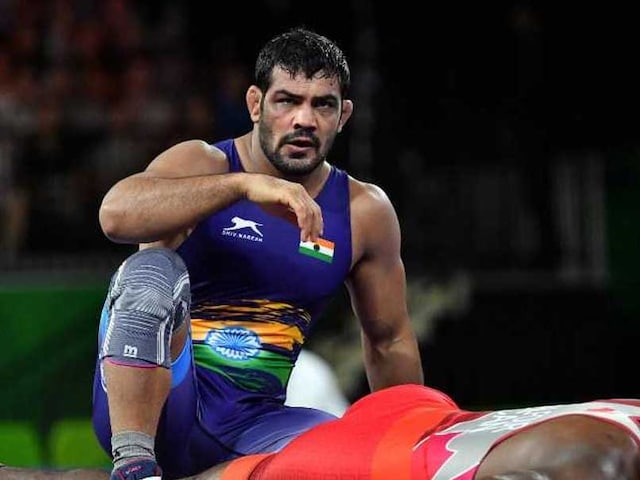 Sushil Kumar lost to Bahrain's Adam Batirov in the 74 kg category qualifier.
© AFP
Highlights
Sushil Kumar was stunned by Bahrain's Adam Batirov

Sushil Kumar lost his qualification round 3-5 to Adam Batirov

In men's 65 kg freestyle, Bajrang Punia qualified to the semifinals
Sushil Kumar lost his qualification round of 74 kg wrestling event to Bahrain's Adam Batirov but remained in contention for a medal through the repechage. However, Sushil's hopes of winning a 2018 Asian Games bronze medal were dashed after Batirov lost his quarterfinal bout to Japan's Fujinama Yuihi 2-8. If Batirov had made the final, the Indian would have had a chance to win bronze through the repechage. In the qualification round, the two-time Olympic medallist had lost 3-5 after leading the match 2-1 after the first period with a takedown. But Batirov made a sensational comeback to put the Indian wrestler on the back foot. The London Olympics silver medallist created two opportunities to score in the second period but could not convert.
Batirov, on the other hand, capitalised on his chances and took a 3-2 lead with a takedown and then pushed the Indian out for a win.
Talking about the match, Sushil said, "It (the defeat) was not expected. The 57 kg world champion was sitting beside me and 'he said he lost. I told him don't worry, I have lost. It's part of sport'. I will come back again."
"We can't be overwhelmed by defeats or victories. It won't lead you anywhere," he added.
Sushil came into the Asian Games after losing his first bout in four years at Tbilisi Grand Prix in Georgia, last month. Though he grabbed his third Commonwealth Games gold in April, the competition at Gold Coast was not a tough one with none of the Asian wrestling powerhouses in the field.
When asked if he is losing stamina with age, Sushil dismissed the suggestion. "No, If I was losing stamina, I would not have lasted full time. I would have been defeated earlier. I was not passive. I am a 'tapasvi'. I am enjoying my game, I am not tired. The day I get tired I will tell you," he said.
Sushil was not aggressive enough in his bout but he defended his tactics.
"It was not a slow start. If I am leading, I can't attack much. I made a mistake by attacking him later on when I just needed to defend. I am playing a big event after four years, that is why there were small mistakes.
"I did not play many big events in four years. There was not much time between CWG and Asian Games, so I could not play better tournaments to prepare. This is the only reason for today's defeat," he added. 
The World Championship is approaching and Sushil said he will plan for it.
"The Asian Championship is like World Championship. Olympic champions are from Asia. I am not sure if I will go to Georgia for training or not," said Sushil.
Wrestling Federation India President Brij Bhushan Sharan, who is also India's Chef de Mission, said Sushil was the best option in 74kg and the WFI has no regrets in exempting him from trials.
Promoted
"If we had not given him a chance, then also there would have been questions. We had to give him this chance. He is our best wrestler in this category," Sharan said.
(With inputs from agencies)
Topics mentioned in this article