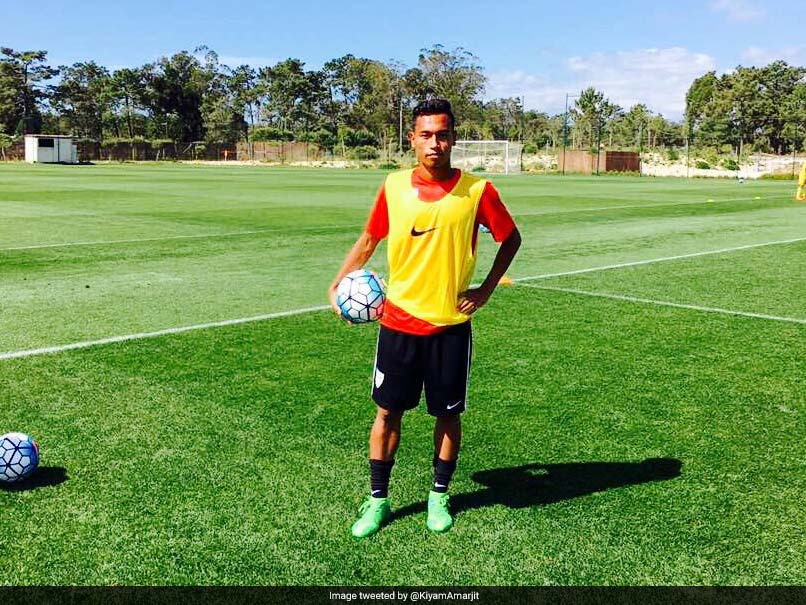 Kiyam Amarjit Singh is the captain of the Indian U-17 team playing in the World Cup
© Twitter
With the U-17 FIFA World Cup going on in the country, football has taken centre stage and suddenly all the limelight is on the Indian U-17 team. But, probably not too many people know that the Indian Captain, Kiyam Amarjit Singh and midfielder, Thounaojam Jeakson Singh are first cousins and their first coach - Thounaojam Deven Singh, Jeakson's father had erupted a vein in the head while coaching the boys in 2015. Till today, Deven Singh, an avid footballer himself, has not fully recovered from the stroke that had partially paralysed his limbs and slowed his thought process.
"Uncle Deven is my first coach. Not only did he train me, he trained both Jeakson and Amarjit together when they were kids," said Kiyam Umakanta Singh, the elder brother of Amarjit Singh who has represented India in the under 17 himself and was instrumental in getting both Amarjit and Jeakson their first break by getting them into the Chandigarh Football Academy when they were only 9 years old, in 2011.
"He was so immensely involved with the boys that he suffered a stroke while coaching them. But that did not deter him from coaching the other boys from the village," said Bilashini, Jeakson's mother who is the only sole earning member of the family.
Bilashini further revealed that Deven refused to go for rehabilitative treatment, considering the family's acute financial situation and insisted that the meager income that his wife earns by selling locally produced clothes in Imphal is spent on meeting the boy's financial needs.
Jeakson who now dons the blue Indian team jersey hopes he would garner enough money soon to get his father treated. Incidentally, Jeakson's skill made him stand out and finally got him picked for the side even though he was hospitalized for 15 days prior to the final selection. Deven said he was thrilled on learning Jeakson's selection in the Indian team despite being ill prior to the final selection.
"He was hospitalized for 15 days just before the final selection, scheduled on 20th. He got out from the hospital on 19th and was told not to run. God knows how he managed to get selected. I'm so extremely happy for him, " said an emotionally choked Deven Singh.
Initially, Deven had told Jeakson to concentrate on his studies, as he wanted him to give a shot at the Indian Civil Service examinations. However, Jeakson had other ideas and eventually Deven starting grooming him at the local playground at their Haokha village in Manipur's Thoubal district at the age of 4.
"Jeakson, stuck to his gun to play. He even refused to eat when told not to play. Finally, I relented and told him he can play his heart out but insisted that he gives equal importance to his studies as well. I took him out to the local ground and began grooming him," said Deven.
Left with an ailing husband and her boy's dream of becoming a professional footballer, Bilashini relied on trading local goods to manage her family. "To make ends meet and support his dream, I started selling locally produced clothes and vegetables. This is how he reached this stage," she said.
Despite the enormous challenges they faced, the tales of how the mothers of both the boys have struggled to raise their boys and helped them live their dream is simply inspiring.