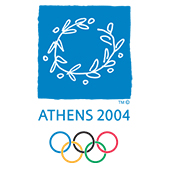 About ATHENS 2004 Summer Olympics
The 2004 Summer Games returned to their rightful birthplace Athens and there was a Greek tragedy even before they got going when top home sprinters Katerina Thanou and Costas Kenteris were involved in a mysterious motorcycle accident which led them to miss doping tests.
The scandal grew and under pressure they finally withdrew from the Games "in the interests of the country."
Athens witnessed an impressive performances from the Asian nations - especially future hosts China - that created all the headlines.
United States were again the best performers with 103 medals (35 golds) but China sent them a chilling message with an impressive second best of 63 medals, 32 of them gold.
The Asian nation also won their first ever athletics gold when 21-year-old Liu Xiang burst down the 110m hurdles track at a pulsating pace to equal the then world record.
The Olympic stadium also vibrated to the historic exploits of middle-distance runners, Hicham El-Guerrouj of Morocco, who won 1,500m and 5,000m gold, and Britain's Kelly Holmes, who bagged a glorious double in the women's races at 800m and 1,500m.
Poolside, it was 19-year-old American all-rounder Michael Phelps who proved to be in a class of his own, speeding to eight medals, six of them gold - taking the highest medal haul for a swimmer at one Games.
In team events, the US basketball team fell spectacularly from grace by only managing a disappointing third place after having won it on the previous three occasions, with Argentina eventually going on to take glory against Italy.
That triumph came a day after the Argentinian football team's historic gold over Paraguay - their first gold in 50 years - thanks to a goal from future Manchester United star Carlos Tevez, the games' top goal scorer with eight.
The only new world record was set by Russian woman Yelena Isinbayeva who cleared 4.91m in the pole vault.