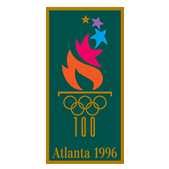 About ATLANTA 1996 Summer Olympics
A stunning spectacle of sport overshadowed a terrorist bomb that killed a woman and a monumental technological stuff-up.
Michael Johnson beame the first man to win the 200m and 400m, breaking a 17-year-old world record over half a lap.
Guadeloupe-born Marie-Jose Perec matched his achievement with some sublime running for France.
Donovan Bailey restored Canada's international sporting reputation that Ben Johnson had wrecked in 1988 by winning the 100 metres in a world rcord 9.84sec.
Carl Lewis won a record-equalling ninth Olympic gold medal in his swansong when he again beat world record holder Mike Powell in the long jump, as he had done at Barcelona four years earlier.
And Gail Devers beat arch-rival Merlene Ottey of Jamaica in a photo-finish to the women's 100m, just as she had in the 1995 world championships in Stuttgart.
Alex Popov of Russia became the first man since Johnny Weismuller in 1928 to retain his 100m freestyle swimming title.
But Michelle Smith's three gold medals and one bronze made the Irish woman the most successful individual swimmer at the Games.
However, two years later she was drummed out of the sport after being found guilty of tampering with a urine sample at a drugs test.
Steve Redgrave's fourth rowing gold in successive Games made him Britain's most successful Olympian.
But perhaps the most abiding memory was of the world's most famous sportsman, Muhammad Ali, conquering his Parkinson's Disease shakes to light the Olympic flame 26 years after winning gold in Rome.