Story Progress
Back to home
Olympian Simone Biles Says She Was Abused By USA Gymnastics Doctor Larry Nassar
Simone Biles, a four-time Olympic gold medalist, said in a statement that she, too, was sexually abused by former USA Gymnastics team doctor Larry Nassar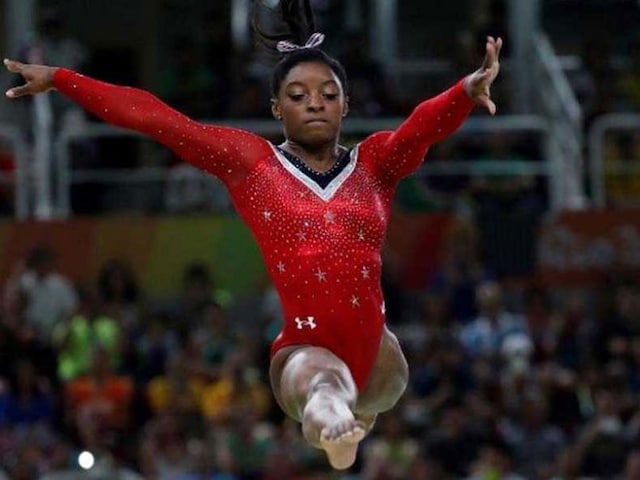 Olympic gymnastics superstar Simone Biles revealed she was sexually abused
© AFP
Highlights
Simone Biles is a four-time Olympic gold medallist

Simone Biles: 'I was abused' by USA gymnastics doctor

Larry Nassar was last month jailed for 60 years on child porn charges
Simone Biles, a four-time Olympic gold medalist, said in a statement that she, too, was sexually abused by former USA Gymnastics team doctor Larry Nassar, adding her name to the list of more than 140 women, including fellow Team USA members Aly Raisman, Gabby Douglas and McKayla Maroney, who have accused Nassar of abuse during his time with the sport's governing body and while at Michigan State.
"I too am one of the many survivors that was sexually abused by Larry Nassar," Biles, 20, wrote. "Please believe me when I say it was a lot harder to first speak those words out loud than it is now to put them on paper. There are many reasons that I have been reluctant to share my story, but I know now it is not my fault.
"It is not normal to receive any type of treatment from a trusted team physician and refer to it horrifyingly as the 'special' treatment. This behavior is completely unacceptable, disgusting, and abusive, especially coming from someone whom I was TOLD to trust."
Nassar has been sentenced to 60 years in prison on federal child pornography charges. He also has pleaded guilty to seven sexual assault charges in Michigan and faces sentencing beginning Tuesday. As part of his plea agreement, the minimum sentence range for the charges involving a victim who was younger than 13 will be set between 25 and 40 years; he faces a maximum sentence of life in prison on those charges. The Michigan attorney general's office is seeking a sentence of 40 to 125 years.
"For too long I've asked myself, 'Was I too naive? Was it my fault?' I now know the answer to those questions. No. No, it was not my fault. No, I will not and should not carry the guilt that belongs to Larry Nassar, USAG, and others," Biles, who won four golds and a bronze at the 2016 Rio Games, wrote. "It is impossibly difficult to relive these experiences and it breaks my heart even more to think that as I work towards my dream of competing in Tokyo 2020, I will have to continually return to the same facility where I was abused."
Promoted
USA Gymnastics and Michigan State have been named in numerous lawsuits, including by Maroney, who says the Olympics sports organization sought to buy her silence with a confidential settlement agreement. Lawyers for Michigan State are trying to dismiss the lawsuits against the school, saying the school is not legally liable for Nassar's crimes.
Raisman, who has also accused Nassar, tweeted earlier on Monday that she will not be attending his sentencing "because it is too traumatic," but added that a letter will be read in court on her behalf. "I support the brave survivors," she wrote. "We are all in this together."
Topics mentioned in this article