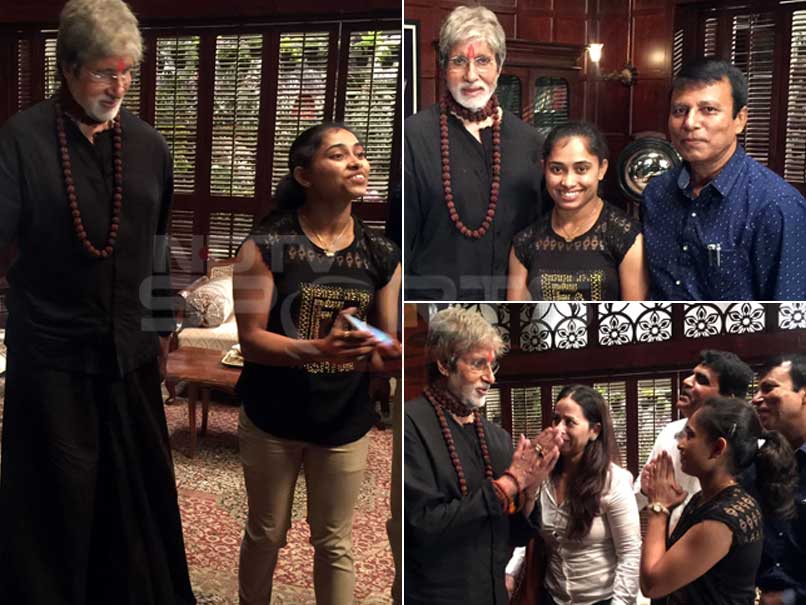 Stills from Dipa Karmakar's meeting with Amitabh Bachchan in Mumbai.
© NDTV
According to well-placed sources, Big B took time off from a shoot and met the Agartala gymnast and his coach Bisweshwar Nandi.
It was a fan-girl moment for the 23-year-old Dipa Karmakar, the first Indian woman ever to qualify for the finals of an Olympic gymnastics event. Dipa missed the bronze by a whisker. The result left Dipa Karmakar fans disappointed.
Big B was also disappointed with Dipa missing a historic bronze by a mere 0.15 points. Switzerland's Giulia Steingruber pipped Dipa to the podium despite the Agartala girl doing the extremely risky vault, Produnova.
"Why don't we have Indian judges in the Olympics?" Big B asked Indian gymnastics officials who accompanied Dipa to Goregaon on Tuesday.
Dipa caught the attention of several Bollywood celebrities during her Rio Olympics campaign. But meeting Amitabh Bachchan was a dream come true for the young gymnast who now wants to win a medal in the Tokyo Olympics in 2020.