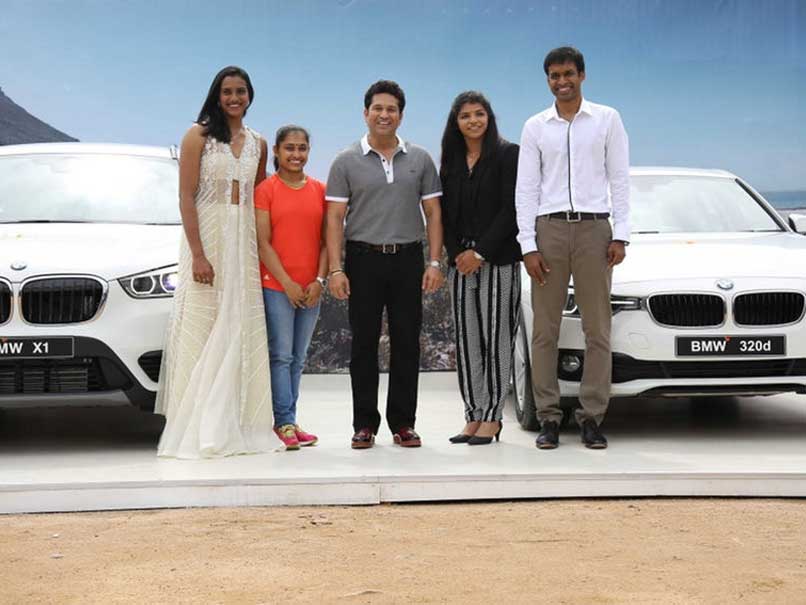 Dipa Karmakar was presented the BMW X1 by Sachin Tendulkar.
© NDTV
Though she conquered the 'Produnova' with ease, leading Indian gymnast Dipa Karmakar has not been able to master the BMW X1 that was presented to her by the German automobile company's brand ambassador Sachin Tendulkar.
Hence, she will be returning the sports utility vehicle that was gifted to her by BMW post her fourth place finish in the vault final of the 2016 Rio Olympics.
"Some news reports are saying we are returning the car. It's not true. We just want to replace it with another one as it is difficult to drive and maintain such a vehicle in Agartala," Dipa's father Dulal Karmakar told Hindustan Times.
Not just Dipa, but Olympic silver medallist PV Sindhu, her coach Pullela Gopichand and bronze medal winning wrestler Sakshi Malik were presented with a BMW each in August in appreciation of their efforts at the Rio Games.
The car was handed over by Tendulkar, who was also India's goodwill ambassador at the Olympic Games in August.
Reports and rumours emerged early on Wednesday that Dipa was selling the luxury SUV.
However, her father Dulal Karmakar clarified that they only wanted to replace it as it is not feasible to own such a vehicle in the small north-eastern town of Agartala due to maintenance and other issues.
"Roads in Tripura are not good enough to drive such a vehicle. There are no capable drivers in Agartala to drive a BMW and the company has no showroom or service centre in the state," said Dulal.
The vehicle costs between Rs.30-37 lakh depending on the model.
Dulal explained that they are in talks with officials to replace the vehicle, adding that they are yet to decide on the 'replacement' car.
"We have asked them to give us an amount equivalent to the price of the BMW car so that we can choose and purchase one in Agartala. They have agreed to do that and we expect the money soon," he said.
"If we were living in a metropolitan city like Kolkata or Mumbai, we would have been able to use the BMW. But it is not possible in Agartala."
Dipa is currently training to take part in the Challenger's Cup in Germany next month.