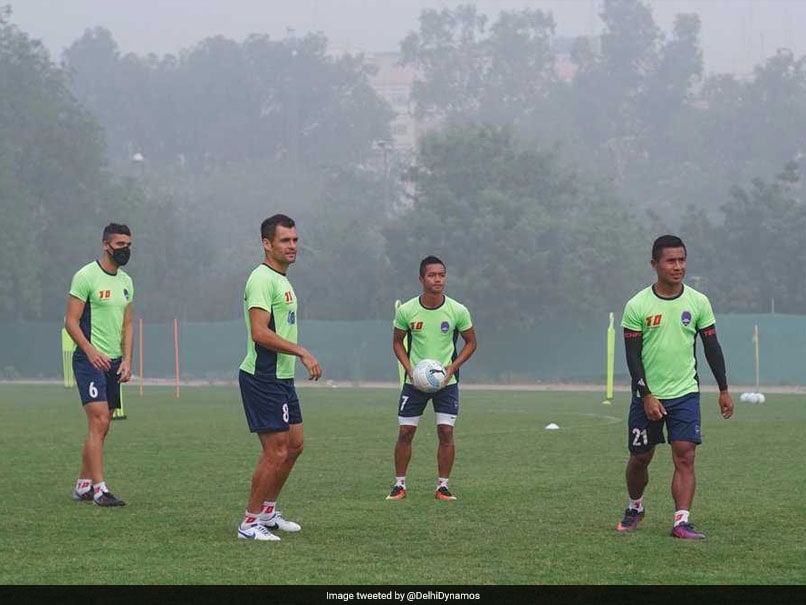 Delhi Dynamos' players wear masks during a training session due to smog.
© Twitter
The Indian Super League (ISL) team Delhi Dynamos' players wore pollution masks during a practice session at the Jawaharlal Nehru Stadium in Delhi due to the heavy smog in the capital. Dynamos' coach Miguel Angel Portugal on Sunday said that the pollution is a problem as they had to train wearing masks. Miguel further added that the team was not allowed outside due to the smog and the players mostly stayed indoors. "It's a problem. We trained wearing masks. That is a problem not only for players but for the people as well," Miguel told reporters.
"We were not allowed to go out during those days in Delhi and the players mostly stayed indoors," Miguel said.
The pollution worsened again on Sunday with officials warning of little relief in sight from the smog, which has even caused an airline to cancel flights to the world's most polluted capital.
The coach hoped the smog issue won't be a problem during match days as they play their first home game on December 2 against NorthEast United.
"I think by that time the issue won't be there that much. As far as smog is concerned, the players release toxin while playing so it won't affect them. It could be a problem for the normal people," the Spanish coach added.
Ahead of the fourth season of the ISL, all the foreign coaches lauded the new rule of playing six Indian players on the field at all times during a match.
The coaches said that this will help the local players develop their game. Unlike the last season of the ISL, this time five foreign players will be on the field in place of six.
The ISL kicks off on November 17 with a high-profile clash between Kerala Blasters and ATK at Jawaharlal Nehru Stadium in Kochi.
(with inputs from agencies)