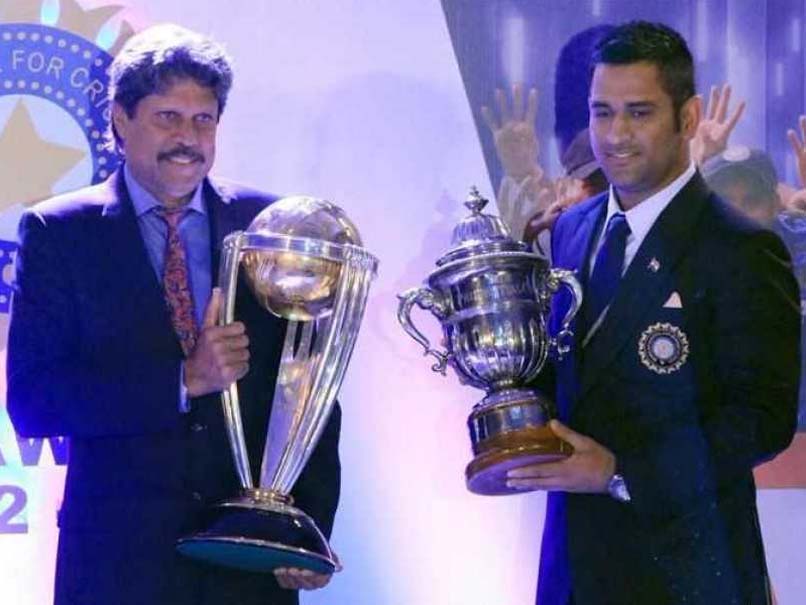 Dhoni faced severe criticism after his patchy performance against New Zealand in the second T20I
© PTI
MS Dhoni's future has been a topic of great interest in recent weeks and the former India captain finally broke his silence over the matter by saying that "everybody has views in life and it should be respected". Sunil Gavaskar, Ravi Shastri and Virat Kohli had come out in fierce support of Dhoni and now World Cup-winning captain Kapil Dev has staunchly defended the wicket keeper batsman. Kapil Dev cited Sachin Tendulkar's example of winning the World Cup at the age of 38 to lend his support to Dhoni.
"I do not understand why so many people are on his back after a couple of average performances. Age definitely doesn't have anything to do with it," Kapil Dev was quoted as saying by The Times of India. "Sachin was 38 when we won the World Cup and nobody was saying anything then," he added.
Twitter was in full agreement with Kapil Dev's comments.
Dhoni has always a tougher job in hand when he comes out to bat. Even it's harder than Sachin's task. So get mature India.

— Tapas Kumar Das (@TapasKu33532421) November 12, 2017
Dhoni we support you

— SHAMBHURAJE (@SHAMBHURAJE2010) November 12, 2017
Kapil sir is right dhoni sir is the best

— KING BRAR (@KINGBRAR6) November 12, 2017
Former India cricketers VVS Laxman and Ajit Agarkar had been critical of Dhoni's performance in the second Twenty20 International against New Zealand at Rajkot, which the home team lost by a margin of 40 runs. Following Dhoni's 37-ball 49, Laxman, in a post-match television show, had suggested that Dhoni should give chance to youngsters in the T20 format as they would get an opportunity to blossom and get confidence by playing international cricket.
However, former India captain Sunil Gavaskar, in an exclusive interview with NDTV, said that when someone crosses 30 years of age, everybody starts finding fault in their game.
Even India's captain Virat Kohli had launched a fierce defence of Dhoni and termed the recent criticism as 'unfair' and also cited his Dhoni's fitness and contribution to the side to drive home his point.
"First, I don't understand why are people only pointing him out, I'm not able to understand this. If I fail three times, no one is going to point fingers at me because I'm not over 35. The guy is fit, he is passing all the fitness tests, he is contributing to the team in every way possible, tactically on the field, with the bat. If you look at the series against Sri Lanka and Australia, he did really well and in this series, he hasn't got much time to bat," Kohli said during the post-match press conference in Thiruvananthapuram.
Shastri too echoed Kohli's sentiments by saying, some 'jealous' people wished to see the end of Dhoni's international career.
"Looks like there are a lot of jealous people around, who just want Dhoni to have a couple of bad days.... There are a few people who are waiting to see the end of MS Dhoni. But great players like him decide their own future," Shastri said.