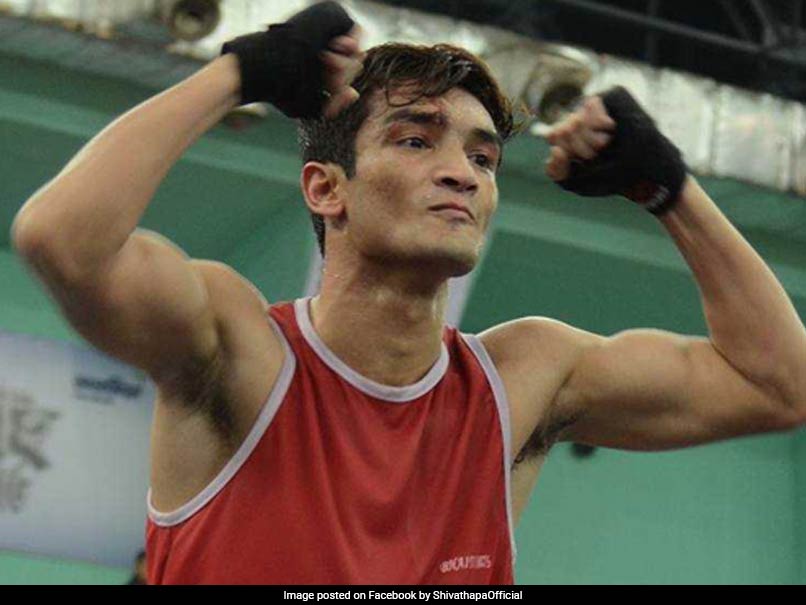 Shiva Thapa will be competing in the lightweight 60kg category.
© Facebook
Shiva Thapa and Vikas Krishan will be among India's best bets to better both the colour and number of medals at the 19th World Boxing Championships, starting Friday. Placed joint 49th in the all-time medal count, India have a bronze each to show for from the 2009, 2011 and the 2015 World Championships. Shiva (2015), Vikas (2011) and the now-professional Vijender Singh (2009) are the only ones to have been on the podium of the prestigious event, which doubles up as an Olympic qualifier in alternate editions. For this edition, an eight-strong team has made the cut through the Asian Championships held in Tashkent earlier this year.
"Our build-up has been fantastic. We had a good Asian Championship where the boys won two silver and two bronze medals and finished third overall," the team's Swedish coach Santiago Nieva told PTI.
"Then we went to France and Czech Republic for training-cum-competition trips and the results were excellent there. So, I am hopeful of a strong performance but I don't want to make any predictions about the medals," he added.
To be tied with Australia, Tajikistan and Czech Republic in the all-time medal tally isn't exactly a true reflection of how far Indian boxing has come since Vijender won the breakthrough bronze in 2009 in Milan.
"This World Championship is going to be slightly different from the previous one because the draws will be opened up. There have been changes in weight categories, some of those who went to Rio Olympics last year have quit. So there is going to be a lot of churning," Nieva pointed out.
"So, yes, we can hope for more than just one bronze medal," he added.
The boxers, on their part, also spoke confidently about their chances.
"It has been a long journey and we have seen a lot in all these years. World Championships is the premier tournament for us after the Olympics. I am as prepared as I could ever be for a big tournament," said Shiva, all of 24 but a two-time Olympian with three back-to-back Asian Championship medals.
The Assam boxer, who won a bantamweight 56kg bronze in the 2015 world championship, will be competing in the lightweight 60kg category this time.
He had caught the eye of none other than Manny Pacquiao by clinching a rare knockout win for an Indian boxer at the big event.
The transition to the new weight category has gone rather well for him, the biggest proof of it being a silver at the Asian Championships just three months ago.
Another bright medal prospect for India is without doubt Vikas. The 25-year-old would be eager to make a mark especially after getting a disciplinary warning for forfeiting his Asian Championship semifinal bout due to "confused" travel plans.
The middleweight (75kg) boxer, a former Asian Games gold medallist, has chosen to stay aloof since the Asian meet and even trained alone in Pune at the Army Sports Institute, away from the national camp in Patiala.
Not to be counted out is veteran Manoj Kumar (69kg), forever the dark horse who manages to surprise with tenacious performances. The 31-year-old former Commonwealth Games gold-medallist is perseverance personified and is yet to find a strong challenger on the national scene.

Another medal hope is Sumit Sangwan (91kg), who made a fine comeback from injury breakdowns to claim a silver medal at the Asian Championships earlier this year.
"It is a strong squad, very dedicated and I am sure they will not let anyone down in performance," said Nieva summing up the hopes.
The 10-day championship will feature 280 boxers from 85 countries.
Squad:
Amit Phangal (49kg), Kavinder Bisht (52kg), Gaurav Bidhuri (56kg), Shiva Thapa (60kg), Manoj Kumar (69kg), Vikas Krishan (75kg), Sumit Sangwan (91kg) and Satish Kumar (+91kg).
Topics mentioned in this article
Boxing