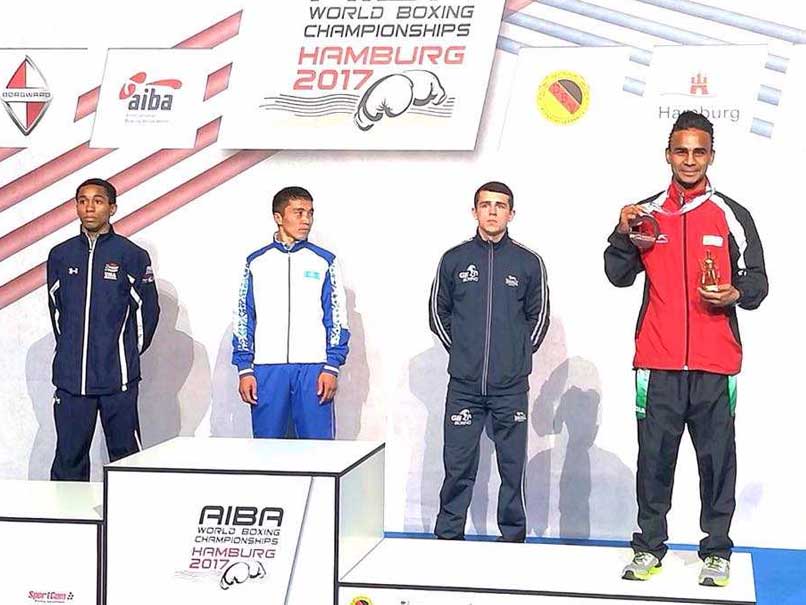 Gaurav has now set his eyes on winning a medal in the Olympics.
© AIBA
Gaurav Bidhuri was a lone redeeming factor for the Indian boxing squad that participated in the World Boxing Championships which concluded recently in Hamburg, Germany. Though he lost in the semi-final to American Duke Ragan, Gaurav ensured that the Indians didn't return empty-handed. The 24-year-old from Delhi, who only entered the World Championships as a wild card, joined an elite club of Indian boxers to have won a medal at the prestigious event - the past winners being Vijender Singh (2009), Vikas Krishan (2011) and Shiva Thapa (2015). "More than the medal, I am happy that I am living my father's dream," Gaurav told NDTV.com in an exclusive interview.
"I am happy with my performance. Wish I could change the colour of the medal as we have won three bronze medals in the past. I wanted to make history but it was not my day. He (Ragan) played well and won," Gaurav said.
Nonetheless, he is happy to see his name in the elite list.
"Reading your name alongside a veteran boxer Vijender is a big thing for me. He is an inspiration and role model for all the boxers. He has achieved everything in his career," Gaurav said.
After his recent success, Bidhuri had a special word of praise for 'icon' Vijender.
"Vijender bhaia is an icon. He has set a benchmark before us by winning an Olympic medal. I just want to thank him for putting this challenge before all the boxers. Hope someday I can achieve the same feat and also change the colour of the medal (bronze to silver or gold)," Gaurav said.
Gaurav's father Dharmendra Bidhuri was glued to the TV, praying for his son to win a medal for the country, a dream that he couldn't achieve in his career. Bidhuri Sr. was a national-level boxer but he had to leave the sport due to family problems. Later, he opened a small boxing club on the ground floor of his house in South Delhi. Gaurav has learned the art of boxing from his father.
"My father is my inspiration. He is very motivating and encouraging. He takes care of me, my diet, my sleep, my schedule etc. I have seen his dedication towards the sport," Gaurav said.
"Beta, country ke liye medal lana hai (Son, you have win a medal for country) -- this is what he always tells me," an emotional Gaurav said.
"My father was a national-level boxer. He couldn't do much in his career due to family problems but always wanted to see me perform at big stage. I am a proud son today. I want to win an Olympic medal and that's my father's dream," he added.
In the semi-final bout, the 20- year-old American Ragan had a slight edge over Gaurav in the opening three minutes.
"I have played US knock-outs under that US coach. He knew me well. He knew my tactics. I knew that US boxer will play aggressive boxing but things changed in the ring. They had made plan against me as they knew me from the past.
"Ragan started playing differently and that's where I lost the rhythm. I got three-four head butts too but the referee didn't notice," Gaurav said.
He said his journey to the World Championships was nothing short of a fairytale. He was battling a back niggle for the last eight months but a phone call during a training camp in France changed his fortunes. He was given a wild card entry into the tournament and he grabbed the golden opportunity with both hands in his maiden appearance.
With a World Championships bronze in his bag, Gaurav has now set his eyes on winning a medal in the Olympics - a feat only achieved by Vijender in past.
"The journey is quite long and I want to enjoy every bit of it. This is just a beginning and I have to go a long way. The only thing in my mind is Tokyo 2020. My only dream is now to win an Olympic medal for my country and it will be dedicated to my father," he signed off.
Topics mentioned in this article
Boxing