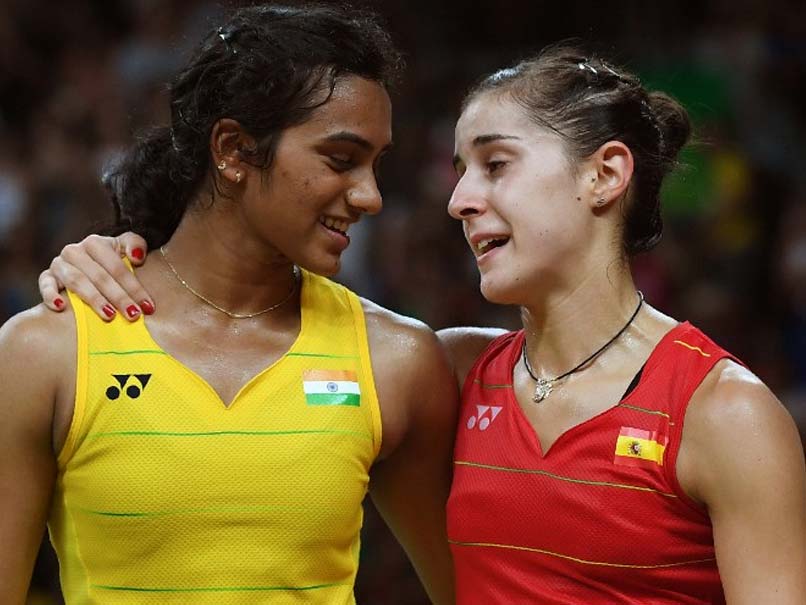 Carolina Marin was PV Sindhu's conqueror in the women's singles final at the Rio Olympics.
© AFP
PV Sindhu, India's first badminton player to win an Olympics silver medal, is excited about the match against her nemesis in Rio final - Carolina Marin, which is also the opening game of the 2017 Premier Badminton League (PBL) on Sunday. The match will be a 11-point per game affair, which will add to the excitement. While Sindhu is playing for Chennai Smashers, Marin is part of the Hyderabad Hunters team. Sindhu said one needs to be alert from the start in the 11-point game format adopted for the tournament.
"I will do my best. She (Marin) is part of Hyderabad Hunters. The crowd is going to be there. The scoring system is going to be different. It's 11 points. From the starting point, we need to be alert and give our best," Sindhu, who plays for Chennai Smashers, said.
"There would not be much time to think in the 11-point game format. So, every point is important. Every team is equally tough. So, it depends on who plays better on that day."
Marin said she is excited to be part of the PBL.
"I feel excited to be here in India. I am playing for the home crowd. I hope so many fans can come and support Hyderabad Hunters. I will try to do my best. It is going to be an exciting game against Sindhu. The score is going to be very different. It's my first time with this score. So, every point is going to be important. I will try to do my best to win here," Marin said.
Marin and Sindhu famously clashed in the Rio Olympics where Marin won the gold and Sindhu bagged the silver.
Replying to a query, Marin said Sindhu is improving fast and that she had to give her best whenever she played against the Indian.
"I think she is growing up very fast. She is a good player. Whenever I play against Sindhu, it's always a tough match," she said.
(With inputs from PTI)