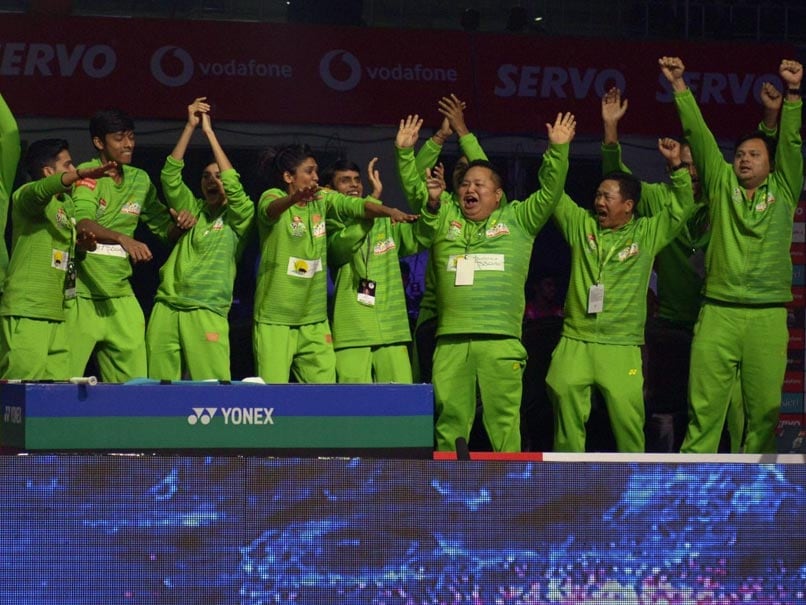 North Eastern Warriors beat Bengaluru Blasters 3-2 in the opening match of the Chennai leg.
© Premier Badminton League
North Eastern Warriors kept their hopes alive in the Premier Badminton League (PBL) beating the formidable Bengaluru Blasters 3-2 in the opening match of the Chennai leg at the Nehru Indoor stadium on Friday. It was the first win for the Warriors in this year's League, having lost its previous three matches. The team from the North-east won their trump match and also pulled off a victory in Bengaluru's trump match. Canadian Michelle Li did the star turn for the Warriors, by turning the tables on Kirsty Gilmour after losing the first game to post a 7-15, 15-14, 15-13 win in the team's trump match.
In the third match of the tie, Li bounced back after losing the first game rather tamely at 7-15 to Kirsty Gilmour by winning the second 15-14 by showing tremendous resilience and good defensive skills.
Li, currently ranked 21, got the better of her higher-rated rival, by pulling off some impressive gets and capitalising on Gilmour's errors at crucial junctures.
World number one Viktor Axelsen pulled one back for the Blasters, beating Tzu Wei Wang 9-15, 15-13, 15-14. The lanky Dane underlined his top ranking by holding off the feisty Taiwan shuttler, with some smart play and powerful strokes.
The Blasters added another vital point to their tally when its mixed doubles pair of Manu Attri and Sikki Reddy rallied to beat Prajakta Sawant and Shin Baek Cheol 12-15, 15 -8, 15-9.
Bengaluru Blasters got off to a winning start when their doubles team of Boe Mathias and Kim Sa Rang beat Kim Gi Jung and Shin Baek Chol 15-12, 7-15, 15-12.
India's Ajay Jayaram then hit back for the Warriors, hammering Malaysian shuttler Chong Wei Feng 15-8, 15-13 in what was the Blaster's trump match.
Chong Wei Feng, who came into the match at the back of a win against World No. 15 Vincent, was entrusted with playing the Blasters' trump match against Ajay Jayaram.
However, he could not continue his winning momentum as he lost out to the Indian in straight games 15-8, 15-13 to the Indian.
Chong Wei couldn't cope with Jayaram's impressive defense and impeccable net play and committed a series of unforced errors of his forehand to give away the first game 15-8, in a fairly easy manner.