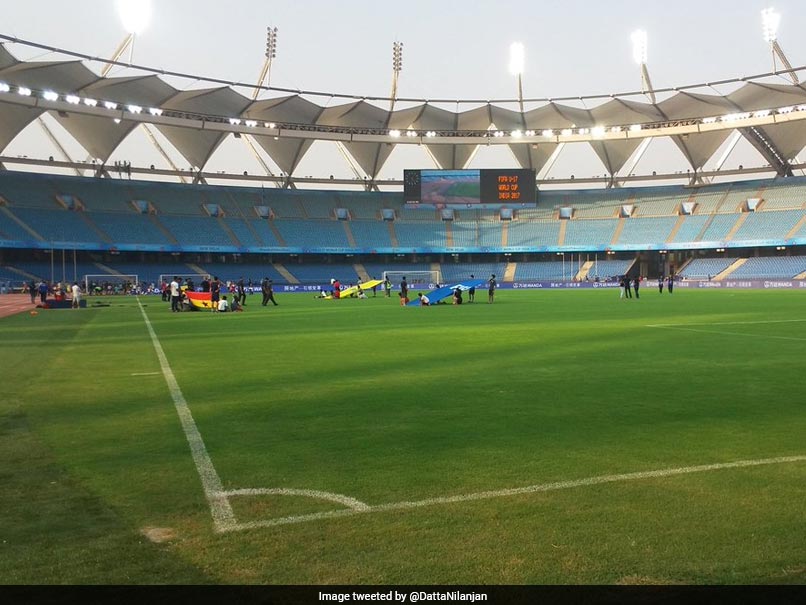 The under-17 World Cup marks India's 1st attempt at hosting a FIFA tournament.
© Twitter
The organisers have given away 27,000 tickets to the opening games of the FIFA U-17 World Cup to fill empty stands, an official said Friday, in a desperate bid to avoid an embarrassing repeat of the 2010 Commonwealth Games. The under-17 World Cup, which kicks off today, marks India's first attempt at hosting a FIFA tournament, but sales for the mega event have been poor, despite some cheap tickets.
Organisers are now scrambling to ensure that the 56,000-capacity Jawaharlal Nehru Stadium in New Delhi appears packed when Prime Minister Narendra Modi attends the opening games which will see the hosts play the United States.
"We have given away 27,000 tickets to schools around the Delhi region and will also provide pick and drop facility. It will be embarrassing for us if the stadium looks empty," an organising committee member told AFP on condition of anonymity.
The event, which runs until October 28, has been dogged by bad news, with Greenpeace issuing a report on Wednesday that said the poor quality of air in India's pollution-clogged cities poses a "serious health risk" to players and spectators during the tournament.
Twenty-four nations are competing in the event, which is being held in New Delhi, Mumbai, Goa, Kochi, Guwahati and Kolkata.
Greenpeace said all the six cities "share dangerous levels of air pollution" but singled out New Delhi as the venue with the highest risk.
"Air pollution levels during the Indian tournament could be significantly worse than during the 2008 Beijing Olympics," the report warned.
The last match of the tournament in the capital will be played on October 16, just before pollution levels spike around the Diwali festival.
Media reports said matches were deliberately kept out of Delhi after October 16 because of pollution fears.
The Supreme Court has ordered authorities to take precautions ahead of the festival, and measures under consideration include pulling some cars off roads and closing polluting industries.
World Cup organisers did not comment on the Greenpeace report.
The event is among India's highest-profile global tournaments after the Commonwealth Games in New Delhi in 2010 which were meant to showcase the country's status as an emerging power but instead left memories of shoddy venues, empty stadiums and massive budget overruns.