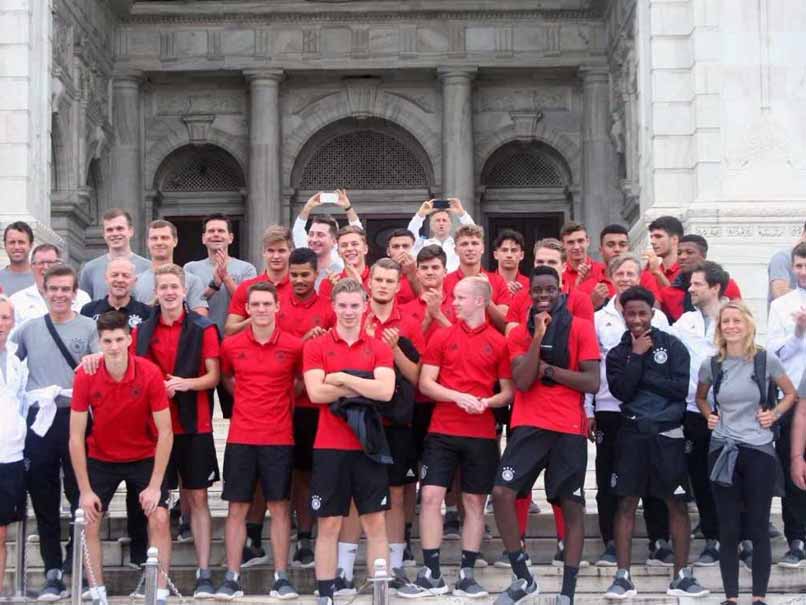 We want to teach the players that India is a very beautiful country, said the German coach.
© PTI
The German football team, who is in Kolkata to take part in the FIFA U-17 World Cup, on Saturday went for a sightseeing to the city's pride, Victoria Memorial Hall in the morning. The Germany U-17 coach Christian Wueck feels the visit is important in the development of the youngsters as they will get to know the culture of different cities and the FIFA U-17 World Cup has provided them the right kind of opportunity. "We are here not only to play football. Don't forget that these players are 16-17 years old. They have to learn. It's a great honour to be in India and in Kolkata," he said.
"We are pleased to live in Europe as there are many good places in Germany but we want to teach the players that India is a very beautiful country, a land of many historical places that we want our players to see," Wueck said.
Meanwhile, giving an update on the three injured players, Wueck said Sahverdi Cetin has recovered and is fit to play while they are still pondering over the fitness of Yannik Keitel and Nicholas Kuehn.
"Cetin can play but others are very close to the game. We have 24 hours to decide," he said.
- Will enjoy advantage over Brazil -
A strong partisan crowd may be supporting Brazil in tomorrow's FIFA Under-17 World Cup quarterfinal clash, but an unperturbed Germany coach Christian Wueck said they would enjoy an advantage over their rivals in their biggest game of the tournament.
The football-crazy Kolkata is all set to roar for their favourite team with the turnout expected to breach the 60,000 mark and Brazil would find themselves at home but Wueck is hardly bothered about it.
"It's very good that the stadium will have many fans tomorrow. It will be very loud in the stadium. If most of the fans are supporting for Brazil, maybe it's good for us," he said shifting the pressure on Brazil.
"It will give my players an opportunity to develop. It's very important for career of the players to know how does it feel in front of such a big crowd in a World Cup quarterfinal against a strong team," he added.
Wueck further said facing one of their strongest rivals in Brazil will motivate them to dish out their best.
"There will be no pressure on us. Not a lot of things can be greater for my players than to play against Brazil, especially to play a quarterfinal in a World Cup. It's the highest game we had ever played. We are very happy to play the quarterfinals here. We are looking forward to it," he said.