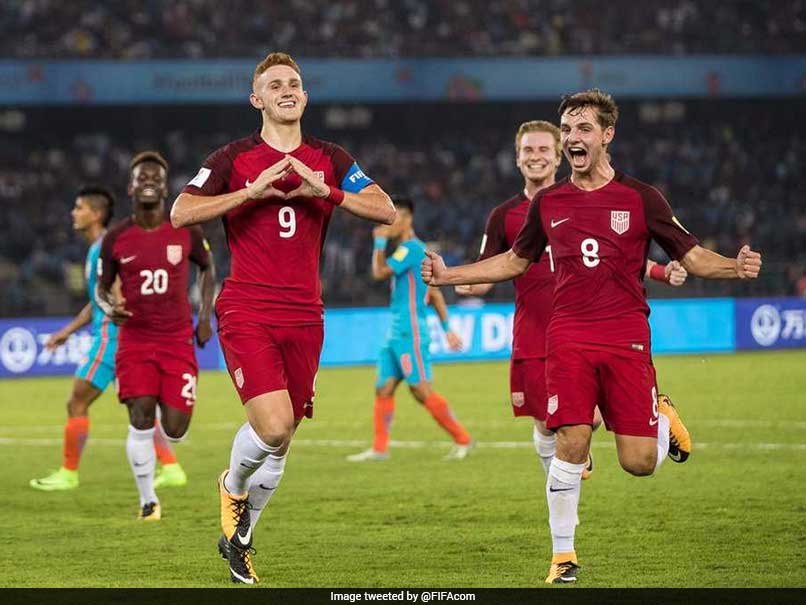 India vs USA, U-17 World Cup: Josh Sargent opened the scoring for the Americans.
© Twitter
India gave a good account of themselves at the biggest stage despite going down 0-3 to USA in their opening Group A match of the 2017 FIFA U-17 World Cup at the Jawaharlal Nehru Stadium in New Delhi on Friday night. USA captain Josh Sargent scored the match's opening goal with a 31st minute penalty. India improved their forward play after going down but despite some good passing, failed to find the killer ball. Defender Chris Durkin doubled USA's lead in the 51st minute while Andrew Carleton scored the third to put gloss over the scoreline. For India, Komal Thatal and Aniket Jadhav impressed while Dheeraj Singh, in the Indian goal, did brilliantly for the hosts.
Catch highlights of the FIFA U-17 World Cup match between India and USA here.
21:57 IST: That's it from us here. Thanks for joining our live coverage and do join us for India's next match on Monday against Colombia.
21:51 IST: Final whistle goes!! India go down 0-3 to USA but the hosts have done very well. They were never outclassed and showed that they can cut it at this level.
21:43 IST: USA's goal came after India had hit the crossbar. So unlucky for the hosts to be down 3 goals. They have done very well in this match and caught the Americans by surprise numerous times.
21:41 IST: GOAAALLL!! Andrew Carleton scores the 3rd goal for USA against India with a 84th minute strike.
21:38 IST: Americans are now passing the ball around without much attacking intent.
21:34 IST: Carlton gets a thunderous left foot shot away but it cannons into the side netting.
21:32 IST: India are getting themselves in good positions but haven't been able to find the final ball. That has been the story so far for the hosts.
21:28 IST: A double change for India. Abhijit goes off and is replaced by Rahim Ali while Meeti makes way for Nongdamba Naorem.
21:25 IST: The Americans seem to have taken their foot off the pedal and look to be in cruise control.
21:22 IST: Thatal again running at the American defence and wins India a corner. He along with Aniket Jadhav have impressed for India so far.
21:20 IST: Ayo Akinola with a chance to score USA's third but he lifts the ball way over the goal.
21:14 IST: A defensive mix-up gives Komal Thotal a golden chance but his chip shot flies over the American goal. Best chance of the match for India!
21:12 IST: Timothy Weah has the ball in the back of the net but it is ruled off-side.
21:10 IST: GOAALLL!! Chris Durkin doubles USA's lead against India with a 51st minute deflected-strike
21:07 IST: Carlton almost doubles USA's lead but is denied by a great save from Indian goalie Dheeraj.
21:05 IST: Chance for USA but the off-side flag goes up.
21:03 IST: India, in pale blue, get us underway after the break.
21:02 IST: Welcome back to the second half. Both teams are out and we are about to get underway.
20:48 IST: A small break and we'll be back soon.
20:47 IST: Half-Time whistle goes!! USA lead 1-0 but India have given a good account of themselves, especially after going down to a 30th minute penalty.
20:45 IST: Great play by Thatal on the right-wing but Sanjeev's cross is defended well. 
20:42 IST: India have improved their forward play since going 1 down. Aniket gives India their first shot of the match but it lacked the power.
20:40 IST: Indian players are just being muscled off the ball. 
20:37 IST: Komal Thatal showing some trickery down the left flank but it had no end product.
20:31 IST: GOAALL!! Sargent puts it away in style and the Americans lead 1-0.
20:29 IST: Penalty for USA! American captain Josh Sargent is brought down in the box with a clumsy challenge from Jitendra Singh.
20:25 IST: Aniket Yadav does brilliantly to earn India their first corner of the match.
20:22 IST: The Indian defence is doing very well and have managed to keep the Americans at bay barring one clear-cut chance.
20:15 IST: Ninthoinganba Meetei showing some great skill on the right flank to earn India a free-kick.
20:13 IST: India are finding it hard to get their passing game going with the American pressing aggressively.
20:11 IST: Luckily for India the free-kick is straight into the wall.
20:10 IST: Poor tackle by India captain Amarjit. Gives away a free-kick in a dangerous position. 
20:08 IST: Eight minutes into the game and it's been all USA. 
20:05 IST: Big chance for USA! One-on-one situation with the goalies goes a-begging. Dheeraj Moirangthem in India's goal did well to come out quickly. 
20:04 IST: How the Indian defence copes up today.
20:03 IST: As expected the Americans are on the attack immediately.
19:59 IST: Here we go. All set for the start.
19:55 IST: Time for the national anthems. Huge roar goes around the stadium after India's national anthem.
19:52 IST: The Prime Minister is shaking hands with both set of players. 
19:50 IST: The two teams are walking out. India in their usual blue while USA are wearing red,
19:45 IST: We are closing in on the start of the match.
19:30 IST: Indian footballers, past and present, being felicitated by the Prime Minister. 
19:25 IST: PM Narendra Modi, Sports Minister Rajyavardhan Singh Rathore and AIFF head exchange the pleasantries with FIFA officials before the start of the match between India and USA.
19:15 IST: We are just minutes away from the start of play.
18:40 IST: India supporters flock to the stadium to support the Blue Cubs.
18:35 IST: India coach Luis Norton de Matos leading the team
18:33 IST: Captain Amarjit Singh's message for the supporters before the start of play.
18:32 IST: India team arriving at the Jawaharlal Nehru Stadium.
18:31 IST: India are all set to script history when they take on USA in the first match of their first ever World Cup across all age groups.
18:30 IST: Hello and welcome to the live blog of the FIFA U-17 World Cup match between India and USA straight from Jawaharlal Nehru Stadium, New Delhi.
India would enjoy the home advantage and captain Amarjit Singh and his team-mates have promised to be competitive at the showpiece event. The feat of playing in India's first-ever FIFA tournament should spur them and bring out their best. They will also be the first Indian players to feature in any World Cup. Moreover, the Indian team was assembled in just seven months by head coach Luis Norton de Matos, who took over in March after the sacking off German Nicolai Adam.